Editor's Comment: Visiting a bike retailer who exemplifies the dividends paid when grassroots advocacy comes before profits
It was an immense privilege to be invited down into Hastings' famed Victorian Baths back in April of 2015. The space, unoccupied for 20 years prior, was floor to ceiling displaying the tell tale signs of neglect. Present on the rusty ice skates lining the shelves of the abandoned rink and in the old baths where tiles lay smashed in pools of water seeping from the promenade above. It was the urban explorer's dream, but you could never picture the underground space seeing the light of day again.
But then came along local award-winning bike retailer/distributor Source BMX with an idea. Formerly occupying a converted church, the bike retailer has some considerable experience in turning difficult spaces into atmospheric and engaging environments for riders. Where else in the world would you find a bowled spine mini ramp lit in part through a stained glass church window?  
What the retailer achieved in February of this year, however, is almost unthinkable. As I walk into the main room of The Source's new facility, it's a smile inducing sight for this former BMXer. 30 or so school kids totally transfixed on cycling and skateboarding at a time when Pokemon Go has the ubiquitous attention of people twice their age.
My mind immediately harks back to my own childhood and the experience of learning to roller skate in the middle of a disco. The experience is naturally immersive and it doesn't take long to forget you're struggling to learn a new skill. The kids below the promenade seem to be creating games of their own – chasing each other in figure of eights in the bowl – learning a life skill and sighing deeply when told the session's over.
This is what grassroots cycling advocacy should look like and all of this, not from a teacher, but from a bicycle retailer, turned distributor, turned venue operator.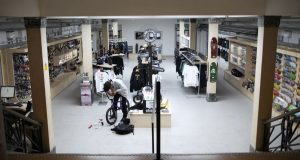 Bicycle retail is being forced to evolve at a rapid rate at the present time and it's not always obvious where the next £/$/€ is coming from. Those who innovated early had great success turning their stores into repair-shops-cum-coffee-stops. But everyone's offering coffee now, sometimes for free, including (but far from limited to) my local estate agent.
As bike retail increasingly revolves around a service model, the next logical step has to be to create more work for the mechanic and by that I don't mean ask him to go out back and find a "long weight". No, the next step has to be industry advocacy and actively driving up numbers on the roads, trails and skate parks. Critical mass provides safety in numbers on the roads – it's also the future bread and butter for the urban bike shop. Commuter cycling almost has no choice but to grow at a time when road space has to be used effectively.
Rich Moore, co-founder of The Source, says that the evolution of his business under its new roof has only just begun and that both BMX and the local economy is set to benefit hugely down the line.
"The UK used to have some enormously popular events. The Backyard Jams of old drew in huge interest and generated a buzz around riding. One of our goals is to use our contests to expose Professional BMX riding to an audience that would never be exposed to it. Come September and marking the 950th anniversary of the original, we'll host the Battle of Hastings and it's set to be a huge deal for the town. We're bringing in ten teams of four professional riders and offering up a space to an eleventh team made up entirely of local riders. The park will host a competition with an €18,000 prize purse and the entire thing will be live streamed onto screens in the town centre and online. The UK BMX scene has needed a high profile event for a long time and we hope to deliver exactly that. In fact, it's looking to have one of the best line up of riders of any event in the World this year."
Engaging the general public in BMX has always driven Moore, who is clearly enthused by the local and national interest of the redevelopment of the Victorian baths.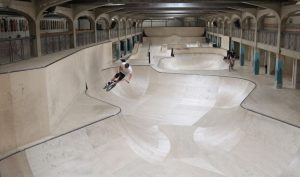 "The exciting thing with this location is the curiosity the public show for this historic place. The locals often come in from the streets above and recount how they used to ice skate or swim down here. Once they see what we've done with the space they'll often enquire about getting their kids involved. The word of mouth spread of the park has been incredible. We're pulling in entirely new customers who may never otherwise have considered buying a BMX or skateboard. Some just pop down to shop for clothing."
It was an admittedly long process taking over the heritage site, says Moore, but one that's proved its worth in engaging future generations in cycling. The majority of local primary schools participate in lessons on the multi-size-wheel hire fleet and going forwards, some youth from disadvantaged backgrounds too.
"Between this location and our distribution space down the road we now employ around 40 local staff full or part-time," says Moore. "We've placed enormous faith in young people and actually had to turn away applications from some great people. An ambition of ours was to engage the next generation and so linking with the schools has been brilliant. We're fully insured and have first aiders everywhere, so more often than not the headteachers are totally into the idea of having kids learn to cycle here.
"As kids, me and my brother were banned from cycling to school a number of times. It might have had something to do with trying to jump a gap in the fence, but nonetheless, we weren't encouraged! That's changing now and a number of local schools have come to us to buy their own training fleets. We're experimenting too with not in education, employment or training students (NEETS) via a collaboration with the University of Brighton. They'll be funded to come here for six lessons where they'll be taught to assemble a bike and many other skills. If they attend all of the lessons they'll get to keep the bike too, giving them a great opportunity to progress in life."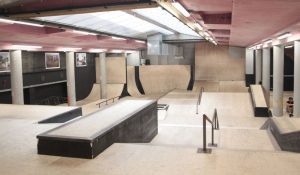 Source's outreach far from ends there. As part of the link up with local educational facilities, foreign exchange students will have the opportunity to travel over, ride and learn the language. Moore even hints at using spare rooms for classroom space in the not too distant future.
The goodwill generated by The Source prior to the extensive build was paid back in full by local riders and skaters when the thumbs up was given, adds Moore.
"It took a full year to get the idea to the planning stages alongside a very supportive local council. That was followed by a six month feasibility study and a further year of fundraising efforts. In total £1 million in building work was completed and the first 5 months was simply the professionals demolishing floors, tidying up and drying the place out. The next four months were franticly spent building the shop, café and skate park and we've a huge crop of local talent to thank for getting things open on time. Horsham's 9C Solutions, in particular, played a huge part in modelling the building in CAD and then designing and building the main park on their CNC machines."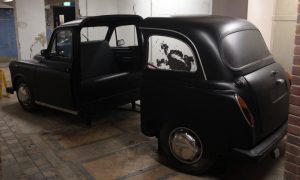 What's perhaps most astonishing about the project is the fact that the
entire thing was delivered via a small service hatch in the roof. We suggest looking carefully at the images here and then at the adjoined shot of a sawn in half cab – cut down the middle in order to fit. In between the two main skatepark rooms riders wheel through a courtyard, which is overlooked by those on the promenade.
"The general public have never really seen a prime location skatepark before now and the shop's now far more of a public space than it's ever been, so they both feed off each other well," says Moore of the unprecedented exposure.
But would he recommend other bike shops take a risk on turning around an overlooked dead space?
"Of course, there has to be loads of abandoned places that have potential in the UK. It's stressful at times, of course. In my case I've never really made tons of money doing this, but I've always liked having a bike shop and a strong BMX community locally. We're enjoying exploring the potential of our new space. Next up we're set to install a licensed bar, which will lead to more events, video premieres and good times down here."
Read more about the Source Park's construction and history here.