Rumour: Might Chinese sport group be looking at buying key grand tours?
Following a Wall Street Journal article on Thursday, rumours are emerging that China's Wanda Sports Group might be showing interest in the Amaury Sport Organisation – the parent of the Tour de France and stakeholder in Vuelta a Espana.
Owned by Wang Jianlin, currently China's wealthiest man, the Dalian Wanda Group is rumoured to be in the early stages of discussion with the ASO. Jianlin, with his estimated wealth of $30 billion, owns a fifth of Spanish football club Athlético Madrid, among other business interests. The DWG had also previously been linked with a Giro D'Italia deal, but rumours of a sale were put to bed by Laura Cioli, Ceo of race-owners RCS MediaGroup.
The Amaury Sport Group owns 19 sporting events, seven of which are UCI WorldTour events and three of which it organises.
Within cycling there's already a link; the Dalian Wanda Group recently took ownership of marketing firm InFront Sports and Media in a $650 million deal. Already representing the Ironman Series, Infront recently collaborated with Velon in a ten year agreement to introduce live rider data to race broadcasting.
The first phase of the partnership will enable live race data to revolutionise the fan experience. A key goal of the acquisition was said to be "Aggregating the rights of 11 of the biggest teams to improve the financial stability of the sport and thus benefit their staff and riders.
In the 2015 season Velon debuted on-bike cameras for the first time in professional racing, though the footage didn't emerge with broadcasters until the season concluded.
In its announcement with Infront, Velon's press release said "Data will be handled sensitively so as to respect rider privacy rights and will use filters to ensure that live usage does not deliver a competitive advantage or disadvantage during a race."
Velon says it looks forward to working with the UCI to ensure that its technology works within cycling's regulatory framework.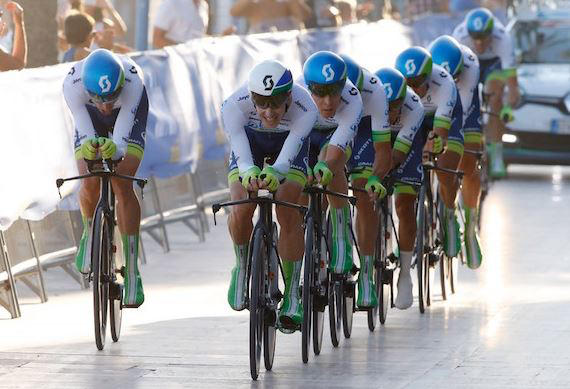 On the subject of live streaming data from bikes, Graham Bartlett, CEO of Velon commented: "We are delighted to be partnered with Infront Sports & Media. Our partnership enables us to make a major step forward to enable data to be shared with fans and it is going to be fantastic. Just imagine how great it will be for fans to see the performance of the riders as they follow races on their screens or see them at the race. This is something that has been available in other sports and now we're bringing it to cycling so fans can better engage with the riders and get a much better experience."

If confirmed this would represent one of the larger of several recent acquisitions including:
Vista Outdoors and Bell, Giro and Blackburn