Schindelhauer surprises with new e-bikemotion equipped model
Last Thursday Berlin bike manufacturer Schindelhauer Bikes officially introduced their new E-Bike product range. In an urban environment in the Kreuzberg neighbourhood Schindelhauer invited press, friends and partners to their launch event at FvF Friend Space.
After revealing three Bosch equipped bikes, Schindelhauer saved the biggest surprise for last. The fourth E-Bike is named Adam and comes without a Bosch motor. The bike is nearly indistinguishable from any classic Schindelhauer Bike without e-assist.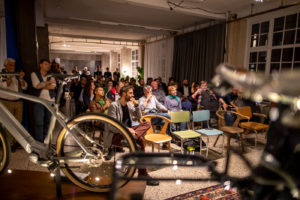 Adam is described as an urban bike with high-quality components and a purist look. This is made possible thanks to the Spanish manufacturer Mahle eBikeMotion and their innovative rear motor and sleek battery, which is neatly integrated into the down tube.
The new Bosch E-Bike models are made for long-distance commuters and urban cyclists, who need a lot of loading possibilities and range, as well as for touring cyclists on hilly terrain.
The sleeker Adam is aimed at city usage, with enough range for daily commuters. The integrated battery has a capacity of 250-watt hours and can last, in the highest level of assistance, up to 50 km. Cyclists who ride mostly over a flat city-terrain can extend the range up to 100 km. The battery is fully recharged within two to three hours.
The 2019 Line-up now features 4 models:
Heinrich(8-speed Shimano Alfine hub gear,  Bosch Active Line Plus Motor)
Hannah (8-speed Shimano Alfine hub gear,  Bosch Active Line Plus Motor)
Karl (Single speed, Bosch Active Line Plus Motor)
Adam (Single speed, e-bikemotion rear hub drive)
About Schindelhauer Bikes
Schindelhauer Bikes was founded in 2009 by Martin Schellhase, Jörg Schindelhauer, Manuel Holstein and Stephan Zehren. Initially founded at the Otto von Guericke University of Magdeburg, Schindelhauer later moved to Berlin at the end of 2012. From the very beginning, Schindelhauer developed bikes with a belt driven system — widely unheard of in the bicycle industry at the time.
Schindelhauer's UK partner is Velorution.