Seattle to fund $1.4 million buyout of stalling bike share scheme
Seattle's City Council has voted 7-2 in favour of legislation that will mean the payment of $1.4 million to buy out the city's flagging bike share scheme.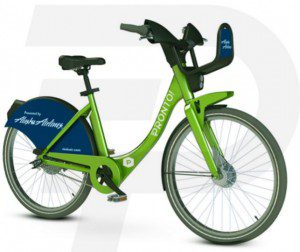 Geekwire reports that Pronto Cycle Share has had lower than anticipated participation since its October 2014 launch. The scheme came about as a result of a shared public and private partnership, but Pronto has since gone into insolvency due to operating losses of $1.2 million.
Late in 2015 the City Council had set aside $5 million to expand the scheme, but that money will now be used for the acquisition, with the remaining $3.6 million to go toward expansion. At present the city offers 54 docking stations, stocked with 500 bikes.
The scheme charges $85 a year for membership that allows riders to rent for 30 minute periods without further charges. Individual day passes cost $8 or $16 for a three day pass. 3,000 members are signed up at present, far below the anticipated usage. Just shy of 12,000 trips are made per month on average.
The Seattle Bike Blog offers more insight.