Shift Up Podcast: How far along the IBD to Independent Bike Service timeline is cycle retail?
The latest Shift Up Podcast is now live at the head of CI.N's homepage! This week drawing on the thoughts of Portland bicycle dealer Jude Gerace of Sugar Wheel works, we learn about a business model based solely on keeping customers rolling through wheel building and servicing.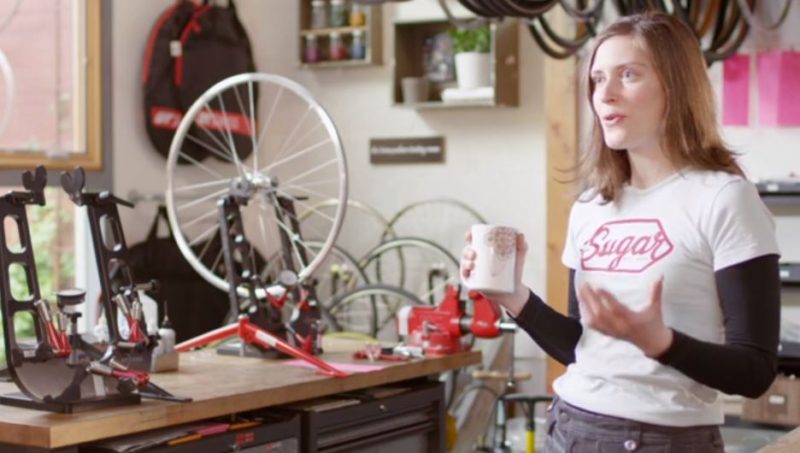 Building on a recent Bicycle Retailer article titled It's the end of the road for the IBD: say hello to the IBS, presenter Arleigh Greenwald quizzes the trailblazing shop owner on her experience in the bike business to date, training staff to deliver professional and personal service, as well as Gerace's pioneering "version of a bike shop without bikes".
"Starting with an authentic customer service conversation is important," says Gerace on the topic of easing into the sales conversation. "Starting with a five to ten minute conversation is important, really getting to know who your customer is and therefore knowing how you're going to help them achieve their dreams. It may be different to how you see it. I present three wheelsets before asking tel me what you're thinking, are we on the right track?
"There's a fine line between offering your opinion and knowing how to work with the customer. Otherwise they'll turn around and go to a different shop and buy that wheelset and they risk not getting an education on how to get the best out of their wheelset. Customer service looks very different for each person, it's elastic."
In business since 2009, Gerace further discusses retailing within Portland's cycle friendly bubble before moving on to making the bicycle business a more welcoming place for women to work.
"I think we're perhaps only a third of the way into that revolution," says Gerace, before Greenwald adds "I agree, my daughter is two and a half and i'm hoping by the time you're 20 I would be comfortable with my daughter working in the bike industry, she can work for you! We (the bike industry) are working on it, that's why we're having this conversation and that's why this podcast and our work exists."
To tune in to the conversation on social media seek out the #betterbikebusiness hashtag.
Catch the talk in full below:
Missed our last podcast? Click here to catch a discussion between Greenwald and CI.N editor Mark Sutton on "the state of the bicycle industry." Don't be put off by the title, as one retailer put it "I thought that would be all doom and gloom, but that was an enjoyable listen and made many solid and productive points."