Shimano's new EP8 e-MTB system adds torque and range
Shimano has launched its new EP8 drive system, which targets OEMs catering for mountain biking in all its forms.
The second-generation e-MTB system has several new features designed to enhance performance over prior generations. These factors combine to provide refined power as well as a lighter, quieter and more powerful motor with less pedalling and drag and an estimated 20% increase in range.
Shimano has also developed two new mobile apps known as the E-Tube Project app and the E-Tube Ride app, with the aim of giving riders more display options and more control over their drive unit's characteristics.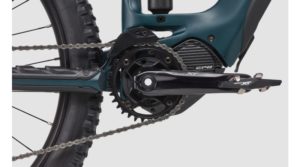 Drive unit
The new EP8 drive unit (DU-EP800) can pump out 85Nm of torque, creating a 21% increase in power over the previous Steps E8000 model.
Additionally, it is 300g lighter due to its new magnesium drive unit casing, sculpted with smoother lines and tighter angles for improved ground clearance.
The increase in power-to-weight is also complimented by an improvement in battery efficiency. The drag has been reduced by 36% as a result of an optimised gear design which in turn creates improved battery efficiency when the motor is active, or a smoother ride when pedalling without support.
Furthermore, the smaller magnesium drive unit shell features improved heat reduction properties with redesigned internals. There help improve performance when operating at maximum torque on longer climbs.
Technical features
The EP8 drive unit runs with a 177mm Q-factor and comes with its own dedicated cranks, which are available in a new 160 mm length (also 165/170/175 mm).
The system will typically feature Shimano's new XTR/XT/SLX/Deore 12 speed drivetrain with Dynamic Chain Engagement+ (12 speed) and three chainring options (34T/36T/38T).
DU-EP800 uses the same frame mount pattern as DU-E8000 and DU-7000 meaning manufacturers can use the same frame design between multiple Shimano drive unit models.
Shimano EP8 is also compatible with mechanical shifting (9/10/11/12-speed) gear systems, Di2 (11-speed) systems and internal hub gear (11/8/7/5-speed) systems. The EP8 is fully compatible with the recently introduced NEXUS Inter-5 making high power Shimano internal hub gear City & Trekking bikes a true reality.
A new chain device (CD-EM800) is also available. The new mud-shedding design provides additional chain management and is compatible with 11-speed and 12-speed SHIMANO STEPS set ups running 56.5mm or 53mm chain lines thanks to an adjustable space between the guide and chain.
The system can be turned on via buttons on the computer, the battery, or an in-frame button (EW-SW300) usually located on the top tube.
Handlebar controls: Computer and switch
The EP8 computer display (SC-EM800) shares similarities with the E8000 computer display, however, it now has new feature allowing riders to switch between customisable profiles. It has a 1.6" colour screen, readable in bright sunshine, with a compact and low-profile body to suit mountain biking trail conditions.
Additionally, the SC-EM800 computer communicates wirelessly with Shimano's E-Tube Project app via Bluetooth allowing riders to change drive unit characteristics on the go. The SC-EM800 can also communicate with third party cycle computers via ANT to display gear and battery information.
To operate the drive unit, riders can use EP8's new drive unit assistance switch, SW-EM800-L. This allows riders to switch between 'Off', 'Eco', 'Trail' and 'Boost' support modes plus a Walk Assist mode. Alternatively, the drive unit assistance switch can be removed completely if riders prefer to change support modes via their EW-EN100 toggle switch.
Batteries
Battery options for the new model include the new Shimano batteries released in May 2020, the two 630Wh batteries, the downtube BT-E8016 and the internal BT-E8036 battery, or the smaller but faster charging 504Wh internal battery, the BT-E8035-L. All Shimano Steps batteries take up to 1,000 full charge cycles before they drop to 60% of their original capacity.
EP8 Software
Shimano has also refined its EP8 Software to allow for a more natural rider experience. This has been achieved through adjustments to the way the three support levels perform, as well as easy customising options. For example, Boost mode now tops out at 85Nm of torque, reached with low rider input torque. Trail mode is more responsive to a rider's inputs, either saving battery at low input torques or increasing power delivery to provide the maximum 85Nm output at approximately 60Nm of input torque. ECO mode tops out at 30Nm and can be used for riders to get a workout.
Furthermore, these can be customised via the E-Tube Project app in ten different levels. The torque can be set anywhere between 20-85Nm, there are five levels of start assistance available, and these can be set for different rider profiles for different types of rides or different riders. All information can be saved as preferences in rider profiles, for example a battery-saving commute mode and high-power technical single-track climbing mode, and riders can easily switch between these modes via the computer display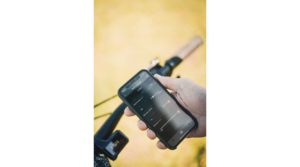 The updated E-Tube Ride app can be used by e-Bike riders to monitor their riding information in a smart phone display. Screen display options show riding metrics in Eco, Trail and Boost modes, as well as new functions such as ride history and live maps.
Both apps are now available to download from iPhone or Android app stores and are fully compatible with the Shimano EP8: https://www.shimano-steps.com/e-bikes/europe/en/service/E-tube.
Contact your nearest Shimano dealer, distributor or sales office for further information with regards to availability.