Sinclair C5 creator's nephew launches enclosed speed pedelec
Grant Sinclair, the nephew of Sir Clive Sinclair, has come to market with an enclosed recumbent-style speed pedelec which he hopes will revolutionise city transport.
His uncle's original first went into production in 1985, pairing a battery with a tricycle to create something widely described as an "electric car". It wasn't the C5 that earned Sinclair his knighthood, however, instead he made his millions in home computing. Unfortunately for Sinclair, the C5 earned a series of poor reviews and failed to make its mark on the personal transport world.
Fast forward to today and Grant has brought forward two eTrikes, albeit ones that won't be legal for the cycle lanes he has perhaps intended them to ride within. The top model will assist the rider to over 30mph, meaning it will require a licence plate and insurance, among other assurances it is road safe.
Priced at £3,499 for the 'Extreme' and £2,999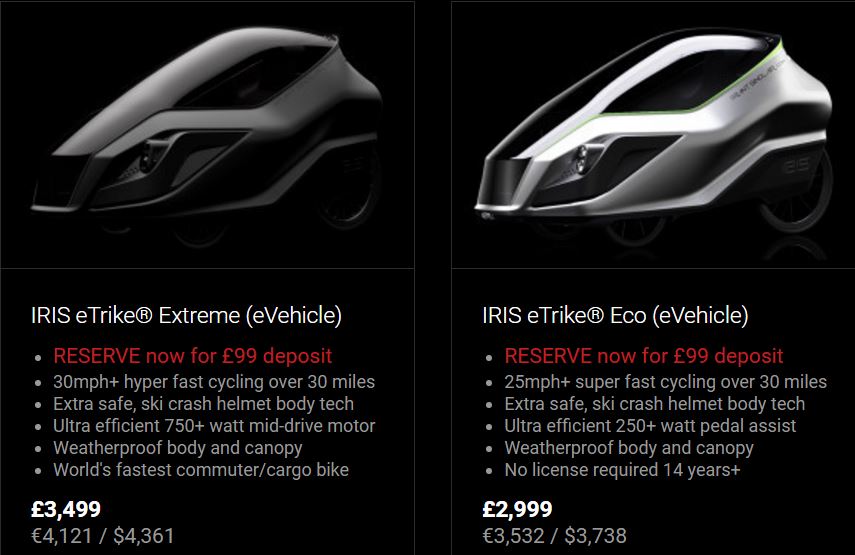 for the "Eco", the former is described as the world's fastest commuter and cargo bike. Powered by a 750+ watt mid-drive motor, the top model is designed aerodynamic, with the enclosed body benefiting from a "Quantum Foam EPP" body, similar to that used in ski helmets, to protect the rider.
Clearly intended for the road, the e-trike builds in indicators, brake lights and LED headlamps, as well as a 50-litre cargo hold. Inside an LCD display feeds back to the rider speed, charge level and many more metrics. Puncture proof Tannus tyres are also clad to the two front 20″ and rear 26″ wheels.
In an earlier video Grant Sinclair suggested that he hoped his creations would be able to make progress on cycle tracks. However, with the current legislation offering "no grey area", the modernised C5 will be classed in much the same way a moped is.