Sixth consecutive RideLondon cements link between car free days and clean air
For the sixth year running air pollution data registered alongside the key segments of the closed road RideLondon route has proven conclusive in its clean air credentials.
The annual closed road, mass participation cycling event has long been tracked by cycling advocates for its social, health and air pollution benefits and this past weekend's event was no different.
Visual analytics professor Jo Wood, a London resident and cyclist went one step further this year, combining the results of the past six years to paint a conclusive picture of the particulate reduction alongside the route.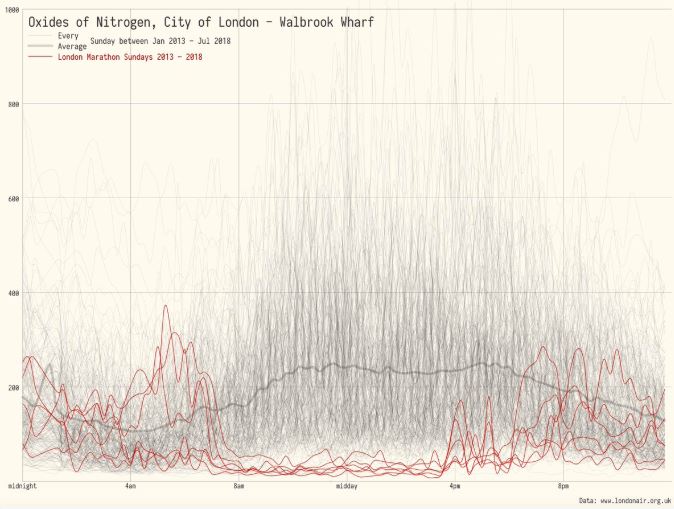 Shown in red, each annual event stands in stark contrast against the Nitrogen Oxide averages seen year round; in fact the King's College LondonAir generated graphs illustrate an abnormally flat pollution level for the duration of the event, with a significant spike when motor traffic was allowed to resume.
As shown last year, further reductions are present in Nitric Oxide and Nitrogen Dioxide levels.
Wood said of the findings: "(These represent) Six years of conclusive evidence that if you would like to breathe clean air, you need to radically reduce polluting vehicles in urban settings."
Doubling down on her findings, Wood also mapped the London Marathon's passage through the closed road Upper Thames Street over the past six years. Again, the results (above left) are conclusive.
Air pollution is believed to be a contributing factor in some 9,000 deaths in the UK capital alone annually.
Pollution is made up of two distinct categories:
Gases & Vapours:
Nitrogen Oxides
Sulphur Dioxide
Carbon Monoxide
Low level Ozone
Hydrocarbon Chemicals
Particulates:
Asbestos dust from brake linings
Pollen
Road dust
Black smoke from diesel emissions
Any other material which is solid in nature
A guide to which particulates are proving to be the most dangerous to health and social wellbeing can be found here.