Sustrans backs Clean Air letter to UK Government
Sustrans has backed a letter from ClientEarth and the British Lung Foundation, calling for the UK Government to fund and implement a Clean Air for Children Programme, to help protect young children from the harmful effects of breathing in toxic air. Rachel White, Senior Policy and Political Advisor at Sustrans, said:
 "Urgent action is required to protect young children and future generations from the harmful effects of breathing in toxic air. Despite there being a growing body of evidence that highlights its detrimental impact on our health, simply not enough is being done to tackle the country's air pollution crisis.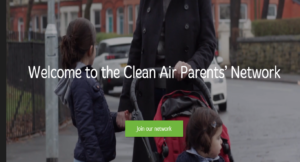 "Road transport is a huge contributor to the polluted air we breathe and there are one million more private vehicles on the road today compared with ten years ago. One of the best ways to improve air quality in the UK, is to reduce the number of motorised vehicles on the road and offer alternatives to private vehicle travel, such as walking and cycling.
"To do this, we need to redesign streets and public spaces for people, not cars; bring in traffic exclusion zones around schools, nurseries and playgrounds, and promote and enable walking, cycling and public transport as realistic options for journeys to and from schools.
"We're calling on the UK Government to protect children, who are among the most susceptible to the negative effects of air pollution, and implement a National Clean Air for Children Programme."
 Related articles: