Could the bicycle trade clean up with Electric Vehicles?
When someone asks you what you do for a living, what do you say? I work in a bike shop? I'm a bike sales rep? I work for a bicycle parts importer? I own a bicycle brand? Did you ever think to say "I work in the sustainable transport sector?" Probably not. And me neither. Because if you work in the bike trade your primary motivation was likely some form of bicycle sport, the particular type of cycling that you love. Whether it's BMX, MTB or road you likely get a buzz from selling the bikes you love. And why not.
But someone looking in from the outside (like a government department or statistician) might not see your job quite the same way. They might say you're enabling all sorts of people to use C02 neutral vehicles, whether that's for fun, sport, leisure or transport – or any sort of mix – doesn't really matter. You're doing something good for the world. When people ride bikes there are wider benefits to everyone. Less pollution, less traffic, fewer sick days, lower health care costs. Even mental health is positively affected by cycling.
Bicycles – the original Zero-Emission Vehicle
Bicycles are the original zero-emission vehicles after all. And this has been measured in this study by the Bicycle Association, which count cycling's economic contribution to the UK at £5.4 billion. Of course, the sum total of the UK cycle trade isn't that much and many of the benefits are society wide "intangibles", such as greater productivity or lower health care costs.
Economists call these wider benefits "Positive Externalities". An added bonus that comes with the product, activity or service. Something good for other people, something you didn't really intend to happen, but it happens anyway. So, well done everyone in the trade, give yourselves a pat on the back. Of course there's a flip side to that – Negative Externalities. We are all part of an industrialised supply chain with the same issues as any other type of consumer goods: Emissions. Packaging. Transport. Recycling. Production Waste. So the question springs to mind, if we are doing such a good job, what can we do better and what is under our immediate control?
Transport and Clean Air – are we part of the problem or part of the solution?
So how about clean air? As we embark to The Cycle Show this week, in a fleet of 'TeDIous Diseasels', perhaps we should give a thought to our own health as well as that of others? Especially our customers – cyclists. We know from articles like this one that when traffic is reduced, air quality improves dramatically. If you really want to understand the subject more deeply, we asked Laura Parry from London's Zero Emissions Network where to look and she recommended these articles from King's College here and the World Health Organisation here.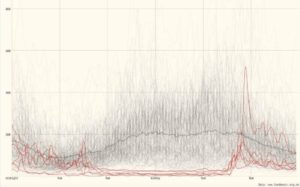 We all know that a petrol vehicle creates fewer particulate emissions than a diesel and in turn a plug-in hybrid (PHEV) is better still and a pure electric vehicle (EV) is arguably the cleanest (so long as it's charged from a sustainable electricity source and not a fossil fuel power station). But for the most part, we are all still driving Volkswagen Combis or Caddy Maxi's, Octavias, Passats and A4s. Between the whole industry, that's about 500 vehicles? Just think what that might look like if we all went electric? Vehicles like these may be just around the corner. Hopefully in a better colour.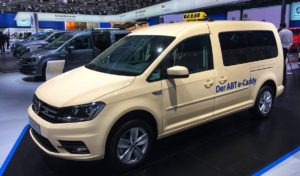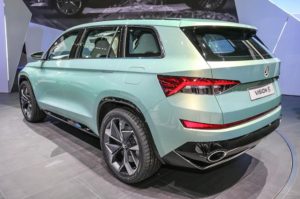 Certainly "big German estates" describes my last 10 years of motoring (until about 12 months ago when I switched to a BMW i3). For me, pollution got personal when the Volkswagen emission scandal broke, I couldn't pretend my Audi A4 wasn't part of the problem anymore. And many of my MTB cycling buddies were coming back from their London commutes with hacking coughs and wheezing lungs. Problems that many found noticeably absent when they worked from home or took a week off.
Transport and health are inextricably linked as this article points out. Government assistance can come in big and small packages, take for instance this scheme, which encourages moped riders to switch to e-bikes. If we'd like governments to encourage the cycle industry with cycle lane infrastructure, subsidies for e-cargo bikes and higher limits on Cycle to Work schemes, perhaps we could also do everything within our power to reduce our emissions?
EVs – right or right now?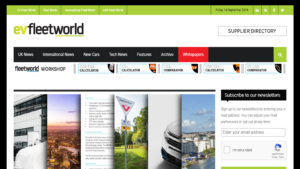 Indeed, we know several businesses within the cycle trade that have already made the switch*. Over the next couple of weeks we'll be partnering with our sister publication EV Fleet World to bring you case studies about how your business might go green when it comes to transport and (in some cases) save money at the same time. Check out their cost comparison tools.
Anecdotally the average cost of a 2.0-litre diesel vehicle seems to be around £650-£750 per month all in. When it comes to cost savings, my i3 is costing around £550 pcm, all in. After 12 months using a EV, I had hoped to state that "if I can use an electric vehicle in my day-to-day role, pretty much anyone can". Today, sadly, I can't quite give that blanket reassurance (more on that later). Savings very much depend on individual circumstances and finding the right vehicle for the job – which is why we will be looking at case studies over the next couple of weeks.
You may discover that just one electric vehicle would prove a winner in a city location or be an interesting test bed for the rest of your fleet. Or you might find that high mileage drivers or senior management could save significant costs/tax versus existing ICE vehicles, especially when it comes to new 2% BIK rules which come in in 2019/20.
While many electric vehicles are great in specific cases, widespread adoption of electric vehicles by the cycle trade might not be practical for at least another year or two. However that time is rapidly coming and so my advice to key decision makers or business owners would be to start dipping a toe in the water now.
'* Please get in touch if your business has gone electric and you'd like to be featured too.