Tailfin sends a slick and lightweight pannier rack to kickstarter
After a minor delay, Nick Broadbent's fresh take on the pannier rack – the Tailfin – has this morning hit Kickstarter.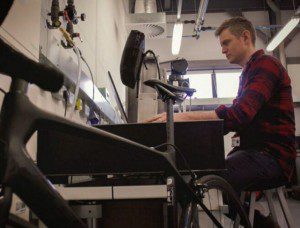 Speaking to CyclingIndustry.News, Broadbent said: "I've never been in the bike industry, but i'm a keen rider, so i've been itching to do my own thing for years. Recently I made the strategic decision to design a product for the bike industry, knowing I'm passionate about it."
Pointing to the often heavy and occasionally cumbersome design of some bike rack, Broadbent's material of choice is a sleek carbon that blends with the aesthetic of pricier modern day road frames. What's more, the stylish rack will tip the scales at just 275 grams and will house traditional panniers, as well as Tailfin's own luggage, detailed below.
In the future a clip on mudguard may feature, we were told, but for the time being that's on the drawing board.
To enable the Tailfin rack to fit any road bike, (including those lacking rack mounts or carbon fiber frames and seatposts), it ships with a custom made quick release skewer, with built-in mounting features. The rack is mounted to the bike, by forming a stable triangle between the ends of the skewer and the seatpost (the seatpost connector is carbon friendly and designed to fit almost any size).The rack is quick release, allowing it to be added, or removed, without tools, in seconds. For security purposes, it can be locked, with screws, if preferred. At 275 grams, Tailfin suggests its debut rack is around 50% lighter than the majority of existing racks. By utilizing carbon fiber as its main material, it is ultra rigid, and tested beyond industry standards (EN 14872-2006)

Panniers will also feature in the launch kickstarter and claim to be 40 percent lighter than "most existing panniers" at just 600 grams. These waterproof sailcloth laminate made bags will carry a rigid backbone, that will protect and reduce sway, while hosting up to 24 litres of content.
"There are a quite a few different directions I'd like to take Tailfin in future," concludes Broadbent. "I think the Tailfin rack and pannier are awesome because they allow people with a one bike setup to do it all – commute with a laptop, tour with a bunch of gear, or remove it easily when doing a road race. However, I appreciate that it won't be the right solution for everyone. Bike packing is really exciting area where I have some ideas. I feel well placed to do some pretty innovative things because I have experience bridging the gap between hard goods and soft goods. Typically those disciplines are on opposite sides of the spectrum."
The Tailfin, if successful, will ship around October and be subsequently available at tailfin.cc.
Prices on Kickstarter will be starting at $190/£132/€169 for the rack & $65/£45/€57 for the pannier.