Textile bike lock more than doubles Kickstarter pledge with 33 days to go
A textile-based bike lock has raised more than doubled its €50,000 Kickstarter goal with 33 days of campaign left to run.
Currently sat at just over €120,000 in backing, the Tex-Lock is said to be as secure as steel, but as flexible as rope. Interestingly, it's also highly resistant to heat and cold, meaning it will neither burn off, or become easier to cut when subjected to ice-spray. The colder it gets, the higher the resistance the fibers offer, says the firm's page.
Weight is a key USP of the Tex-Lock, with the rope weighing no more than 350 grams per metre. With the eyelets and padlock supplied, the unit is sub 1kg, around half the weight of your average D-lock.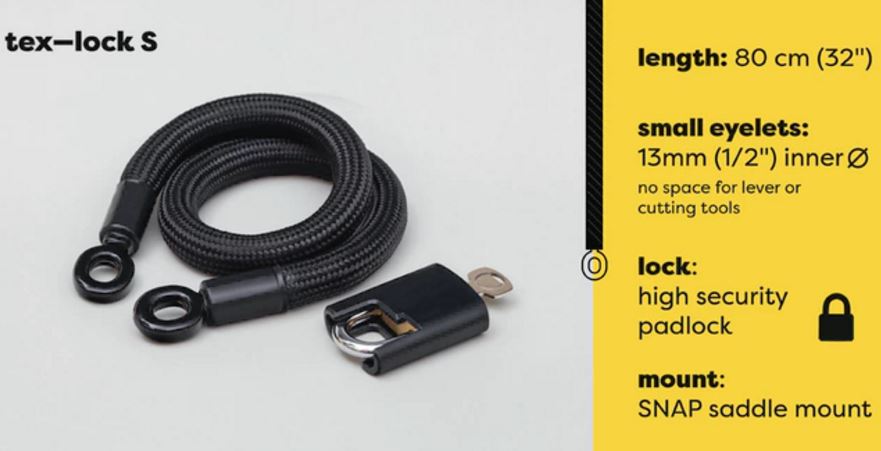 The patented multi-layer construction of the rope has been 2.5 years in the making, with each of the five layers offering a different resistant property. These are saw resistance at the core, cut resistance, fire resistance, a water shield and finally the decor, set to available in several colours.
Down the line the firm says the lock will become 'smart', with conductive fibers able to be braided into the rope, opening the door to alarms and motion sensors.
Being a textile, the firm also says the lock will easily stuff into a jersey pocket and while protecting your customer's bike will not scratch paintwork.
On offer to backers at present are small, medium and extra large models at 80cm, 120cm and 180cm, respectively. A magnetic saddle bracket is supplied for on the bike carriage.