The product sneak peeks hitting our inbox as the bicycle industry gears up for Eurobike
It's just a matter of days now until Friedrichshafen plays host to bicycles of all shapes and sizes. It's anticipated that both electric bikes and urban bicycles will take centre stage, but let's not overlook some of the more traditional product set for a show debut.
Here's five of our favourites spotted so far:
Pivot Firebird
Both a serious enduro build and a capable climber, Pivot's new Firebird features Pheonix-inspired Downhill long reach measurements, paired with a slack 65-degree head angle.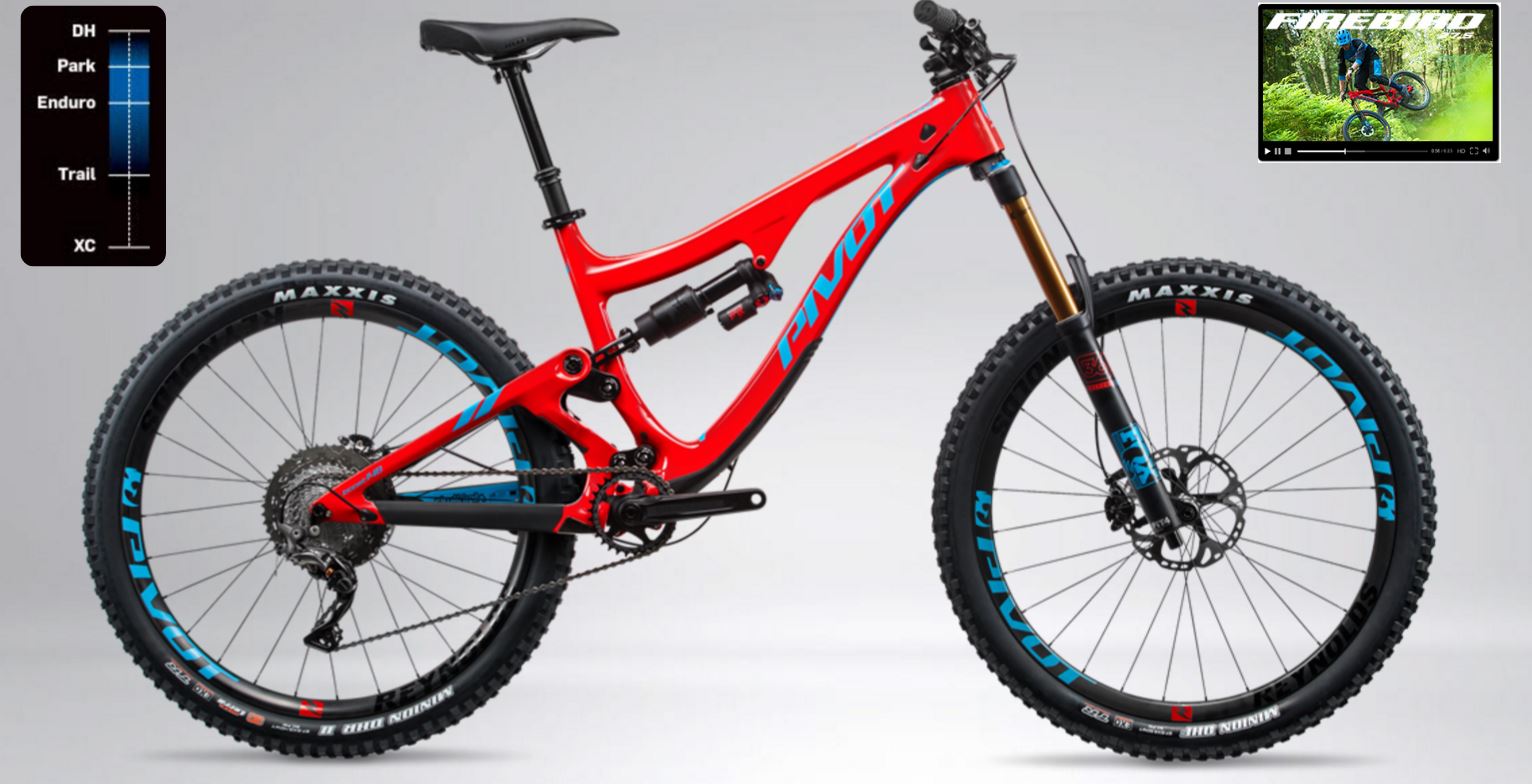 Super-slammed 16.95″ chainstays deliver agility as the trail changes, while in the descents the long and low geometry places the rider's centre of gravity "in the bike", say Pivot.
Dave Weagle's proven DW-Link is cleverly engineered in to deliver anti-squat and variable wheel travel path properties. The Firebird's rearward axle path is optimised in the first 1/3rd of the travel to provide incredible square edge bump absorption. Also borrowed from the Pheonix, the build has a double wishbone rear triangle and ultra-stiff linkage design.
A complete carbon bike build can be delivered below 28 pounds, much thanks to a hollow core, internal, high compression carbon molding process and the right combination of composite materials and shapes.
Firebird frames arrive with UK distributor Upgrade Bikes early in 2017, with special orders delivered from US upon request via Upgrade's dedicated dealer network. Special order frames are available from US stock now. Prices for a frameset begin at £3,300.
Silca SpeedBalance  
SpeedBalance lays claim to being the world's first Aerodynamic Wheel Magnet and Tunable Balancing System.
Built as part of the Tubeless Collection, it was designed for performance oriented cyclists with carbon wheels. The rim mounted aerodynamic magnet claims to save up to 1 watt at 30mph. Four tungsten slugs inside the SpeedBalance allow for custom wheel balancing to offset valve stem weight and create a perfectly balanced wheel, thus improving handling, comfort, and confidence, particularly on high speed descents.
You can grab a SpeedBalance kit from $36.
SheBeest Petunia bib
Women's cycling apparel experts SheBeest are soon to debut the Petunia bib in a number of new styles.
The garment is designed for all day convenience, offering no conflict at the bust line and hassle free bathroom stops. Check out the demo video below for more:
Brooks Island and Harrier Helmets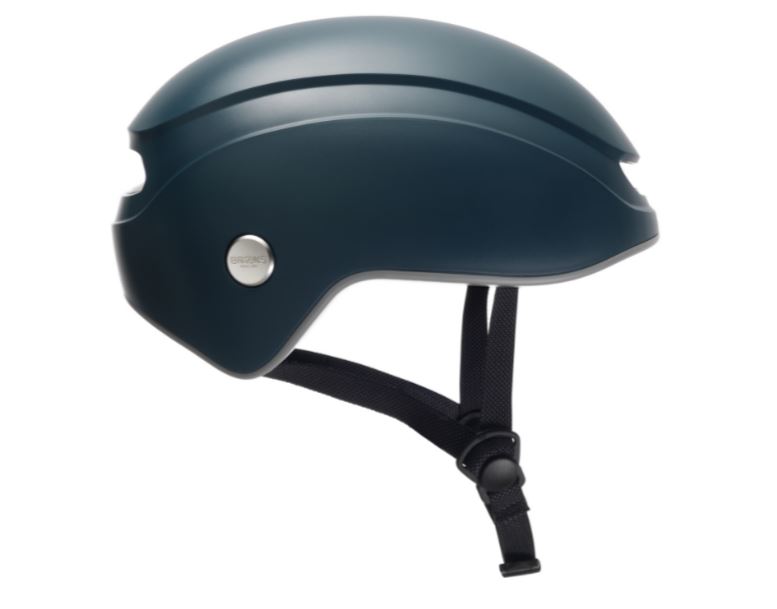 Set to retail at £160 and £120, respectively, Brooks again turns on the style with the new Harrier (pictured in white) and Island (pictured in blue) helmets.
The Harrier is designed for performance with aerodynamic form and lightweight construction while the Island (for urban riders) features a minimal design and fit most suitable for upright riding.
Both are made with a strong polycarbonate outer shell, comfortable design, and exact-size adjusters.
The Harrier & Island ship to retailer during early December.
Wittson Custom 107 Race bike

The build pictured at the head of this article looks to be something a bit special and is soon to be available at $5,989.
Badged as a package only available to the time traveler, this Wittson project is as exclusive as it can get. The Custom 107 project features a legendary Colnago Force fork, an Italian Athena Carbon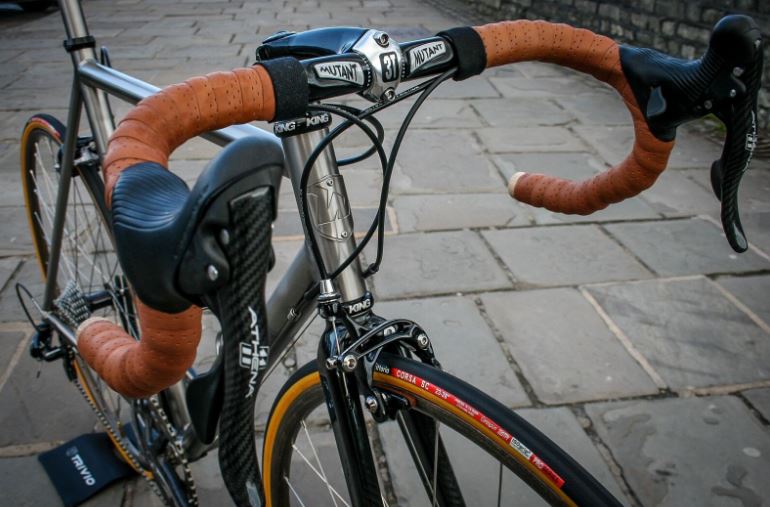 drivetrain, the long gone 3T Mutant stem and handlebar, the vintage looking Brooks Cambium C17 saddle and handlebar tape, and finally most notably, a custom wheelset with Ghisallo Pista tubular wooden rims and Campagnolo Record hubs.
Vidmantas Zukauskas of Wittson Custom Ti Cycles has been building titanium frames for over 20 years now. Long before that, almost 50 years ago, Vidmantas was first introduced to sports bicycles (nowadays known as a road racing bicycle) and instantly fell in love with this sport.
In 2016, having built pretty much anything that rides on two wheels, Vidmantas decided to pay tribute to his roots and to create a classic road race bicycle, which would take any cyclist from his generation on a walk down memory lane. The beauty of the Custom 107 frame lies in its simplicity expressed through classic horizontal road race geometry, sleek grade 9 titanium tubes and exclusive components.
If you've yet to catch it, check out our interview with Eurobike show director Stefan Reisinger who offers his take on what will prove popular as 2017 products emerge.