Trek Bikes ten point sustainability plan creates blueprint for bike world
Trek Bikes has released its first ever sustainability report, within which the company has created a ten point blueprint for reducing its impact on the planet.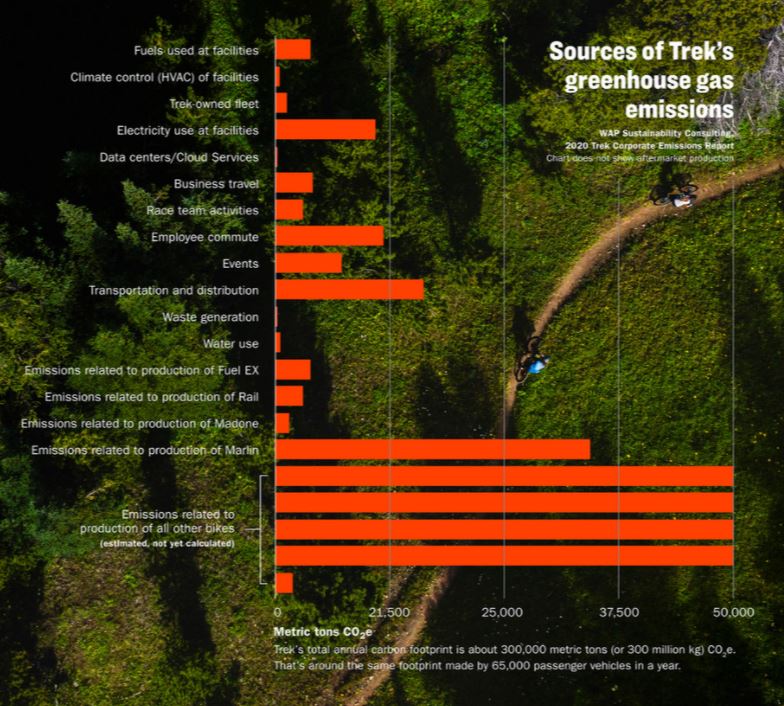 Intending to produce the report annually from now on, Trek Bikes' President Jon Burke writes in the opening letter that his understanding of the gravity of the climate issue came on a bike ride with documentarian Rory Kennedy and in speaking with Robert Swan; the first person to walk both the North and South Poles. Both carry unique insight into the challenges our planet now faces.
Burke writes on his time with Kennedy that her words to him were: "The experts at NASA told me we have ten years to reverse climate change. The way I see it, ten years from now you'll be asked a simple question: Did your company do anything to turn the tide? Yes or No?"
Burke continues: "At Trek, we're just getting started but we are committed to moving fast and taking real action to reduce our environmental impact.
"We don't have all the answers but every day we're learning more about what we can do to improve. We will continue to explore every opportunity and share our progress and knowledge in the hopes that it inspires and educates others.
"Because in the end, it's going to take all of us."
While it may be assumed that manufacturing is the lead source of impacts, Trek Bikes calculate that it is in fact the freight process, in particular air freight, that has a dirty legacy. The emissions of going by air over sea are 84 times higher. To meet this challenge, one of Trek's pledges is to chop air shipments by 75% by 2024.
The report's ten point sustainability plan covers the following ground:
Reduce Air Freight
Consolidate shipments to retailers
Increase renewable energy reliance
Reduce corporate travel
Increase reliance on alternative materials
Create zero landfill from the manufacturing plants
Establish and protect new trails
Remove plastic waste from packaging
Increase access to bike share
Shift gear on increasing cycling's modal share
As seen above, Trek has calculated where its direct and some indirect sources of its emissions stem from, even drilling down to the emissions attached to the production of certain bike models. For example, its popular Marlin model is alone calculated to be responsible for 116kg of Co2.
The report is interesting in its depth, even calculating that a new bike, on average, should be ridden 430 miles to 'break even' on its Co2 emissions with savings gained over driving a car. Variables do of course apply and as expected an electric bikes mileage will need to be higher. There is a suggestion that the extra legwork required on performance gear may also require a higher mileage to break even; the ultra lightwieght Madone had the second highest emissions.
Other commitments firmly in place from Trek Bikes include:
By 2023, all Trek facilities around the globe will be renewable energy driven. Global HQ is at present 100%, as are the California and New Jersey distribution facilities.
Corporate travel has already reduced by 50% on pre-pandemic levels, albeit international travel has been restricted and more complicated. The pledge is to continue this path.
A commitment to recycled materials wherever possible to create products. Thus far 15 of Trek's products are made entirely from reclaimed materials.
A goal to become landfill free by 2024 with efforts already underway in the USA manufacturing facility.
Trek has its own bike share under the BCycle banner and it is hoped that it can increase access to bikes this way. The brand says that it has reduce emissions in 35 cities through share schemes.