UCI suspends use of road discs in road racing following Roubaix incidents
The Union Cycliste Internationale has suspended the use of road discs in road racing following incidents at the Paris Roubaix, reports Procycling.no.
Yesterday Movistar rider Fran Ventoso, who was injured in the Paris Roubaix, penned an open letter on the topic of  disc brakes in professional road cycling. Within he dubbed rotors "giant knives" when used in races where riders hit speeds of up to "80, 90 or 100 kilometres per hour".
Ventoso was one of two riders suspected to have been injured apparently as a result of disc brakes, though doubts have been expressed over what caused both a gash to Ventoso's leg and Etixx-Quickstep rider Nikolas Maes' knee. Team Lampre manager Brent Copeland was among the first to question whether it was in fact rotors that caused the nasty injuries. (Ventoso's is pictured here)
Opinion within the cycling world is split, with a handful pointing to other not necessarily inherent dangers of racing, for example motorbikes running into riders or tyres overheating due to sustained caliper brake application.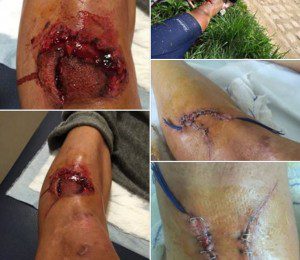 At present the UCI hasn't issued a formal statement, but the Norwegian cycling site reports that the UCI's equipment commission president Harald Tiedemann Hansen has confirmed the decision, with the initiative coming from the UCI following the race.
The Association of Professional Cyclists has also backed the decision with a formal request for suspension.