Unique bike for World Bicycle Relief charity auction on show at LMNH
Leading bike brands Specialized and SRAM, renowned Argentinian-Spanish artist Felipe Pantone and boutique cycling clothing designers Romance have come together to create a one-off custom-finished bike for cycling charity, World Bicycle Relief (WBR) which will go on auction on eBay from November 17-26. Called 'Pantone x Romance', it was recently valued by Sotheby's of London at £35,000.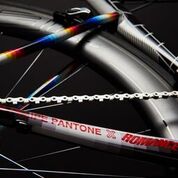 The auction is part of the charity's annual Year-End Appeal. The money raised will directly fund WBR's projects in countries such as Malawi, Kenya, Zimbabwe and Zambia, enabling students, 70% of whom are girls, to get to school more easily and safely, health workers visit more patients and farmers get produce to their customers before it spoils. Donations to WBR mean the charity can provide specially designed and developed, robust Buffalo Bikes which empower families to keep their children in education, to build their businesses and, in turn, support their communities. Each bike costs £95.
Artist Pantone is well known for his private and public artworks, he started doing graffiti at the age of 12 and graduated with a Fine Art degree in Valencia. Pantone said: "I'm all for people interacting with my artwork – when Romance brought the collab concept to me, to apply my work to their cycling kit and a bike, it seemed like a good fit. The results speak for themselves – dynamic, fluid and lively."
Romance is a small, independent producer of cycling clothing, founded in London, which aims to inject art and design into cycling. Alongside their full collection, each season they release a limited edition artist collaboration called Romance X, with all profits donated to WBR.
The resulting bike, which is complete with a Specialized S-Works finishing kit, SRAM RED eTap groupset and carbon Roval deep-section wheels, is similar to those ridden by pro-racers from the Quick-Step Floors team in major races such a the Tour de France – but of course with this amazing paint job.
WBR's UK CEO Allison Dufosee said: "We are so grateful to our supporters at Specialized, SRAM and Romance, and for the exciting collaboration with Felipe Pantone for this spectacular bike.
The WBR Year-End Appeal kicked off recently with the auction of another, unique artistic collaboration with sculptor Wilfrid Wood – a bust of three-times Road World Champion Peter Sagan – which raised over 50 bicycles for its projects.
In total, the charity has supplied over 427,000 to projects around the world, empowering communities so that distance is no longer a barrier to independence and livelihood.
Hopes are high for a significant contribution from the 'Pantone x Romance' auction. For bidding for the bike, click here.  The bike will be on display at Look Mum No Hands from 18-21 November.
Visit HERE to fundraise for WBR and follow on Facebook, Twitter and Instagram or visit https://worldbicyclerelief.org.