Upgrade Bikes to distribute Trust Performance products in UK
Upgrade Bikes has announced it is now the exclusive distributor of Trust Performance products throughout the UK.
Trust is a new company, founded by a trio of industry heavyweights: Dave Weagle (engineer and inventor of suspension designs DW link, Delta link, and Split Pivot), Jason Schiers (Founder of Enve Composites) and Hap Seliga (Co-founder of US retailing giant, Competitive Cyclist).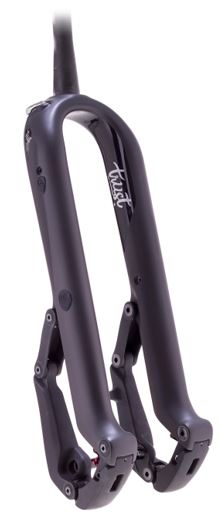 Trust's first suspension product, the MESSAGE Fork has been more than five years in development and was kept under wraps until late 2018 when it first surfaced on the internet. The production fork is now available to buy, offering 130mm of travel and working differently from other telescopic forks in that it is engineered to maintain trail and increase stability as it is moves though its travel.
Rory Hitchens, Upgrade's Marketing Manager, said: "We were captivated by the "Trust Effect" concept since we first heard about it and are thrilled that we have been chosen to deliver the MESSAGE fork to the UK market. We have a great team here and will use our collective expertise to establish the brand and get as many mountain bikers as possible experiencing the MESSAGE fork. This will very much involve expert independent dealers and demo centres and we welcome all new contacts as well as interest from established Upgrade partners.
"We already experience success with another carbon trailing link fork solution from the brand Lauf so the Trust brand complements our portfolio of innovative and technical products. We are firm believers in Trust's unique trailing, multi-link design and the riding benefits it offers trail riders.
"Upgrade has worked for a decade alongside Dave Weagle's genius through his DW link rear suspension which is central to Pivot Cycles' brand success. We are confident that the powerful combination of Dave, Jason and Hap has much more to offer than just the MESSAGE fork and we are invested in supporting Trust for their future in the UK market."
Rob Aguero, Trust Global Sales Manager, added: "The expertise and service provided by our new distributor Upgrade is bar none. It's an honour and a pleasure to work with their team to establish Trust's position in the UK."
The first UK delivery of MESSAGE forks is in stock at Upgrade now and available to the distributor's IBD100 dealer network. The Upgrade team is open to discuss sales, staff purchase and demo product with all independent dealers and demo centres who want to be added to a growing list of consumer test and demo events.
To look at becoming a Trust stockist and demo centre, contact Upgrade's Technical Sales and Demo coordinator Adam Dawson (07867 593 774). For all general Upgrade enquiries click here (01403 711 611).