Freewheel announced as new headline sponsor to New Forest Spring Sportive
UK Cycling Events has announced Madison's new IBD cycling website, Freewheel.co.uk, as a new headline sponsor to the New Forest Spring sportive, with plans to bring a raft of top cycling brands and activity to the event village.
The event includes a Ridgeback kids' bike test track, free Shimano bike checks for last-minute tweaks and if your headwear needs an upgrade, you can trade in your old helmet for 20% off a selection of brand new Lazer lids in the Lazer Helmet Amnesty.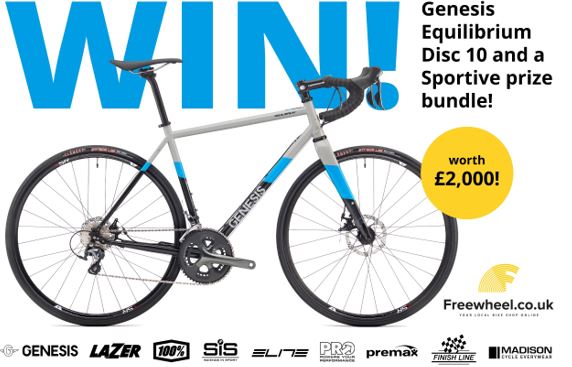 Freewheel is also offering a chance to win £2,000 worth of cycling goodies, including a new Genesis Equilibrium Disc 10.
This year's edition takes place 13-14th April on the grounds of the Somerley House Estate, featuring three routes ranging from 30 miles and an elevation of 840ft for beginners, to 81 miles and an elevation of 2,539ft. Plenty of short, sharp climbs feature along the standard and epic routes for those seeking to test the legs.
UK Cycling Events Manager, Natalie Hicks, said: "We've been running the event for nearly a decade and year on year we're pleased to welcome so many returning riders as well as those who haven't experienced this bucket-list ride, but it's recently been craving a new sponsor to give it a fresh breath of life. We're thrilled to have Freewheel on board. Their support will completely transform this event and help bring those extra special things that will take it to the next level."
All riders of the Freewheel New Forest Spring Sportive will be given a 10% discount to shop online at Freewheel.
Madison's new cycling website, Freewheel.co.uk sets out to support IBDs up and down the country, enabling shoppers to browse thousands of top brands online and nominate a local bike shop to make their purchase.
CIN spoke to Madison CEO Dominic Langan about all the ins and outs of Freewheel, in the second instalment of our cycle trade-focused podcast. Make sure not to miss it and keep your eyes peeled for when the episode goes live this week. In the meantime, you can listen to the first episode of the CIN podcast here.
Marketing Director at Freewheel, Kellie Parsons, said: "We are so excited to be sponsoring our first sportive and what a great place for it to be. The New Forest is known for beautiful road cycling, so we couldn't be happier. Freewheel.co.uk is all about giving cyclists the best consumer experience possible while supporting local bike shops. It's all about getting bums on saddles and we can't wait for April."
Entry for the Epic and Standard routes costs £40, while the Short route costs £31. Riders buying two tickets will receive an extra 10% off. For more information, route, competition and entry details visit the UK Cycling Events website.