Why turning Strava on may gift your city better cycle infrastructure
May 10th marked the 2016 Bike to Work day from social cycling app Strava and an opportunity for cyclists the world over.
Why is it worth paying attention and sticking your GPS tracker on and in particular on Bike to Work Day? Strava's Metro offshoot is hoping to utilise the data, as it is reportedly doing in 76 regions globally, in order to help city planners design for cyclists. In fact Strava is actively encouraging planners to get in touch.
The Metro project has thus far gifted such planners a previously unimaginable wealth of data simply thanks to user-generated, anonymised data gathering. In 2015, Strava members used their mobile phones and GPS devices to upload more than 168 million activities, roughly 5.3 activities every single second. In dense urban areas, nearly half were commutes.
Want to prove to your city officials that cycling is on the rise locally? Strava has a tool for that too. Notably, Central Europe and Eastern USA show heatmaps glowing brighter than ever in 2015 when compared with prior years.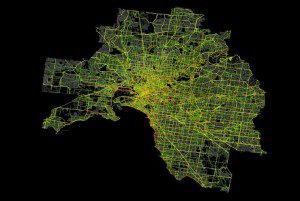 With the heatmaps generated, city planners are able to work with Strava to analyse which routes are being used most commonly and perhaps even understand where safe shortcuts could be implemented.
Gareth Nettleton, VP of Marketing for Strava, commented; "Strava Metro is a revolutionary product that only a business like Strava can create. We've been helping runners and cyclists track their activities since 2009, and their billions anonymised of data points have given us a unique perspective on how they move through urban areas. When we combine our perspective with local government data and research, Strava can be a very insightful partner to urban planners and municipalities that want to promote and improve cycling in their city."
He added: "Your Strava commute counts because every activity has the potential to make a difference to cycling in your area. It doesn't matter if you ride 1 mile or 50 miles, if you ride to work on 10th May you can be a part of a global movement to make cities better for cyclists."
City planners interested in obtaining data from their own region can contact Strava here.
Interested in what your city's heatmap looks like? Click here. Strava can be download for Apple devices here or Android here.