Active travel on the decline, shows National Travel Survey
People in Enlgand are making 14% less trips by bicycle than they were in 1995, the Government's National Travel Survey shows today.
The figures released today paint a picture of a car-dominated landscape, with the vast majority of trips of 1 to 5 miles in length made by private car.  Despite this, those who do cycle are cycling 16% further over 1997 statistics, a trend that has been steadily rising since 2005.
Primarily cyclists are cycling on the roads (38%), though some 29% fall into a category of 'pavement or cycle path, indicating that, where available cycling infrastructure is used. Where unavailable, those taking to the pavements do so out of safety concern.
20% of people surveyed say they ride just once a year, while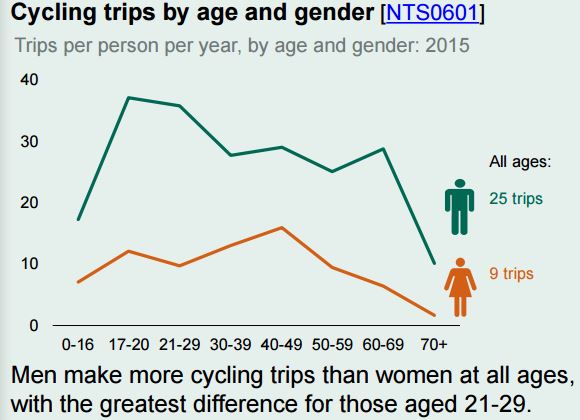 65% rider 'never'. With the bicycle industry now often looking to lure non cyclists, the study details a demographic in which the 20 to 30-something is an existing cyclist, though the drop off from 30 onwards is sharp, particularly in men.
Interestingly, access to bicycles is the second most limited demographic between the ages of 21-29, further indicating a core group of users. Access rises from ages 30 through 49, before dipping sharply into older age.
Making up just 2% of trips in the England, modal share remains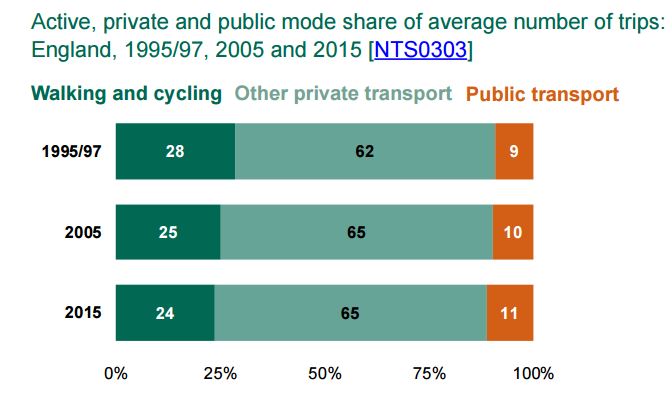 static, though as shown by the DfT previously, is growing fast in areas which are benefiting from safe cycling infrastructure. In the City of London, for example, 9.4% more people took up cycling in 2014-15 over the prior year.
Among those who do cycle, an average of 53 miles are cycled annually over 17 trips, with journey time averaging at 22 minutes.
When it comes to the reasons people are traveling, commuting makes up 16% of trips and 20% of the distance. Trips are up 9% on 1997 levels.
Kids, who have the highest level of access to bikes, make up 12% of trips to and from educational facilities, though in the bulk of cases are driven.
To read the full report, click here.