Annual bike sales to run at more than double new car registrations by 2030
Annual bike sales will run at more than double new car registrations by 2030, according to new forecasts by a trio of European cycling organisations.
The trend analysis of 30 European countries by CONEBI, CIE and the ECF illustrates that based on the current trajectory 10 million more bikes are expected to sell per year in Europe by 2030, representing a 47% rise on the 2019 tally. Once reached, the 30 million bikes sold annually will run at more than double the number of passenger cars registered per year in the EU.
It is the advance of the electric bike that has seen the figures spring to life. Adoption across Europe is expected to continue its compounding growth and is now expected to reach 17 million units sold annually by the end of 2030. For context on just how sharp the sales trend is expected to be, 3.7 million e-Bikes sold in 2019.
What has brought such high confidence in the market, you might ask? In 2020, despite headwinds from the pandemic and stalled production lines, the e-Bike market is projected to have grown 23%. In the UK, electric bike imports volume booked ahead of the pandemic had called the upward trend correctly and many suggest that it is this trade that maximised the potential of this year's bike boom.
The growth estimate might even be conservative, believe the orgs. Warming political will across Europe is given weight in the projection with investment in infrastructure and electric bike subsidy support prompting the orgs to suggest the additional 10 million sales could be reached by 2024, if current demand sustains.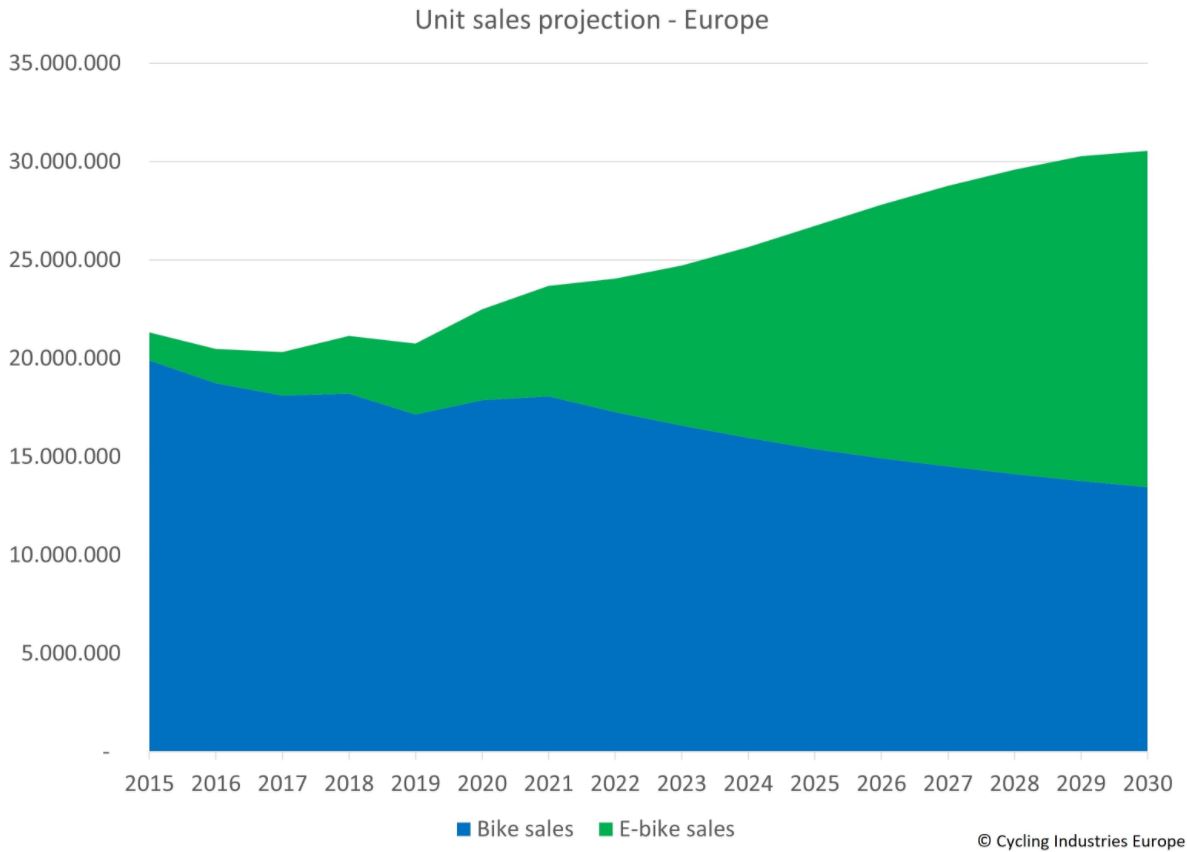 Kevin Mayne, CEO of Cycling Industries Europe said of the findings: "Cycling is one of Europe's most dynamic industries right now. With these new numbers we are able to show the EU, national governments and the world-wide cycling sector that the European cycling market is the place to invest, to deliver the EU Green Deal, COVID recovery and new green jobs. With this strong collaboration between our associations we can put real evidence in front of investors at every level."
While talk of electric bikes taking over is rife, as has been the forecast for some time, the annual bike sales analysis is likewise warming for conventional bikes. Having receded in the face of e-Bike growth, the market is expected to steady for the next three years and potentially rebound if Governments deliver on promises of safe cycling infrastructure.
Manuel Marsilio, CONEBI General Manager, added: "The Bicycle Industry is in transformation and we are seeing a considerable growth in both sales and production of bicycles – in particular e-bikes – over the past years in Europe. To support the industry CONEBI has partnered with CIE and ECF to prepare an up-to-date market forecast that shows how big the market size can be in the coming years. However, such a growth will be possible only with the right regulatory environment and a clear industrial strategy across the EU and beyond."