asecos sculpts its battery storage cabinet for e-Bike shop needs
Experts in battery storage, asecos have taken on board cycle trade feedback to adapt a product designed to perfectly meet the safe storage of lithium-ion batteries and the needs of the e-Bike specialist.
Operating in the UK for 15 years, but with over 25 years' experience in preventing accidents, the company manufactures its storage cabinets within a state-of-the-art factory in Grundau, Germany, where over 300 specialist staff are based.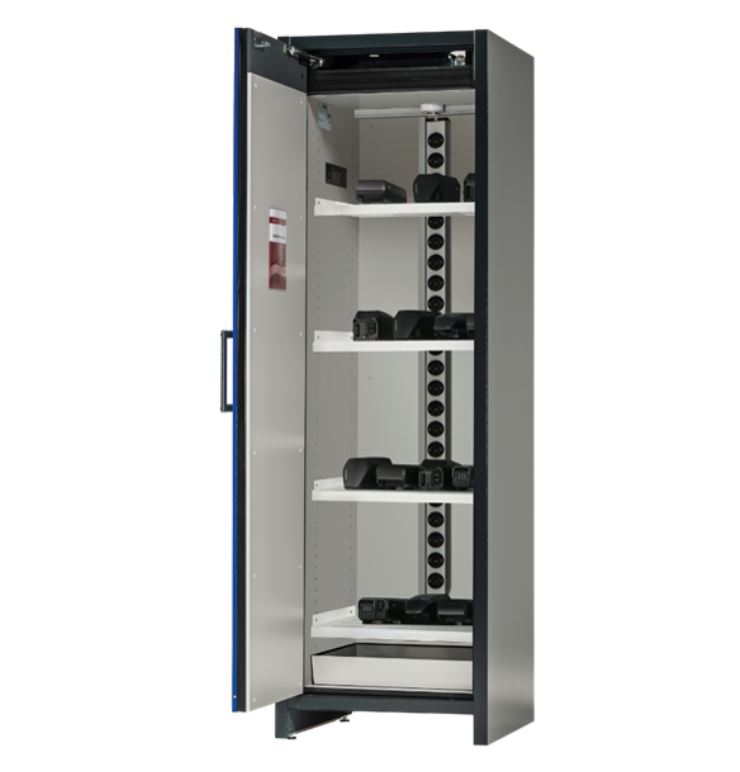 With a reputation built upon improving the industry standard, in the early days of asecos the German benchmark was limited to protection for 20 minutes to contain flammable material.
"Conversely, building regulations stipulated 90-minutes fire resistance for storage rooms and doors so there was a big discrepancy. We already had a solution for centralised storage, but this wasn't ideal as you still had the problems of transporting the materials to and from the workplace," said Les Day, the UK Regional Sales Manager for asecos Ltd.
With a goal of meeting the higher rating, asecos set about developing the world's first 90-minute fire resistant cabinet offering the best of both worlds; safety comparable to a central store and the flexibility of having everything close by.
That's the foundation of a portfolio that has since come to deliver hazardous material storage and more recently, lithium-ion battery storage solutions for both industrial and commercial applications.
With the cycling market witnessing a sustained growth in electric bike use, the subject of appropriate battery storage perhaps hasn't had the airtime it arguably deserves.
What's the worst that could happen?, you might ask. Well one shop in Hanover, Germany, found out the hard way, sustaining €0.5 million in damages following the breakout of an e-Bike battery fire in 2017.
"In normal operations, using lithium batteries is considered safe, however if there is a technical defect or a battery is damaged, the situation can rapidly change and become critical. Unfortunately, unless the damage is clearly visible, for example damage to the casing, the defect can remain unseen. The situation becomes increasingly dangerous when a lithium battery discharges its stored energy in an uncontrolled manner. Once the heat produced exceeds the melting point of lithium, an unstoppable chain reaction occurs which is known as thermal runaway, causing the battery to burn up in an explosive manner," explains Les.
It is therefore quite important that bike shops have a plan and protection in place, should an incident begin to unfold.
The biggest threat comes from unsupervised charging or storing. So what happens at night or on the weekend? If something goes wrong, how quickly are you alerted and able to act? Every minute counts to keep the damage to your shop to a minimum. That's why, if there is an incident, the asecos concept provides an immediate alarm to a central control room or an alert via a mobile app to the owner / designated contact person, and then contains the battery fire for sufficient time to enact an effective evacuation procedure of the unit.
"Our cabinets are constructed using multiple layers of fireproof insulation materials housed in metal casings. Special intumescent seals, fitted to all gaps between the doors and the frames, expand when exposed to heat or fire, hermetically sealing the cabinet. They are built to an extremely sturdy construction, with the finished cabinets weighing between 250 and 450kgs when empty," says Les, explaining the basic build required to contain what can become an uncontrollable fire.
Having recognised a trend toward e-Bike uptake in Europe, asecos reacted quickly to learn about the specific needs of the bike retailer. Having attended Madison's IceBike, among other events, Les and his colleague took on board feedback that has since seen the product refined to perfectly suit the needs and constraints of a typical cycle store.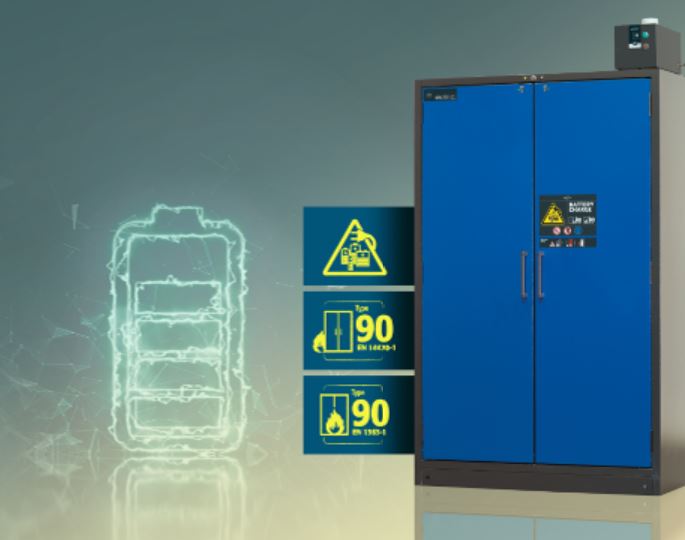 While it is not a legal requirement to have such storage on site, you may be playing with fire if you gamble on improper storage, says Les.
"However, we firmly believe there should be legislation in place. The information provided by the manufacturers is, in most cases, basic. The Netherlands are the first government that we are aware of who are planning to introduce legislation, although this may not happen until 2022 at the earliest. Action should be taken so we are actively lobbying the Standards authorities and Insurance industry to drive this. Thankfully, the insurance companies are now investigating and starting to re-evaluate premiums."
asecos cabinets are independently tested in compliance with the testing conditions of BS EN14470-1 (fire resistance from the outside-in) and BS EN1363-1 (fire resistance from the inside-out) for a timed period of 90 minutes. The Battery Charge Pro, Battery Store Pro and new K9 Battery Charge models have a multi-stage alarm system with the option of a fire suppression system that further enhances the safety features.
Should your bike shop wish to explore battery storage options with asecos, products in the catalogue begin at £2,200 and span up to £5,900, excluding delivery.
The UK team are contactable via:
Les Day (UK South)
L.Day@asecos.com
Phone: 07793 650538
Mark Whiteley (UK North & Ireland)
M.Whiteley@asecos.com
Phone: 07880 435436
In conjunction with CyclingIndustry.News, asecos Ltd will be hosting a free webinar at 11am on Wednesday 9 September. To book you place for "The Safe Storage of Lithium-Ion Batteries", please register here: https://us02web.zoom.us/webinar/register/WN_xI711ZyFRlmm_hJnjTPI9Q
// Advertorial on behalf of Asecos //