BMX pro Sebastian Keep launches transition-focused parts brand
BMX professional Sebastian Keep has launched 'tall order', a new components label dedicated to hitting trails and skateparks.
"We have seen riding naturally evolve with street becoming the predominant style of freestyle BMX," said Keep. "But for me, although I enjoy riding street and using my pegs I have always had a bigger passion for riding transitions. Whether it's indoors, outdoors, wood, dirt, cement or brick the feeling of trying to go faster, higher and land smoother has always been my thing… you like what you like I guess. For this reason tall order frames and parts will be designed and engineered specifically to be ridden at the highest level on transitions of all types and sizes."
To be carried in the UK by Seventies Distribution, the first hard goods listed online are frames. The 215 is built with an investment cast integrated seat clamp. Made with Japanese Sanko tubing, the frame's currently in testing with a view for November release.
Stuart Dawkins of Seventies told CyclingIndustry.News: "tall order will be distributed in the UK by Seventies Distribution. We have just received the first shipment of clothing and will be receiving frames and other parts around November. For more information check the tall order website at tallorderbmx.com, or contact Seventies via www.seventies.co.uk, or 01424 855556."
Next up, the 187 is much the same story, but with a much reduced standover at 7.4″ as opposed to 8.5″, as well as a short rear triangle.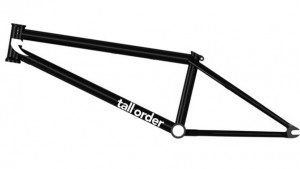 Tall order already appears to have assembled a team of riders to promote the label, including Corey Bohan, Jack Clark, Oliver Jones, David Gilchrist, Matt Harris, Kaz Campbell and Keiren Reiley.
Keep has begun to document his journey in the bike business on a dedicated Youtube channel here.
Keep himself gives you an idea of what the frames should be able to withstand with this insane multi-storey transfer in Croydon, UK, which featured on the cover of Ride UK.