British Cycling the subject of sexism and selection rows as riders unite in press
Jess Varnish, Lizzie Armistead, Victoria Pendleton, and Nicole Cooke have all spoken out in the mainstream press on the familiar issue of sexism in cycling.
Pro cross country athlete Jenny Copnall also joins the rapidly growing list. Within her SingletrackWorld piece, Copnall has published a formerly rejected proposal addressed to British Cycling's Board of Directors.
Updated: Jess Varnish has now issued a further statement of her own at jessicavarnish.com in which she alleges that the "have a baby" comment is just one of many by Shane Sutton stretching back years.
Varnish, who was dropped by British Cycling recently supposedly on performance grounds, quite rightly as the stats show, hasn't taken the decision at face value. Varnish and partner Katy Marchant were the best available pairing in qualifying for the Olympics.
"During the 2 year Olympic qualifying process, I gained more qualifying points than any other British female sprint rider. I was consistently performing in the top 5 in the World for Lap 1 times in the Team Sprint, and I have also qualified Olympic places in the individual Sprint and Keirin. Since 2012 I have won medals at the World & European Championships and Commonwealth Games," said Varnish of her performance record.
On receiving the news, Varnish says that technical director Shane Sutton told her to "go and have a baby", an accusation he denies and which the organisation's equalities officer has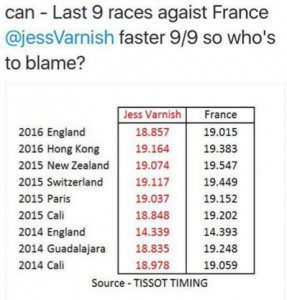 now invited Varnish to discuss.
Pendleton has described a "bullying, suffocating" culture stemming from a minority at the top in her Telegraph interview.
"I have never spoken out before," Pendleton said. "But I have to do it now. I would not be able to live with myself if I sat back and let people try to discredit [Varnish's] character. Not when I wholeheartedly believe her. My experiences [at British Cycling] were very similar. And I know exactly how miserable they made me."
Olympic Gold medalist Nicole Cooke echoed with her experience in a Guardian column, stating: "I have my own personal experiences of Shane and sympathise with Jess. She was in the position so many have found themselves: speak out and your dreams will be destroyed and years of hard work wasted. Or put up with it and hope. I spoke out from the age of 19 and I know what happens."
This is a storm that's far from limited to the Europe, in fact USA Cycling too has been met with considerable backlash in its announcement of a partnership with cycling race gear supplier Assos.
"We are now going to portray women the same way we portray men –as athletes," says Assos' CEO Phil Duff.
It's not been a good month for British Cycling, which are also feeling the heat in BMX race circuits for the omissions of National Champion Tre Whyte and Quillan Isidore from the BMX Racing World Championships. The race community has been piling pressure on the organisation, asking questions of decision makers, notably why will Team GB will have two riders to compete against the USA's eight selections. Six spots were granted to British Cycling, just three have been filled – two in the elite men's and one in the junior women's categories. Former racer Liam Batey has suggested this too is familiar ground.
The news comes as UCI President Brian Cookson is quoted as hinting at a changes in the layout of cycling events prior to the 2020 Tokyo olympics with track cycling looking like a likely favourite for expansion. BMX freestyle has also been mooted for 2020, with the likelihood of a shared venue with skateboarding events.
This in turn is part of a strategy to draw younger audiences to cycling, though Cookson told InsideTheGames.Biz that young people are just as interested in the velodrome.
"I think BMX freestyle is a great and exciting discipline, which appeals to youth and TV," he told insidethegames.
"But just as many young people interested in the traditional disciplines in our sport than 'X Games-like sports'.
"We have no problem in getting young people into road, track and mountain biking."