Cannondale issues safety notice on all 2016 Slate bicycles
Cannondale has issued a safety notice on its 2016 Slate bicycles having identified a fault when converted to run tubeless.
Though the bikes are all sold with inner tubes, the common modification may not sit right on the rims used on 2016 builds, causing the tyre to pop off.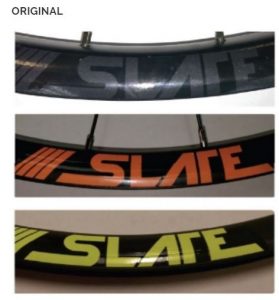 Any rider that has decided to go tubeless should immediately stop riding and contact their local Cannondale supplier. A free wheelset replacement is on offer from the manufacturer.
The affected wheelsets can be identified by the Slate decal on both the front and rear wheels – with grey, orange and yellow decals applied to the various builds. A Mavic replacement wheelset will be offered to those who wish to go tubeless.
More information about this recall is available via:
United Kingdom: 01202 732288
North America US/Canada: 1-800-BIKEUSA
In Europe, please consult your nearest Authorized Cannondale Dealer.
Earlier this month selected Bad Boy and Bad Girl builds also faced a recall over a potential fork failure.