Cleaning in a can: Weldtite Jet Blast launches
UK-made bike cleaning expert Weldtite has launched Jet Blast Degreaser, a bike care solution that is designed to degrease and clean by pressure release.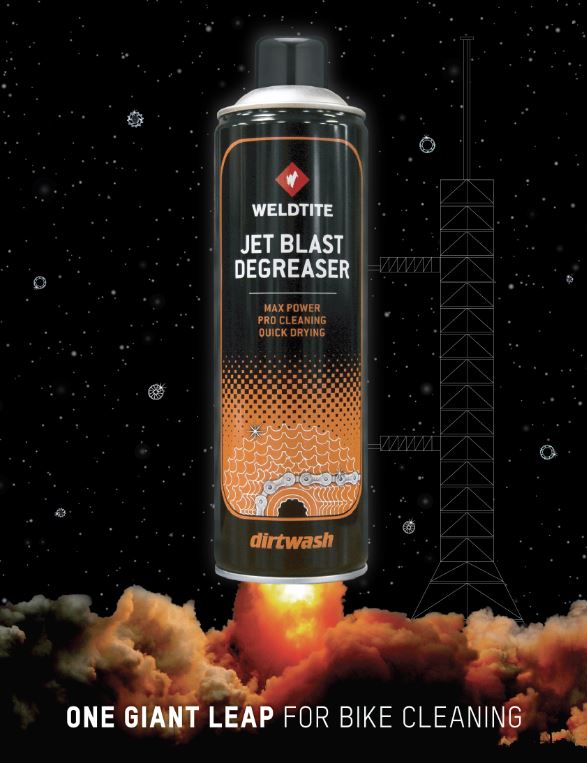 Shown to crowds at Eurobike last week, the pressurised can dispenses a powerful jet of spray that removes muck and cuts through oils, significantly reducing the time taken to clean customer bikes.
Formulated in a similar way to the existing Citrus Degreaser, the new product has the added twist of drying rapidly, making it ideal for quickly bringing life back to cassettes and jockey wheels.
Dan Leather, Marketing Manager, Weldtite commented: "As riders and workshop mechanics, we have all been in a situation where we struggle to find the time or drive to clean our bikes. We have created Jet Blast so time consuming processes like removing your cassette or having to vigorously scrub your chain are no longer required to achieve a pristine, professional finish for your drivetrain. Put simply, it's like having a pressure washer in a can."
Jet Blast is available to order now and 500ml cans will retail at £9.99. A counter-top point of sale for six Jet Blast cans, and featuring 'One Giant Leap for Bike Cleaning' graphics, will be included with each twelve pack from early October.
Contact sales@weldtite.co.uk, or call 01652 660000 for more information.
Look out for an interview with Weldtite managing director Paul Davis in the next print edition of our Trade Journal.