IN DEPTH: Efficient, commercial & sustainable – e-cargobike uptake builds
In September 2019, Hammersmith and Fulham Council made a landmark move for the UK by setting up a zero-emissions freight hub, Parcels Not Pollution. Using £50,000 from Transport for London, through Hammersmith BID, the hub and service was set up with e-cargobikes.com, an experienced last-mile delivery service that has already worked with the likes of the Co-op.
CI.N discusses the commercial and sustainability case with e-cargobikes.com's Co-Founder and Managing Director James FitzGerald and Co-Founder and Deputy Managing Director Clare Elwes…
When was e-cargobikes.com launched, and do you operate predominantly in London?
We launched justebikes.co.uk – a retail e-Bike business – in 2004, before spotting a gap in the market and developing the concept which became e-cargobikes.com. We were awarded an Innovation award by the DfT in early 2017 and launched our delivery project at the NEC in Birmingham that spring.
We currently operate exclusively in London, working out of hubs in Islington and Notting Hill (also our HQ). We are currently in the planning stage of further roll out with e-cargobikes.com hubs across East and South London. Nationwide roll-out will follow this.
In your experience, are businesses generally receptive to switching to e-cargo bike deliveries for last-mile? Do they see the need for it?
We currently work with a number of retail businesses and have found them hugely receptive to our message. Businesses large and small are waking up to the urgent need for zero-emission last-mile delivery solutions, with city streets increasingly clogged up with dirty diesel vans out on delivery.
But the argument for e-cargobikes is not just environmental, it's commercial too – businesses are coming to realise that fulfilling e-Commerce orders using van-based delivery platforms is not financially sustainable – e-cargobikes.com can deliver a better service for a fraction of the  cost, with greater flexibility, and no congestion charges or parking fines. It's a win-win situation and one which we have found businesses very keen to take up. Larger businesses really appreciate the ethos and CSR element of our
operation, smaller businesses see us as a means of competing with the big online retailers like Amazon – our Cargonauts can get their goods from store to customer faster and cheaper and sustainably.
Are you seeing increased uptake in recent years?
Absolutely! We have completed trials with among others, the Co-Op and Sainsbury's in London, and are working hard to keep up with demand for our delivery services across the city.
How did it go, working with Co-op?
Our Co-op partnership has been a great success to date and is ongoing. Co-op selected us as the launch partner for its new online delivery service, launched from the King's Road Store in Chelsea in March 2019. By August 2019, we had rolled out the service to other London stores. Prior to this we ran a big trial with Sainsbury's with a fleet of e-cargo bikes delivering orders in south London dispatching up to 100 online orders per day. Following the trial, analysis of results showed a 99% customer satisfaction rate and 99.9% of deliveries completed on time.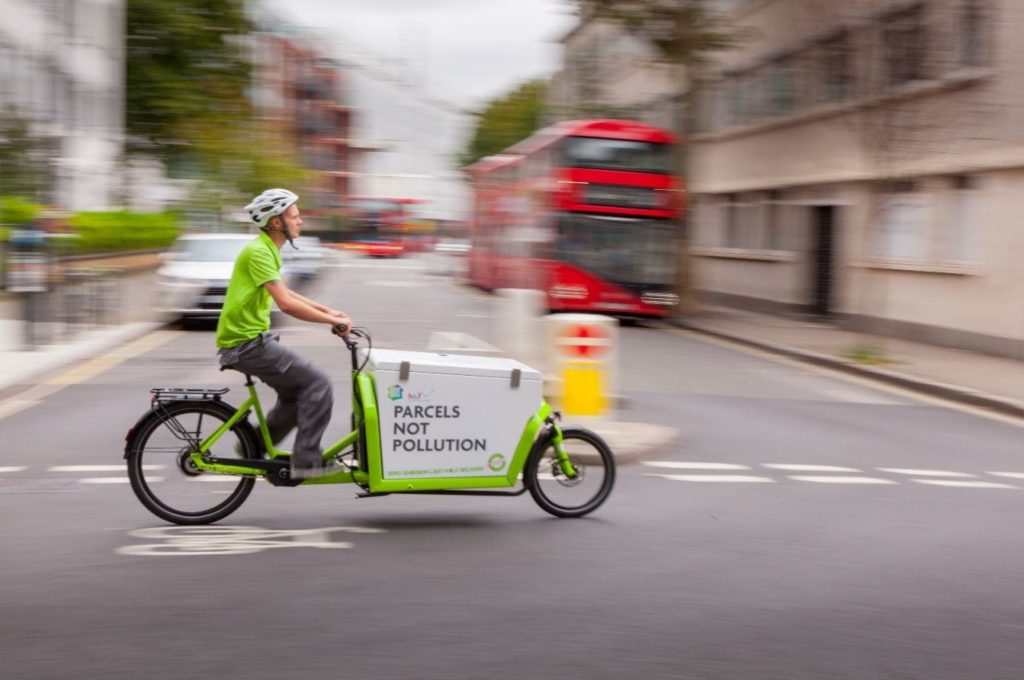 This latest partnership with Hammersmith & Fulham Council looks to be significant. What are your hopes for the scheme?
We're working in partnership with both Hammersmith & Fulham council and Hammersmith BID to reduce traffic, ease congestion and improve air quality in Hammersmith town centre through the new zero-emissions freight hub, Parcels not Pollution. This will reduce the number of freight vehicles on the roads in Hammersmith – particularly at peak times – with no difference in the service to the customer and no extra delivery cost. We're delighted that Hammersmith & Fulham council is taking such a forward-thinking approach to tackling the issue of congestion and pollution from van-based deliveries. They are now undoubtedly leading the way amongst London councils in addressing local air pollution.
We've seen an incredibly positive response from local businesses with 70 businesses signed up in the first two weeks alone, from SMEs right up to global corporations. Our belief is that this ground-breaking project will develop to become a model solution attractive to boroughs and LAAs throughout the UK.
Would you like other councils to follow suit and establish freight hubs and schemes that suit e-cargo bikes? It's good to see Transport for London dedicating cash to these schemes…
Following the success of the Parcels not Pollution partnership in Hammersmith, we have had a great deal of interest from other boroughs both in and outside London.
You could argue that e-cargobikes.com plays a role that connects the cycling industry with councils and businesses. From the perspective of that fairly unusual position, what would you say to the industry as it attempts to work more closely with businesses and increase its cargo bike businesses?
One of the complicated things about London is that every borough has a slightly different approach to cycling – with some boroughs much more pro-active than others.
Councils in some areas may meet resistance to the idea of building new cycling infrastructure, removing road space from other traffic in order to build cycle lanes which see high levels of traffic during peak hours, but may be underused at other times. We're hopeful that showcasing the use of cycling infrastructure for zero emissions last-mile deliveries will help to strengthen the argument for boroughs to invest in new infrastructure and work with suppliers like us to develop the low carbon local economy.
Is there enough support for e-cargobikes and last mile deliveries?
We have found a great deal of support for cycle-based last mile deliveries amongst businesses and councils alike. We hope that other borough councils will be inspired by the initiative taken by Hammersmith & Fulham council to address the congestion and pollution caused by van-based personal and local business deliveries and be spurred on take similar action on their own turf. The Department for Transport has been incredibly supportive, and we feel that we are on the cusp of a sea change in attitudes across the capital and the country as a whole.
Any final thoughts on the e-cargobike potential?
We promote efficiency as well as sustainability – financial, environmental and societal sustainability are naturally occurring bi-products of efficiency and big business understands efficiency. A huge proportion of their work is focused on delivering the efficiencies that are so vital to their business remaining competitive. Their success in this is often measured in fractions of 1%. Our e-cargobikes require just 13 megajoules (MJ) of energy to delivery 1,000kg of groceries, a diesel van 3,400MJ, and an electric van 2,400MJ, that's a huge increase in efficiency!
We openly reject the gig economy model – we are committed to creating a sustainable employment model, with all of our employees earning above the London living wage, with guaranteed Living Wage hours. We're proud to be creating green jobs in an industry that has been traditionally built around the gig economy – our alternative model allows our riders to be confident that they are properly employed with all associated benefits, whilst ensuring that we can offer a strong and consistently high level of service to our partners and their customers.