Club or shop require custom printed gear? Compare the UK's top suppliers here
Considering custom shop or club gear? In the UK you're spoilt for choice when it comes to printers, whether it be a run of 500 bottles or custom jerseys for the shop staff to sport at events, the supplier listed here have you covered.
Peter Dobbs Design and Print
Hull's Peter Dobbs has done it all when it comes to assisting the local bike shop in print. Whether it's swing tickets for your shop floor stock or entire catalogues, Dobbs has been a supplier of customised goods since 1995. The business's capabilities far from stop at just paper goods, in fact, should the need arise, Dobbs can also supply staff workwear, thermal mugs, trophies and even whisky tumblers, among countless other items.
If it's bike bottles your shop requires, Dobbs has an MOQ of just 50 pieces, though the sky is the limit for large runs and the more produced the cheaper cost per unit. Counting a long list of industry names among his customers, the printer also produces shop address labels, a tidy solution for the frames of bikes sold and a point of reference when the customer inevitably needs the bike shop in future. Gift vouchers and cycling themed greeting cards can further enhance takings both year round and during holiday periods.
When it comes to custom clothing, Spiro garments form the base of each, offering cyclists specific fit and technical elements. Shops have a choice of base layers, shorts, upper layers and jackets on which to display their message.
Sometimes overlooked, but essential to those doing a lot of mail order business, Dobbs can supply a number of shipping essentials, including delivery notes, mailing bags and invoices. The workshop too can benefit from professionally designed job sheets.
Bike stores can further add to the order sheet with custom-printed carrier bags, giving the bike shop a promotional presence on the High Street and beyond.
For those attending bike exhibitions or races, Dobbs can assist with the creation and design of stand props, canvass banners, pop-up banners, wind flags and teardrop banners, among other promotional essentials.
Should you require the services of Peter's firm, you can make contact on 01482 224007 for a chat, or enquire via peter.dobbsdesignandprint@hotmail.co.uk.
Examples of the business's work can be found at:
With a hugely diverse and high profile customer base, Wildoo has serviced the needs of British Cycling, Adidas and Jaguar to name just a few clients.
Representing 80% of the firm's turnover, custom design and print is something owner Andy Easterbrook has invested heavily in developing, even creating his own products along the way. Back in 2013 he introduced the VeloPac – a low cost solution to keeping a rider's mobile phone and credit cards dry and safe while out in the saddle.
Easterbrook told CyclingIndustry.News: "It started as a pet project for me as I have for many years helped customers to source and develop own brand products.  I wanted VeloPac to be different, so we have not beaten the usual path to Asian factories. Instead we have chosen to manufacture in the UK. We therefore had to pitch at the premium end of the market with unique, well designed products.
"By 2014 we added a musette to the range and in December 2015 RidePac arrived. RidePac is a premium quality padded waterproof bag that fits a jersey pocket and will safely store all the ride essentials, including a mobile phone, credit card, car key, cash etc.  Thankfully it has been an instant hit and has raised the VeloPac brand to a new level. The brand is still evolving & we have a number of new products under development. So far VeloPac sales are mostly consumer direct off our website, export (currently we have distribution in Japan, Germany & Australia) & of course custom. The next level for us will be dealer distribution, but as we are still building brand awareness it's still very early days."

Custom PhonePacs, RidePacs and Musettes all offer the dealer a margin and at a time where it's more important than ever to make sure your shop is the local brand name, these items put your logo at the forefront of a customer's mind.
Heading into 2017, Easterbrook claims that his business will become the industry's go to source for low MOQs, meaning that bread and butter items like custom bike bottles will be available in very small runs.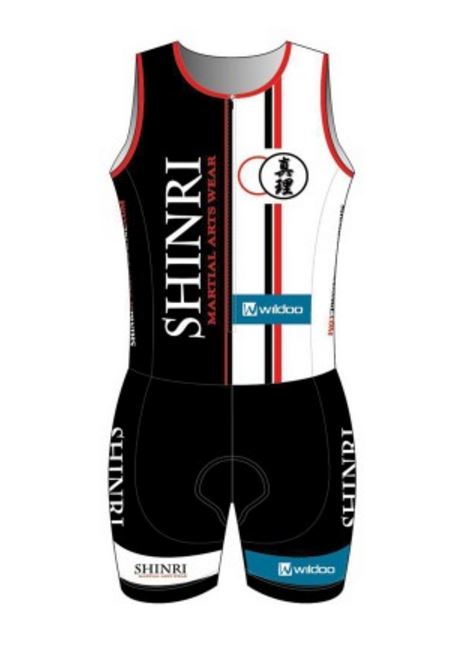 Easterbrook says: "Our clothing range MOQs are currently just 10 pieces, but the big news for 2017 is that we will have no MOQ in per item terms. We do ask customers to order ten pieces across the range. We have worked very hard with all our suppliers to develop flexible production processes so we can offer a market leading low minimums."
If it's bottle runs you're after Wildoo can get to work from just 150 pieces, while customised socks are available from 100 pairs, caps from just 25 units and PhonePacs at 100 pieces.
Clothing is carried in depth for not just men and women, but kids too, meaning that junior cycling clubs can get kitted out in the same livery as adult squads.
"We have a custom range for entry to top end," says Easterbrook. "We do not have the heritage of Castelli or Santini, so our main focus is to deliver quality garments with low MOQs at competitive prices. We are not the cheapest, but this is deliberate as we will not strip out quality. Only fabrics we have tested and passed for function and durability make the cut. Added to this we only use a premium quality ink from Italy and the latest generation sublimation printing. This is really important to ensure precise, vibrant, stable and consistent print quality time after time. The finishing is also important, we only use Coats threads, quality zips (mostly YKK) & elastics."
To enquire about how Wildoo can help your business's promotional message, you can contact Andy's team on 01908 374555, or email andy@wildoo.co.uk.
With more than 30 years' in custom design and kit production, Mobel may be a preferred source for performance kit, which via distributor The Rider Firm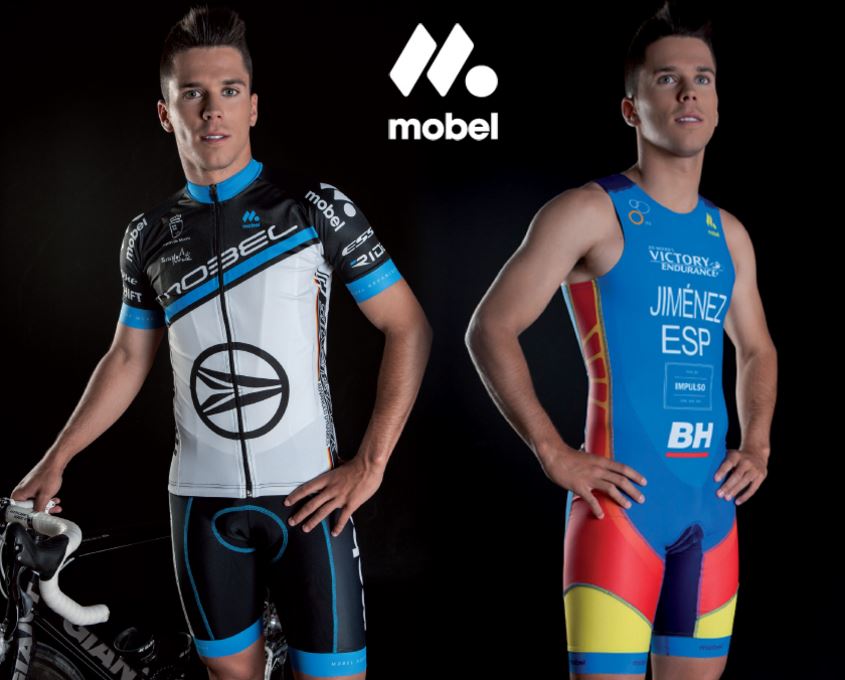 can be delivered customised in a short window.
Seen adorned to high profile team brands such as Kinesis, Soho Bikes and the Hunt Bike Wheels team, Mobel garments cover all aspects of cycling and triathlon kit in a choice of quantities, spec, fabric detailing and price ranges. A handful of GB athletes also choose the kit for national competition.
Garment detailing and features are varied with options such as fluoro printing and reflective detailing just a few of many potential upgrades. Mobel use the best Italian fabrics as a foundation and offer padded inserts from Carvico and La Fonte, meaning fabric capability and functionality create unique garments which offer professional fit and enhance the athlete's performance.
The 'Lycra Be Hot' fabric which is used for winter garments is a unique cutting edge fabric using the latest thermo auto-regulation technology. This maintains body temperature generating heat as soon as it's stretch using molecular disorder, maintaining this heat even after the 'effort' ensuring muscle injury is minimised. It offers thermal protection and a better blood circulation with a fast dry technology to keep the wearer comfortable and able to perform at a higher level for longer. This fabric is unique to Mobel. 
It's accessible to the small business too. With a minimum order of only 12 per garment and as few as 2 per size, Mobel custom kit is very much accessible to smaller clubs, brands and shops as well as larger establishments. Re-orders work on a minimum of only 6 per garment with no minimum per size. Available in sizes XXS to XXXXL, Mobel has one of the broadest size ranges available and can even be quoted for children should the local youth club need sprucing up.
Further making the decision easier for the small business or club, design charges are waived, whether from the ground up, or development of existing design. Just a 50% deposit is required to get the ball rolling, with the remainder of the balance payable just prior to shipment from Spain. If that wasn't enough of an incentive, free shipping is available to UK mainland businesses via The Rider Firm.
Further options within the custom print arena:
Bottlesport
As the name suggests, UK-made Bottlesport's focus is entirely on bespoke design of bottles and protein shakers.
Screen printed with your logo, the firm's machines offer a diverse range of finishes, which can be adorned to a wide range of bottle sizes. You can even opt for a bio-degradable bottle. Production quantities start from just 50 pieces and pantone colours can be matched at no extra charge to ensure your branding matches up first time.
www.bottlesport.com
Scimitar Sports
Boasting to produce 300,000 custom items annually, Scimitar can handle both promotional items and bespoke sports garments for cycling, running and other sports.
A four to six week lead time, discounts on team kit orders and free banners for larger orders make Scimitar one of the places worth grabbing a quote as you begin to plan for kitting out your shop or team.
www.scimitarsports.com
Gear Club
Specialising in custom cycling garments, Gear Club let's the customer visualise their design online with an online generator. The catalogue covers all the key apparel required through the seasons, starting at prices easily affordable to trade buyers looking at bulk or smaller orders. The firm offers free delivery on first orders.
www.gearclub.co.uk