CONEBI annual report: EU bicycle sales, production, jobs and electric bike data revealed
The Confederation of the European Bicycle Industry (CONEBI) has released its annual report on the health of the European bicycle market, placing annual sales just shy of 20 million units, including electric bikes.
The detailed document draws on industry representative bodies around Europe, as well as detailed knowledge from the European Bicycle Manufacturer's Association, which believes that 12.6 million of those bikes sold are produced in the EU, generating 90,000 jobs over 800 SMEs.
European bicycle production has however fallen year-on-year by 3.7% from around 13,152,000 in 2015 to the present figure, though remains the second largest figure in the past eight reports.
Portugal's emergence as a European manufacturing powerhouse has seen it creep up to 15% of all EU bicycle production (1,904,000), behind only Germany on 16% (1,971,000) and Italy on 18% (2,339,000). The UK offers just 1% at 83,000 units.
Electric bike production predictably shows growth, but perhaps not as steep a trajectory as many be expected – only 134,000 extra bikes were produced over 2015's 1,030,000 – a 12.9% growth.
Portugal's trajectory toward becoming a major powerhouse in bicycle production hasn't however translated into e-bikes at just 2% of the overall tally. The leading markets here are Germany on 30% (352,000), The Netherlands on 17% (200,000) and Hungary on 15% (171,000).
Sales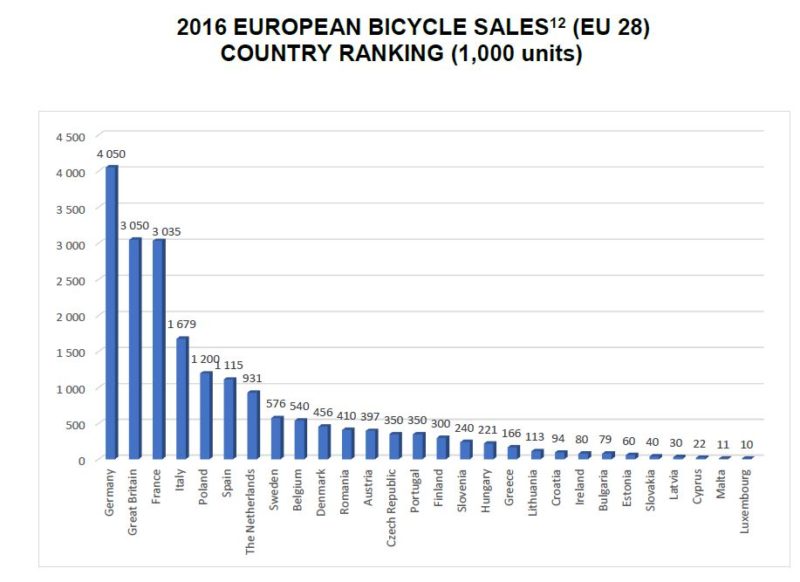 The all important sales figures point to a decline on 2015, down just shy of 5%. Dipping back below 20,000,000 units, around 100,000 less bike sales happened in 2016 at 19,606,000.
Britain, while not making many, does feature high in sales terms, representing 16% of all bikes sold in the EU, behind only Germany at 21%.
Revealing that on average European citizens own more bicycles than any other means of transport, the report suggests that "the global shift towards a low-carbon economy has started," and that should stand the industry in good stead.
Driven largely by electric bike popularity, average sales prices have never been so high and hit the dizzying high of €1,010 in the Netherlands.
Tallying with recent CyclingIndustry.News research that shows 35% of UK average sale prices to sit between £400 to £700, data supplied to CONEBI by the Bicycle Association places the average sale figure at €521/£466.
Placing Great Britain 9th in the table, Denmark posts a €700 average, Austria a €660, Germany a €643, Belgium a €628, Sweden a €575, Luxembourg a €550 and Spain a €533 average sale price.
Electric bike sales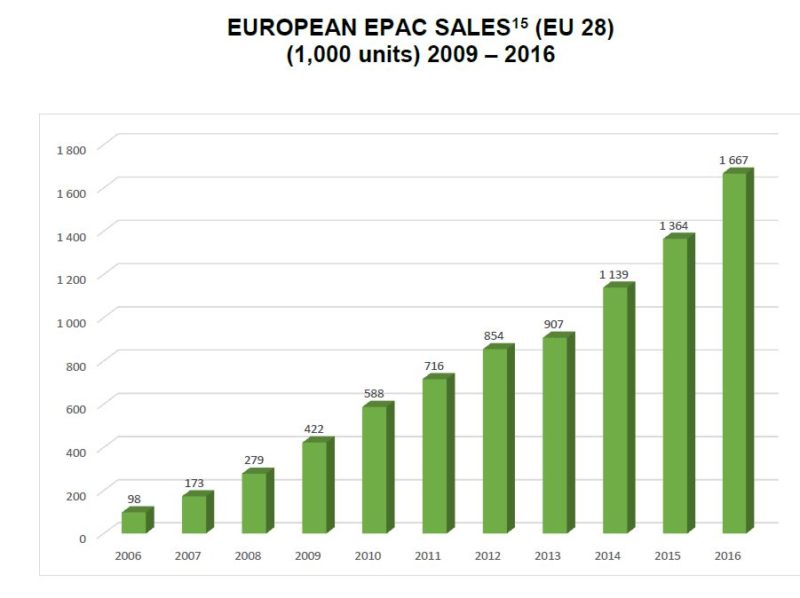 In total, 1,667,000 electric bikes were sold in 2016, up 22.15% on 2015.
The steep trajectory was driven by Germany at 36% of sales (605,000), The Netherlands at 16% (273,000), Belgium at 10% (168,000), France at 8% (134,000) and Italy at 8% (124,000). Great Britain represents 5% of EU e-bike business at 75,000 units sold in 2016.
Referencing the Paris Agreement, CONEBI suggest that countries around Europe and further afield are well aware of a need to reduce greenhouse emissions from transport to near zero by mid-century, also important to meet WHO public health guidelines. The World Health Organisation themselves have touted active travel as a "priority" for authorities.
"The EU bicycle & EPAC industry has a very important role to play in Europe's ambition to seriously cut C02 emissions and contributes to policies regarding public health, environment and transport. Being the largest employer in Europe in the Green Industries, we will do our utmost to continuously stress this role," says CONEBI's report.
Furthering the industry's commitment to a lower carbon future, CONEBI president René Takens (former CEO of Accell) adds: "For our customers, it is important that the production of mainly medium to high-end bicycles is realised near the European home market. Deliveries can then be more flexible as the produced series can be smaller and lead times can be shorter. Our bicycle industry is spread over the whole EU territory, with 800 small and mediumsized bicycle companies. Thanks to the regionalism of our 'green' industry, C02 emissions caused by the transport of the bicycles are reduced to almost zero."