Cube talks trends, trade shows and post Brexit business
With each passing season Cube Bikes seems to have placed a new investment in a brand that's grown much larger than many will know. Hearing a rumour of added Far Eastern capacity, CI.N talks to commercial director Bart Van Den Biggelaar about the road ahead…
How's business for Cube?
These are very exciting times for Cube. Our staff in Germany completed the logistics centre in Waldershof. We have redeveloped our production line building to free more space for assembly. We had some storage on the roof, so it's good to bring that inside.
Especially with e-Bike integration trending more space is required for assembly. Likewise, they have expanded the wheel building department to add great efficiency and quality control within the production line.
As part of this Cube has also launched an additional quality offensive to make sure the bikes are easy to build for the dealer when it arrives.
That's not all, additional building work is in progress. The plan is to create two buildings, but one structure joined via a bridge connection. This will link manufacturing and warehouse via a conveyor belt, so we'll no longer require multiple truck movements.
Out of house, it's perhaps notable that we now have a fully operational frame factory in Asia; this launched in Q3 of 2019. With shifts in international markets we needed the extra capacity and flexibility that this affords. It's a very cool development that we also now have in house carbon development for R&D. Control over every step of the process – from idea, design, test lab work – it's all in there. The test lab has been fully copied and is now in the frame factory in Asia, so they'll work to the same tolerances.
Having a branch in Asia allows us more capacity, with a focus on alloy to begin. Sure enough it will move to every material in time. As far as we know there are only one or two others worldwide like it.
What hot tips have you for the bike dealer for the start of 2020?
For the UK the big development is electric bikes and we can give the dealer a wide choice of what to stock. We believe the quality and range is among the best across all price categories. When you make an investment in a Bosch e-Bike it lasts and that is why we have committed so heavily to the brand, particularly off road. We only spec 625Wh batteries too. While it's a smaller range that means less SKUs and a focus on what we do well.
We tend to find that shops that are more business savvy go very strong with Cube as their lead brand as there's the depth and support to allow this. It's easier for the sales staff as we'll educate them well via the Cube Academy and demos. The Academy delivers the information and tools needed to sell a bike effectively. Our staff on the road deliver this training and there's carefully refined information online too.
We've now got an internal account manager with sole focus on the UK to assist the four sales people on the road. This frees up time for those on the ground to spend more quality time with our stockists answering their needs. With six marketing staff backing the team with promotions and events Cube is promoting sell through and trials year-round.
Bike dealers are increasingly picky about holding big stocks of bikes on the shop floor. What business incentives are there to choose Cube?
First and foremost, it's quality. We also work hard on availability of products, have a strong B2B system, as well as good stock kept in Germany and the Netherlands. We do work on a pre-order basis, but the support is there from account managers to make an effective plan. We'll deliver the right product at the right time.
For shops with a Citrus-Lime system we have connectivity ensuring live stock feeds round the clock. Again, this enables meetings on shop floor to be more effective as don't have to do stock takes.
Your overhaul of the logistics process and digital assets attached has been significant. How has the dealer benefited from this change?
There has been an all-round positive reaction. We changed some packaging details to improve transit flow and, to ensure no damage, our team assessed carefully the design of packaging to make sure the courier has a hard time breaking product.
We put a new back-end live for our warranty system that enables the dealer to identify a transit issue quickly and we can therefore identify improvements with our forwarders. Certain regions sometimes flag up, so we know that courier is an isolated problem.
In recent years the investment into growing the electric bike production and catalogue diversity has been significant – what are the headline stats for this side of trade in 2019?
E-bikes now make up now one third of sales and the distribution in Germany for E-MTB is very big, as is the UK.
In the Netherlands the trend is obviously less so, yet utility is more prominent. Here the UK has an infrastructure issue. In the Netherlands we are riding 365 days a year on segregated infrastructure, but the UK is more about trail centre infrastructure if we're talking about developed facilities. There are exceptions, Cornwall for example sells more rack and fender bikes than most other UK regions.
Joining the catalogue we have a 20-inch model suited for London. It's a compact bike with foldable handlebars and is therefore perfect for a small apartment. It will come with rack and fenders, but the cool thing is there's a front area for a laptop bag. There will be a derailleur and a hub gear version. I ordered one myself!
The first time you see it, the compact bike seems weird, but it works for the campervan, boat and apartment use. We think it'll be a big seller for urban and adventure customers. It has a Bosch engine and 500Wh battery. The part in the middle of the frame is also a handle, so it's easy to transport; and for £2,299 all in.
In your view, what are the trends leading into 2020?
We launched a cargo bike now to meet this trend and similar to the compact bike people ask why. From a product development and sales perspective we were able to identify a wide-range of customers again. Those carrying kids, for one and those carrying groceries for another. These are narrow examples.
In the future there will be further developments here, but these bikes are our first step into an emerging segment. For Cube in Germany we are orientated this way, so we are already using the Bakfiets as an important bicycle.
Our first model has a soft box and a bench, so it's multi-functional to differing customers.
What is your view on the trade and consumer show landscape nowadays, we've noted Cube pull back on appearance?
We have done shows since 2002 and for a long time the consumer demand satisfied, it was different back then. The internet now has such an instantaneous impact that we have rightly assessed the value.
To us, with the type of product we sell, testing is now key which is why you'll see us at more interactive events and demos. It is these trials that convert customers, whereas at the booth we see the same faces year after year and they may well be happy with a bike they've had for a long while and have no desire to try a new.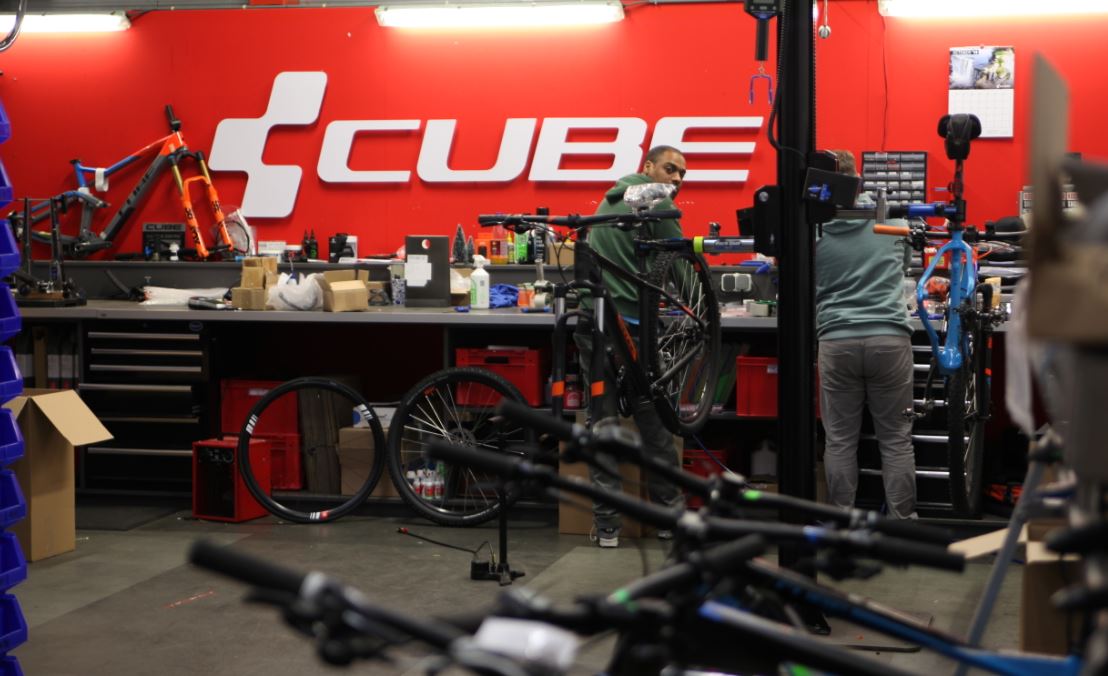 For Cube the subject of Brexit must carry some weight. What decisions have you made on how to proceed?
This is a topic on everyone's lips. Whichever direction it will go we have a plan, but at the time of writing nothing changes.
Our investment in logistics and IT was made to help us adapt to all situations. If nothing happens this could be a waste of money, but it's necessary to ensure we function for customers. We are in close contact with dealers with a chain of information as Brexit develops.
It could be that there is separate invoicing and more paperwork. The UK dealer should not have to apply for new licences, however, we will try to absorb paperwork on tariffs where feasible.
Any plans to invest further in the business over the next 12 months?
If you look at world scale Cube is a top five player by volume and we're still growing.
With our product development of carbon we will add new efficiency and capacity capabilities.
From the distribution side we are looking at more environmentally friendly ways to distribute our products; there will soon be different materials in the box. The tape we now use is cardboard tape instead of plastic. It's all a step in the right direction.
On that topic: Consumers increasingly seem to be throwing extra spend at those working on cleaning up their business, from manufacture to packaging production.