DfT study finds 64% support cycle lanes roll out, even if car space cut
The Department for Transport's annual National Travel Attitudes (Wave 5) study has found that the majority of people (nearly two thirds) support the roll out of dedicated cycle lanes, even if it comes at the expense of less road space for cars.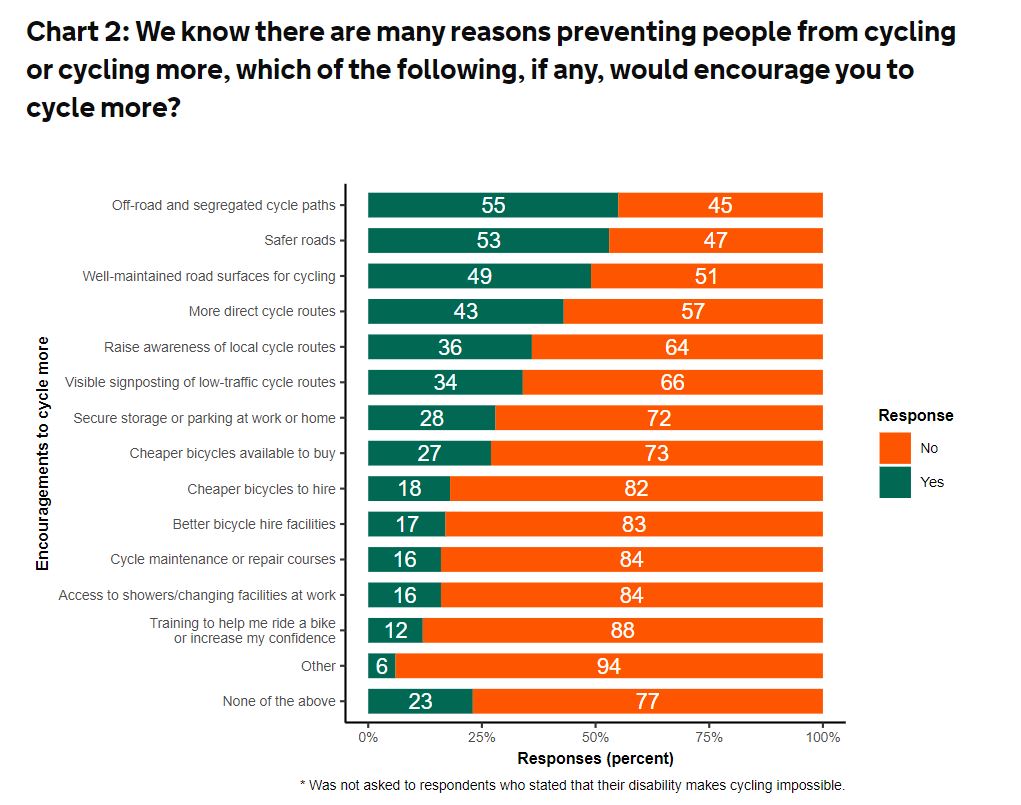 Each year the online and telephone survey of people across England seeks to gauge the public mood on various travel forms and, coming on the day #BikeIsBest launch a witty new campaign video (below) asking whether the appropriate tool for the job is used for many journeys, the DfT data confirms a warming stance on cycling for transport.
In the headline findings, off-road and segregated cycle paths (55%), safer roads (53%) and well-maintained road surfaces for cycling (49%) were chosen most often when people were asked about things that would encourage them to cycle more.
In opposition, under 1 in 5 respondents either somewhat opposed (10%) or strongly opposed (9%) dedicated cycle lanes in their locality, proving an earlier study's finding that opposition comes from a "noisy minority".
25% of people said that feared for their safety when cycling on the roads. Therefore, it was near unanimous in the study that people sought greater consideration for cyclists on the road from motorists at 98%. 88% said that traffic levels were off putting, while driving speeds were a primary reason for fear of cycling at 86%. 66% wished for more road space where cars were either wholly banned, or restricted.
As has long been the case, men responded with a much higher level of confidence riding a bicycle at 74% to women 43%. There is an interest in cycle training courses for adults, with 14% keen and the age group of 35 to 44 most likely to participate at 29%.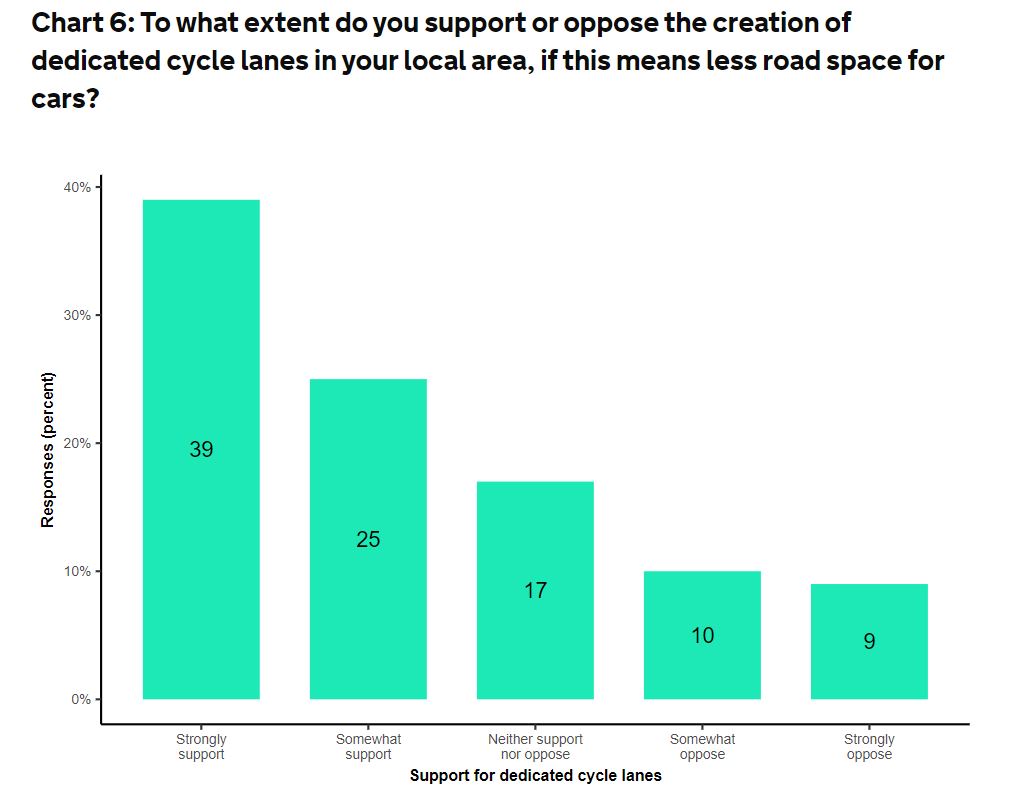 Alongside the funding for BikeAbility training being extended to cover all children in England, adults can also benefit upon request.
There was a slight tilt in this year's line of questioning toward understanding public sentiment toward electric bikes and it was revealed that 41% of the respondents deem them "too expensive", with just 4% disagreeing. Showing the industry has a long way to go yet on education, nearly two thirds had limited knowledge about pedal assisted bikes.
On the subject of bicycle parking completing the infrastructure picture secure bicycle parking provision or storage at home (89%), at work (87%), at stations (87%) and on-street (84%) were considered important.
Bicycle ownership
Hard to believe after the past year's £1 billion growth in market value, but 62% of people reported having no regular use of a bicycle, with 38% owning a cycle themselves. This make up has not changed in the past few years, says the DfT, though we could reasonably expect the needle to now be moving north on the back of a Covid 'bike boom' and widespread bike repair voucher uptake.
A pool of respondents who may be keen to buy a bike are likely to be disappointed in the face of unavoidable price increases; 27% said they wished there were cheaper bicycles available to buy. 18% sought cheaper hire. Better hire facilities, it was said by 17%, would see more cycle.
In total 2,554 people completed the survey.