Specialized issues recall on 1st gen Turbo Levo and Kenevo e-MTBs
Specialized has announced a voluntary recall on its first generation Turbo Levo and Kenevo electric mountain bikes
These bikes were manufactured with the control pad on the side, and produced between 2017 and 2019. If a rider's bike does not have the control pad on the side, they are not affected by this recall.
An issue with battery packs has become evident, which Specia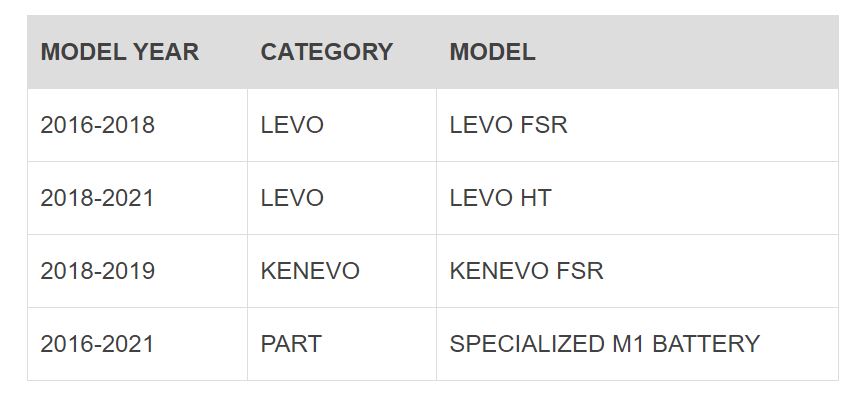 lized say seems to be present on less than 15% produced. In something that may cause bike shop's to roll their eyes, Specialized's post on the topic hints that excessive pressure washing might have been the source of the discovery.
The post writes "If conductive water (e.g., salt or chlorinated) penetrates the seal around the Control Pad, e.g., through repeated pressure-washing, and reaches a specific very small area of the battery pack's protection circuit board, it can in very rare cases trigger a short-circuit that would bypass the multiple layers of protection built into the battery pack. In sufficiently charged battery packs, this can potentially lead to a thermal runaway event, posing fire and burn hazards."
Riders that are in possession of potentially affected electric bikes are now encouraged to reach out to an authorised Specialized retailer, who are now tasked with inspecting the Turbo Levo and Kenevo, issuing a repair to the battery pack at no cost to the customer. This repair will involve re-gluing the Control Pad to seal it more effectively.
Potentially affected battery packs can be identified by a combination of both the part number and manufacture dates listed at the base of this article, both of which are noted on a label adhered to each battery pack.
The battery pack needs to be removed from the bicycle using a 6mm Allen key in order to read the label.
For bike shops wishing to protect against potential thermal runaway incidents we recommend reading our catalogue of articles on the subject.