London cycle lanes have "little impact" on congestion, finds data study
Researchers with Imperial College London's Department of Mathematics, among other academic institutions, have found that London's Cycle Superhighway lanes do not negatively impact traffic speed.
In unwelcome news to a handful of mayoral candidates touting that myth that cycle lanes worsen traffic at present, the findings are based on data analysis stretching back further than the existence of even the blue painted schemes first laid down when Boris Johnson was London's Mayor. The Transport Secretary Grant Shapps has likewise previously suggested he may believe the myth of cycle lanes "causing congestion", though has likewise shown some support for their improvement.
Lead author of the study Dr Prajamitra Bhuyan, from the Department of Mathematics at Imperial, said: "Estimating the effect of the cycle superhighways on congestion has been difficult, as there are many factors at play and the highways themselves were not planned randomly – they have been placed in areas plagued with congestion.
"Our method provides evidence that Cycle Superhighways can be an effective intervention in metropolitan cities like London, which are heavily affected by congestion. We hope the method can also assist in effective decision making to improve the performance of the traffic and cycling network in cities."
The cycle lanes have been widely adopted since being laid down and more so during the Covid-19 pandemic as Londoners sought alternatives to public transport. Walking and cycling journeys increased 46 per cent between April and June 2020 over the data from a year prior. From July to September active travel trips remained well represented at 37%.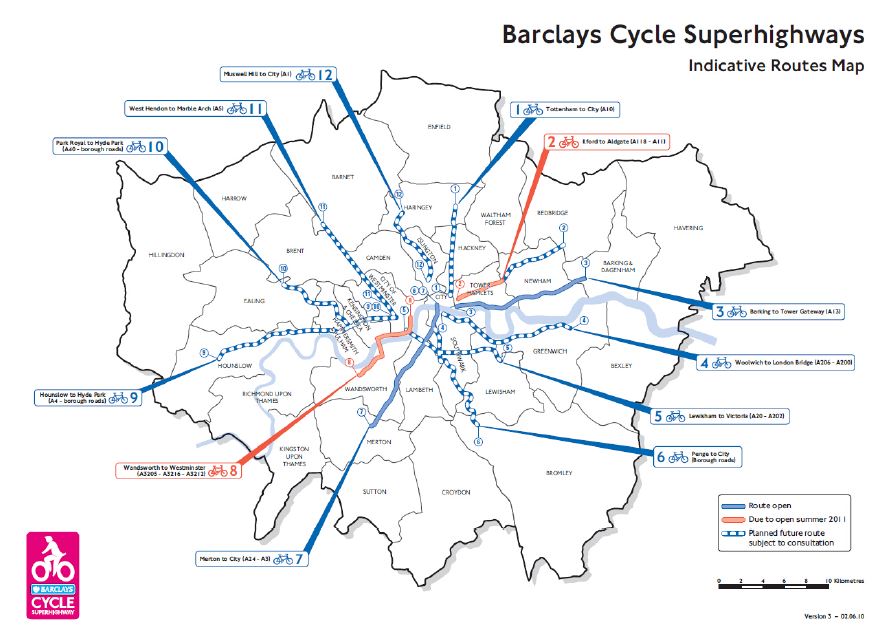 There is no direct assessment of the resulting air quality, but the authors speculate there may be a link. Certainly it has been shown that the London Marathon and RideLondon events are directly correlated with a reduction in air pollutants in the past as a result of reduced traffic flows on key roads.
"In recent years, London's air quality has improved as a result of policies to reduce emissions, primarily from road transport, although significant areas still exceed NO2 EU limits. The Cycle Superhighways are one of the several interventions introduced which may results in an improvement in air quality. However, the effect of Cycle Superhighways on air quality is debatable, and is an interesting research problem that could be studied under the same causal analysis set-up."
The Cycle Superhighways form part of the Mayor's Transport Strategy, which holds the ambition to see 5% of all journeys cycled in London by 2026. The rollout has been slower than many active travel advocates would have liked, however; just half of the original tally of 12 announced in 2008 are presently open.
To view the researcher's findings in full, see the report here. The research was funded by Lloyd's Register Foundation and conducted alongside the Data-Centric Engineering programme at the Alan Turing Institute.