DfT proposes 50 new measures to make cycling safer
The Department for Transport (DfT) has announced a new two year action plan to make cycling and walking safer, with 50 proposed measures.
Over 14,000 people took part in the consultation, with respondents and DfT's stakeholders setting out "a clear vision for the future." According to the report, people want to live in a country in which towns and cities are designed for people of all abilities and ages, so they are active as part of everyday life, and where communities have access to green space and are connected by cycling and walking routes.
The DfT report also stated that in the future, children should be able to walk and cycle to school in safety, and rail and bus facilities need to be suitable for people travelling by bike. People from all backgrounds should have the opportunity to take up walking and cycling through programmes in schools, workplaces and communities.
In the report, DfT said: "In order to realise this vision, we need to attract higher levels of participation in Active Travel, including by women, by disabled people, by older people, and by those from minority ethnic groups. We need to build on the success of schemes such as the Big Bike Revival in energising communities with the greatest potential to become active."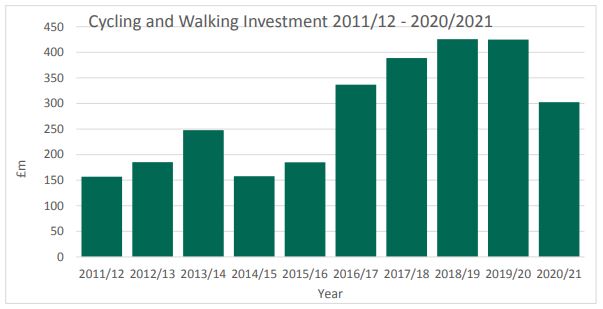 DfT's action plan, laid out in full in the report, sets the framework for consultation on more detailed proposals and a targeted programme of research over the next two years. According to DfT, this work will help deliver the Government's commitment to increasing cycling and walking and making our roads safer for vulnerable road users, including cyclists, pedestrians and horse riders.
Topics referenced in the action plan include: cycling and walking infrastructure design, planning policy, investment, the highway code, safety around schools, enforcement, driver testing and education, insurance as incentive, among others.
Andrew Selous, Conservative MP and APPCG co-chair, said of the proposals: "I welcome the Department for Transport's publication of 50 recommendations to make cycling and walking safer. This is step in the right direction and it is essential that we get cross-departmental support for these initiatives as we must improve the conditions on our roads if we are to see more people using bikes for everyday journeys."
APPCG co-chair and Labour MP, Ruth Cadbury, welcomed the report but had reservations: " "The Government have listened to the 14,000 people who responded to their consultation and come up with some bold proposals. The main ingredient that is missing is a substantial funding stream to kick-start this cycling and walking revolution. I would like some assurance that Councils will have to divert 15% of their transport transport funding – without considerable investment, high quality infrastructure will continue to be a postcode lottery."
To read the full report and action plan, click here.