e-Bike riders 38% lower risk to insurers than non-assisted
Specialist cycling insurer Bikmo has announced it will cut its premiums for e-Bikes by 25% to encourage widespread uptake of electric-assisted riding.
Data from its 3,000-wide survey revealed e-Bike riders posed a far lower risk than non-assisted riders, and suggests lower premiums for e-Bike riders don't necessarily have to come at a cost to insurers.
Riders were surveyed in the UK, Ireland, Germany and Austria, which showed 38% fewer insurance claims arose from riders on e-Bikes compared with traditional bikes. According to Bikmo, the difference in claim levels can be attributed to the type of use (33% of respondents used e-Bikes for commuting) and a belief that electric-assisted riders typically act more 'risk averse'.
A wave of new riders have discovered, or become reacquainted with, their enjoyment of cycling during the Covid-19 lockdown, and with e-Bikes harbouring the potential to reach far wider demographics than conventional cycles, the uptake of e-Bikes could potentially soar.
Bikmo customers can now insure a £2,000 e-Bike in the UK from around £9 per month, which is typically 25% less than a non-assisted road bike of the same value. This covers theft (even away from home), vandalism and accidental damage, as well as the rider's helmet and accessories as standard.
"The team here at Bikmo are hugely proud to announce a 25% cut on our electric bike premiums," said David George, Bikmo CEO. "Believing firmly that e-Bikes play a central role in the future of cycling, we want to lead the way in encouraging more people to discover the many benefits they offer."
According to Bikmo, around 90% of e-Bike riders own at least one other bike. In light of this, the insurer is also offering to cover the whole household's bikes under one policy.
The research also showed that e-Bike riders are five times more likely to claim for accidental damage than theft, with theft ranking the further most common cause of claim.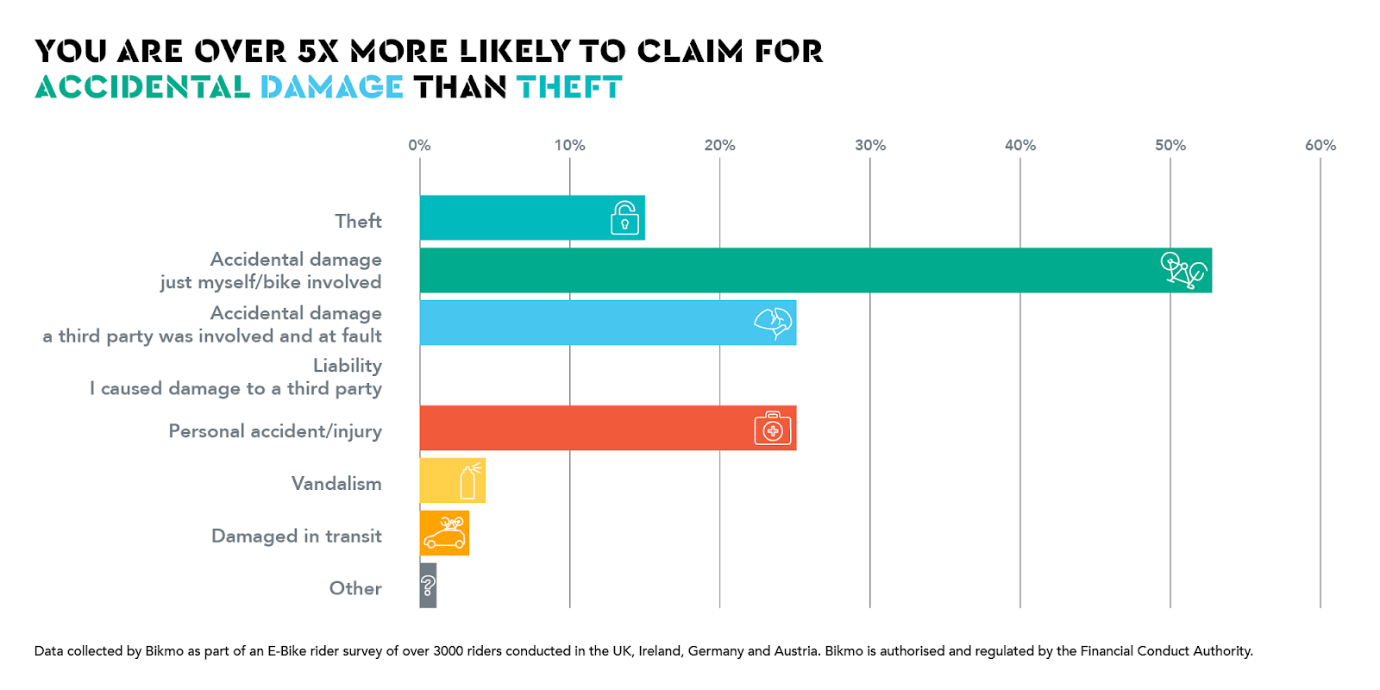 The top cause of claims (accidental damage) proved interesting, with results showing 45% of respondents cover their bikes on their home policy, while a further 40% didn't have any coverage at all. According to Bikmo, this means 85% of respondents could be left without cover for accidental damage as many home policies won't include this as standard. Of respondents, just under 15% of e-Bike owners had taken out specialist e-Bike insurance.
"Our research shows that offering e-Bike riders lower premiums doesn't have to be solely a philanthropic decision for insurers," continued George. "Whilst the average cost of an e-Bike is higher than its power-assisted equivalent, riders on an e-Bike appear to be significantly more risk averse. As a company made up of cyclists and with a strong belief in ethical capitalism, we want to stand out from the crowd and pass these savings on to our members in the form of a lower premium."
The new discount for e-Bikes is available on policies taken out after today, Thursday 9th July, and cannot be backdated to policies taken out prior to this.
Last month, the Bicycle Association called for greater electric bike purchase incentives having identified that e-Bike sales were off the pace in the early stages of the UK's lockdown. According to Verified Market Research (VMR) The global e-Bike market is set to reach US$ 32.83 billion by 2026, up from US$ 16.88 in 2018.