Freeride ad agency publishes marketing guide for cyclists in 2020
The subject of whether marketing to cyclists requires some adaptation in 2020 has been broached by digital agency Freeride in a new free to download guide.
Said to be a collection of the agency's own learnings from its work on both Freeride and with publishing unit Cycling Pulse, founder Oliver Attinger told CI.N: "Cycling participation is obviously booming right now as a result of the COVID-19 crisis. There are some very exciting opportunities for brands to take advantage of over the next 18 months. Just look at the e-Bike market right now. We wanted to create something with real insight and actionable tactics for any brand interested in reaching cyclists, from well-established names to new entrants to the market."
Within the marketing guide readers will explore what Freeride describes as a 'tribal' nature in cycling, whereby brands looking in to the market can fall foul of assuming each kind of rider thinks on roughly the same level.
"Don't assume all cyclists are the same. The wrong message to the wrong tribe is a waste of time and money, and can impact your credibility as a brand," starts the document, latterly identifying six 'tribes', some of which may not identify as a cyclist, rather somebody who just chooses a bike only as a transport form.
"They are unlikely to have an interest in pro cycling," says the document on the bike commuter, indicating that they may not understand or appreciate the jargon, or indeed the imagery from other segments crossing over into their marketing.
With the industry now tasked with reaching a wider pool of customers, as it has successfully since the arrival of Covid-19, the marketing guide suggests that 'the occassionalist' – that's the rider who may have bought a bike during warmer weather – will be seeking primarily review content to make their purchasing decisions.
Buyer's guides and online reviews are described as important tools for these consumers, where at the other end of the scale the 'enthusiast' will be more swayed by performance metrics and trends in the market.
In a point that is open to interpretation, the second slide states "cyclists have an opinion. On Everything. That is all."
Content creation
Park Tool are offered as an example of a brand that has built a following of over 400,000 subscribers simply by offering house content. The key to accumulating that following, writes Freeride, is to answer the questions of your customer in a way that doesn't sell of preach.
"We feel obliged to give something back to those who give us something. When we're in the market for our next multi-tool, the idea is we'll be more inclined to repay the favour given to us by the creator of the helpful 'how to replace a chain' video we watched who's earned our trust," says the marketing guide.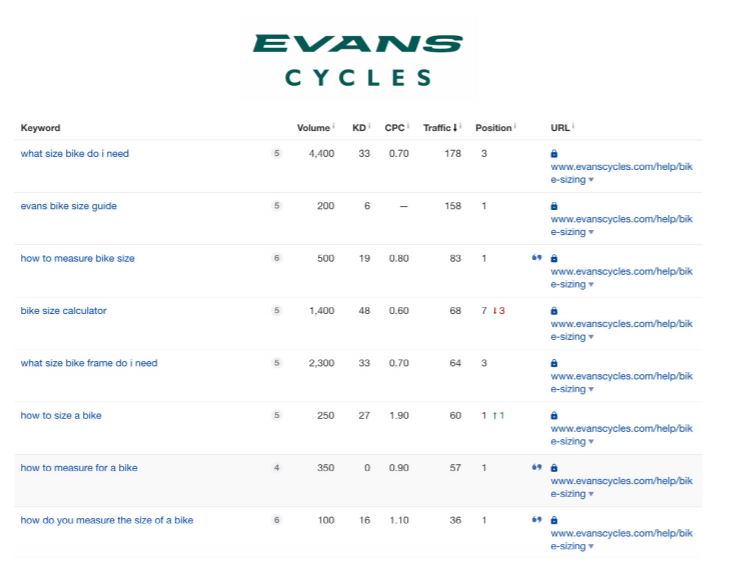 Own label content is seen as a strong means to build your website's search engine optimisation, regular traffic and brand loyalty. This is particularly effective if you can keep your bounce rate low by flowing a viewer from one piece of content to another that they may find useful.
With in-house content created, the next step is illustrated well by the dominance of Evans Cycles' sizing guide across the majority of search terms addressing sizing queries.
Could your bike business corner a particular frequently asked question that is not well covered on search engines, asks the marketing guide. This becomes particularly relevant when new trends are emerging, or where your business has a product that serves a unique need.
Social media strategy, use of Strava as a community builder, email marketing and the use of ambassadors to promote your brand are further discussed in the marketing guide, which you can now download here.
Attinger concludes by addressing one of the common pitfalls he's seen in recent years.
"There have never been so many channels through which to deploy your marketing budget. A big challenge is choosing those which are best suited to your brand and the audience you're trying to target. I think the most common pitfall right now is chasing low CPMs and clicks at the cost of marketing effectiveness. I've seen entire marketing budgets spent on Facebook Ads, for example, for very little return. The targeting might be strong and you might be able to reach lots of people at an acceptable cost, but is any traffic actually converting and at what cost to your brand? Think about the smallest possible group of people who truly care about what you're offering, what matters to them and position your messaging accordingly. A beautifully crafted product video might resonate with that audience much more effectively than display ads run on Facebook."
Further reading: What does the bike industry get right and wrong with its current marketing strategies?