Electric bike market is "resisting" the online sale, says Raleigh as Accell investment filters through
Those customers purchasing electric bikes are largely doing so in bricks and mortars shops, believes UK distributor Raleigh.
With consumer education still often required ahead of a purchase, in part down to the blistering pace of the market's evolution, the independent bike shop is winning back sales, according to the Accell-owned Nottingham firm.
"We're a long way off still when it comes to masses of educated buyers in this market," outlined Richard Dobney, Raleigh UK's brand manager for Haibike and soon one other major European label. "As a result e-bikes are remaining a great shop floor sale for those dealers committed to making it work. With Haibike we sell out every year, despite ordering more to cope with demand. It's good to see more stores expanding their floorspace, but the trick is working out which niche will spike next. We thought e-fatbikes would tail off, but we're still selling them in areas where they make sense."
Raleigh was early to electric bikes, with the first, albeit heavy lead acid-clad battery model available back in 1987. Today's catalogue brings much more to the table and sales trends, while on a skyward trajectory, are still throwing up surprises, echoes Raleigh brand manager Terry Blackwood.
"Two thirds of our sales are now low-stepover frames, but these don't necessarily all go to women, the mentality is shifting. With e-bikes we have a new audience variety and people who have not necessarily bought into cycling before now, so they don't have to play by the same rules."
For Raleigh, the trajectory for pedal assist isn't quite as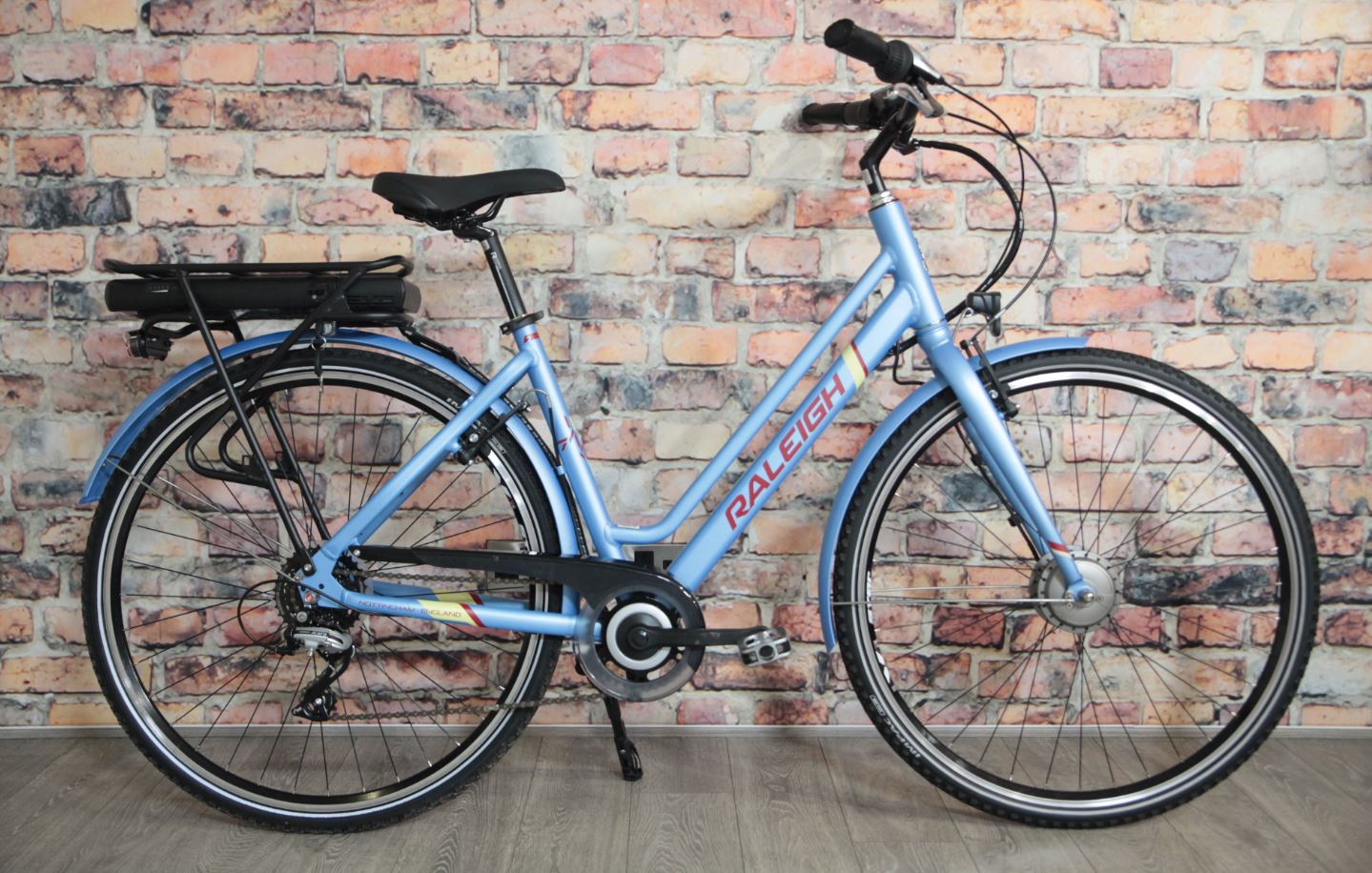 steep as its parents', which has clocked up a staggering 41% of turnover on pedal assist helping revenues to top €1 billion for the first time. That's not to say that the UK isn't seeing rapidly growing green shoots. Blackwood believes electric bikes already represent between 20 to 30% of bike sales, outlining that turnover doubles every year.
"Three years ago we had three, but we're now offering 11 under the Raleigh banner. Conventional bikes still make up the majority of sales, but consolidating the range a little and adding electric bike ranges have seen the ratios change. For example, last year we had eight gravel/adventure type bikes, this year we've streamlined to four really spot on builds."
Inspiration from Accell, as well as both investment and design nods, are "filtering through, CI.N was told.
"Accell is bringing forward big software knowledge, as well as strong design nods from the Dutch market," says Blackwood. "There's a lot more rear wheel ring locks, hub gearing and integrated design. The catalogue has slimmed down recently, but we now have a portfolio that is right for us and our dealers."
An example is the pricepoint-driven Array, which brings forward a 300Wh battery and 25Nm motor at £1,100 for a derailleur model, but offers perhaps even better value at £1,250 with a Nexus 7 hub. Both are built around a lightweight internally routed frame. Other notable models for dealers taking a punt on electrics are the £2,000 Motus and £2,500 Strada which offers Alfine di2 and a carbon fork for those looking at performance. At sub-20kg, the Stow-E-way is also worth consideration for those customers looking at electric folders.
On demographics, Blackwood notes: "There's certainly less of a barrier to older customers, but the assisted mountain bike is again drawing in new and younger customers. The off road segment I think is driving some of the until now reluctant stores to finally get involved. In almost every case all sceptics need to do is sling a leg over to understand the potential. The conversation I think is now changing from how far and how much does it cost to how much like a conventional bike can the design be, so that's key to development now. Five kilos out of the weight can mean more sales."
Raleigh offers its dealers training for electric bike technology each month at its Nottingham headquarters. To enroll contact Raleigh on 01773 532690.