Electric bikes for kids? Eurobike debuts are promised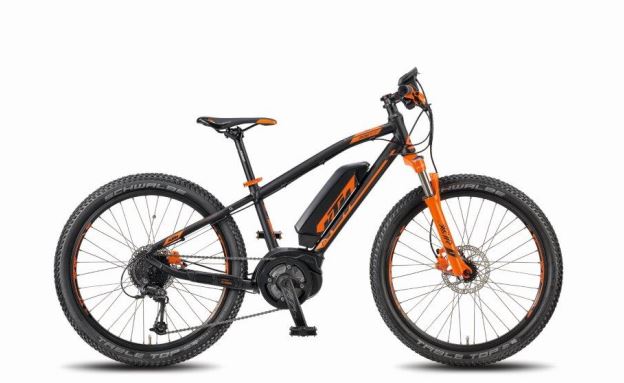 We've written before now on the fast changing demographic within the electric bike market, with buyer's ages tumbling from a generally accepted bracket of over 50s purchasing the bulk, through to interest from over 30s as e-MTBs have come to the fore. Well now electric bikes for kids exist too.
Set for a Eurobike debut, both KTM and Haibike have leaked images of their take on kids' entry into pedal assist. Designed to help kids keep up with faster parents, the bike to be debuted by the Austrian e-bike giant KTM is for over 11s.
Relying upon small motors with reduced power, the Macina Min ME is an e-mountain bike (24 inches) with a steeply inclined top tube, whose support is limited to 20 km/h for safety reasons. The walk assist function has also been deactivated and when activated is initially in off mode. At the same time, the bike's 19.3 kg (42 ½ lbs.) weight is not exactly minimal.
"For the first time, everyone participating in a family outing can now ride at the same speed – adjusted to fit their personal performance and endurance. No one has it too easy or too hard – which makes it easier to keep peace within the family," explains Laurenz Popp from the marketing department at KTM. "Furthermore, we hope that, with the Mini ME, we can also motivate sluggish kids to try mountain biking"
The model is available in a black and orange color scheme. Families can expect to lay out about 2,000 euros for the bike.
Haibike is also bringing an e-mountain bike on the market for the first time, in the form of the so-called Four Series.
"Children from age eight an up can ride with their parents, without differences in strength and range playing a role," says Tom Specht from the Winora Group's PR agency. The 24-inch model is available in four different configurations and neon colors combined with charcoal and silver. The motor, by Yamaha, provides support at speeds up to 25 km/h. The bike also weighs 19 kg (41.9 lbs.) on average, with a price of about 2,200 euros.
"Our experience in test rides and photo sessions have shown that kids have a lot of fun with the new e-mountain bike," explains Laurenz Popp from KTM. The bike is not intended for day to day use, but rather for longer leisure trips with adults.
This is also the view at Haibike. Their e-mountain bikes are "fun machines for vacation and leisure use," says Tom Specht.
To catch more expert opinion on developments in the electric bike market, head here for our series of industry interviews.