European Transport Safety Council calls for urgent active travel protection
The European Transport Safety Council has call for urgent action to protect those making active travel choices as it has been revealed cyclist deaths have fallen eight times as slowly as deaths in motor vehicles across Europe.
The authors of a new report on the topic found that on EU roads 19,450 cyclists lost their lives, as well as 51,300 pedestrians. Deaths among motor vehicle occupants fell, on average, by 3.1% per year between 2010 and 2018, while the rate for cyclists was only an average 0.4% reduction.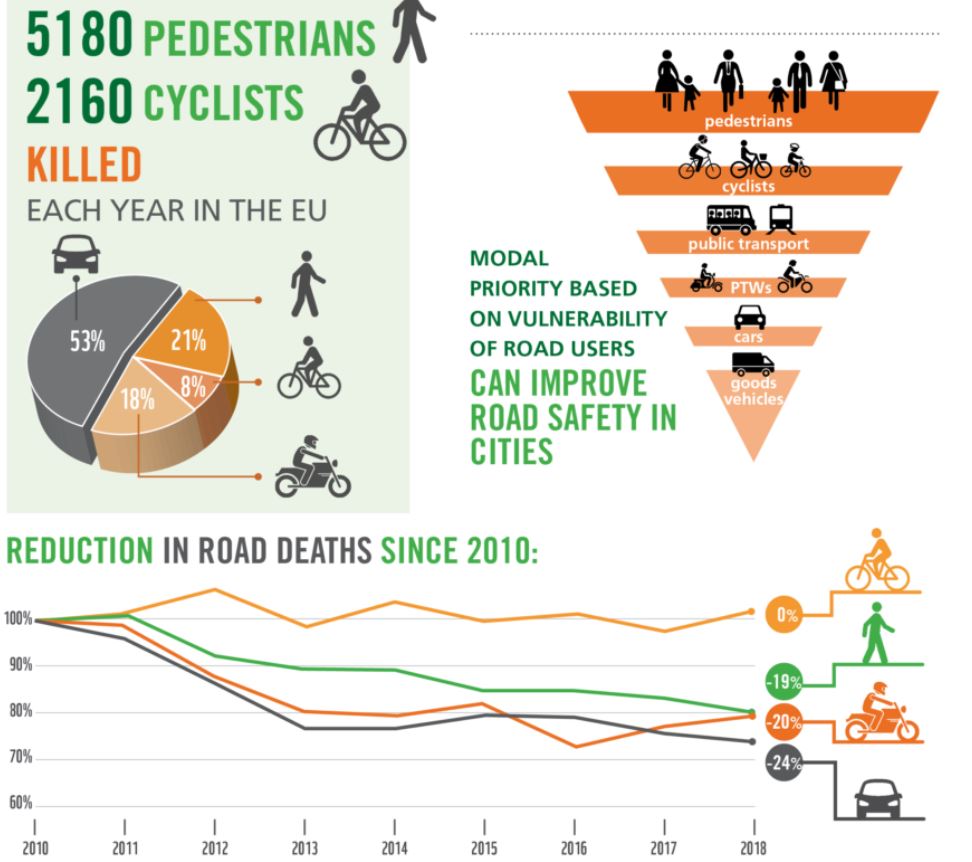 The Safety Council attributes the figures both to a growth in cycling levels, but also primarily a failure by numerous EU Governments, local authorities and even motor vehicle makers to invest in safety measures, including the appropriate infrastructure. It is this that comes up time and again as the primary reason why more people are fearful of active travel.
As a total of the road deaths in Europe during 2018 vulnerable road users make up a disproportionate tally given the low risk they themselves pose; 29% of all deaths were either cyclists or pedestrians.
There is no arguing with the data either; 99% of pedestrian deaths and 83% of cycling deaths were directly attributed to an impact caused by the driver of a motor vehicle.
Separately, Cycling UK has today pointed to a report from the Green Alliance that shows investment in cycling and walking saves both money and lives.
Deeper into the data, it is noted that over half of those killed in such instances are aged over 65. It is deemed that those of older age are less likely to recover from injuries, yet it is vitally important that this demographic are able to remain active in order to preserve fitness into later life.
In its recommendations the report "recommends applying a hierarchy for urban planning that prioritises walking, cycling and public transport over private car use, as well as 30 km/h limits supported by traffic calming infrastructure and by enforcement in areas with high levels of walking and cycling."
It is therefore deemed crucial that funding is made available to develop active travel. At the present time in the UK just £70 million a year has been set aside for cycling in particular, which won't get far with segregated infrastructure costing around £1.45 million per kilometre. As a result cycling levels have been flat for decades.
Commenting on the report, Graziella Jost, Projects Director at ETSC said: "The EU is facing a multitude of challenges: the climate emergency; road deaths and serious injuries; air pollution and obesity.  Policies that improve the safety of cycling and walking can also make a major contribution to tackling all these challenges.  Some EU countries, the Netherlands and Denmark in particular, are showing the way forward.  If they can do it, so can the rest of the EU."