Fastr launches worldwide e-commerce index to track online retailers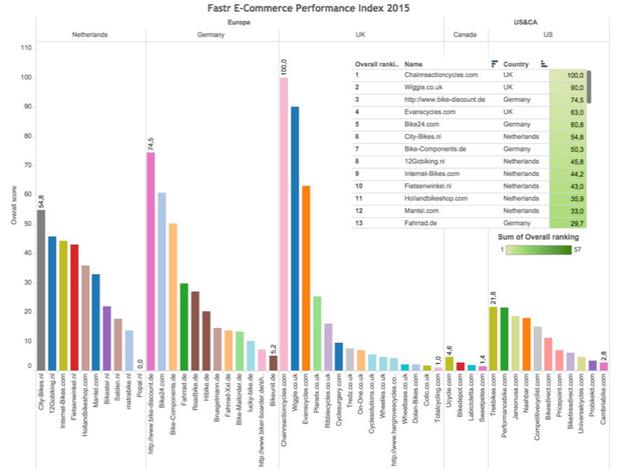 Start up e-commerce and big data firm Fastr has launched the 'Fastr Performance Index' – a new platform that benchmarks online retailers against their online competition utilising a combination of key metrics.
Founder and CEO Albin Bronkhorst told CyclingIndustry.news: "The Fastr E-Commerce Performance Index is a first of it's kind and with it Fastr ranks online retailers among their peers. Fastr helps online retailers make sense of all the traffic and metrics. In the end, online retailers have limited time to get into the metrics, but most understand that there is value in all the numbers. They'd like to be able to see the key metrics without all the noise and to know how they perform against their industry peers – that's where Fastr comes in.
"The Index is part of Fastr Insights. It's meant to benchmark online retailers in their industry. We look at more things than just conversion. We are planning to benchmark more verticals, but started with Online Bike Shops. Fastr Insights has also has a free version. Signing up for Fastr Insights beta is on our site."
The startup collects its in-depth data from numerous sources, including the 'Insights' product – a tool that helps online retailers to identify their customers. The underlying metrics are Absolute Influence, Local Penetration and Cost Effectiveness.
According to Fastr it makes more sense to look at relative performance instead of absolute numbers.
Performancebike.com for instance is in the top 10% when looking at absolute visits, but only on number 18 in relative performance. Dutch Bikester.nl on the other hand is performing average on page views, but is one of the best 20 performing shops in the Index. Interestingly, the top 10 is completely European. The best performing online store in the USA is Trekbikes.com. It seems there's a lot to do for US bike stores.
Albin says: "We hope that we've shown that there's more to look at then just unique visitors or conversion rates. We continue extending our database and will add more bike shops to the Fastr Index over time. The next vertical that we're going to benchmark is online fashion. Online shops that would like to keep receiving up-to-date Index scores can register for Fastr Insights. The full Index results are online available."
Fastr currently offers two products – a eCommerce online checkout available through an API and several platform plugins, as well as Fastr Insights, a data tool that enables online retailers to identify their online shoppers more easily. The startup was founded in 2014 and closed their pre-seed round in Q4 2015.
A free 14-day trial is currently on offer to retailers who may want to explore the e-Commerce offering. The firm claims it can help improve your basket conversion rate by around 40% using its tools.
Bronkhorst told CyclingIndustry.News: "We've been working hard to put Fastr Checkout and Fastr Insights out there. Signing up is not automated yet. So if Online Bike Shops want to increase conversion and would like to use Fastr Checkout they could drop us a line at sales@getfastr.co. Interested Bike Shops in Insights can email us at insights@getfastr.co."