Ford puts 'last mile' cycling in spotlight at Commercial Vehicle Show, enters e-Bike sharing
Automotive giant Ford has placed cycling, in particular cargo bikes and city-suited smart bikes, at the entrance to this week's Commercial Vehicle Show.
UPDATE: As we hit publish on this article it was also revealed that Ford has entered the world of electric bike sharing.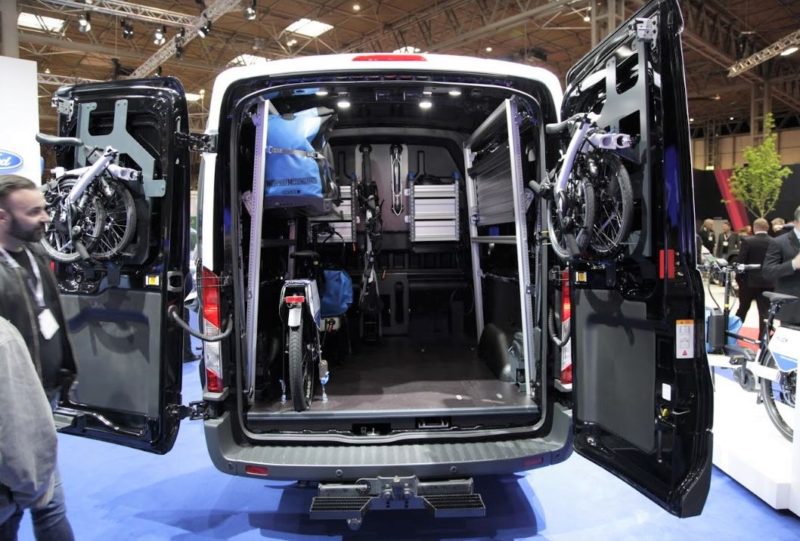 In a further indication that the car maker sees cycling as part of the wider mobility picture, Ford has taken the biggest stand at the show – found right by the entrance – and the first thing visitors may see are Riese & Muller bikes alongside Brompton Bikes folded and hung inside its commercial vans.
There is good reason for the tactic; Ford launched its new Fiesta Van, but it's the demo rig set up as a 'last mile' solution that drew journalist interest, according to Daniel Jones at Riese and Muller, who was on the booth.
Urban delivery solutions are high on the agenda for Ford whose showcase piece was a van kitted to work in tandem with bicycle delivery couriers who will in theory work alongside the car maker's software to maximise city delivery efficiency.
"It looks as though Ford's long-term view is one where it acknowledges that more city streets will be pedestrianised and that business leaders may be reassessing how they plan urban logistics," said Jones. "The launch at the show wasn't so much to shout about its vans, but about fleet software that Ford is developing to ensure it stays firmly in the picture as urban transport and business habits shift."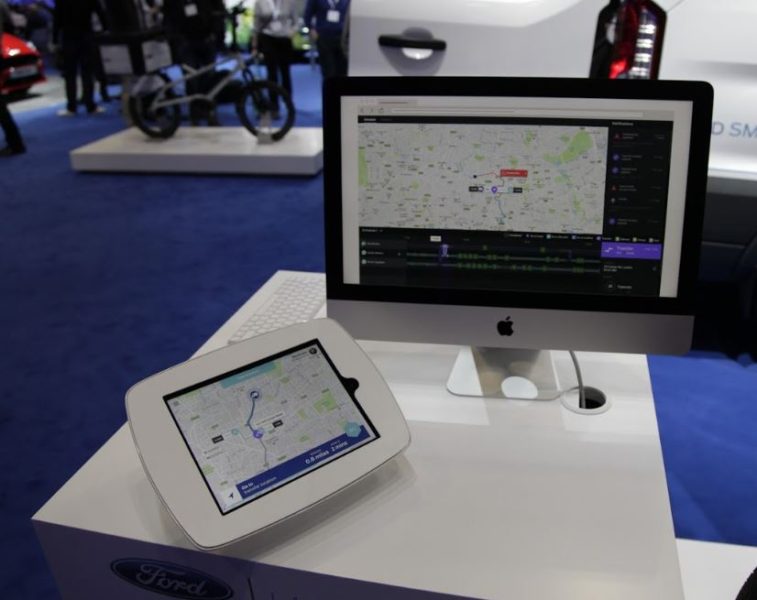 Indeed business are increasingly re-assessing how they manage deliveries in cities; Sainsbury's being the most recent example to introduce electric cargo bike deliveries. Prior studies have demonstrated a cost and efficiency saving in the majority of cases where cargo bikes are deployed for logistics.
Commercial fleet operators at the show will have been introduced to a new digital service concept and one that is designed to make multi-modal logistics as pain free as possible. Ford is now looking for fleet partners to join a London trial later this year.
New software dubbed FordPass Connect also features as part of the launch, which is said to work via an on-board modem technology.
"Add in innovative connectivity and mobility solutions, and you can see how determined we are to support our customers – both now and in the future," said Hans Schep, Ford's European general commercial vehicle manager.
Last of all, cycling and pedestrian friendly tech is said to feature in the new vans, which all carry pre‑collision assist with a pedestrian detection emergency braking system, as well as a blind spot information system.