GeoOrbital raises $313,799 in new funding round with 12 days to go.
GeoOrbital, the Kickstarter funded electric front wheel conversion has announced a new round of funding, this time offering investors a stake in the company – as opposed to the previous round where pre-ordering a wheel simply gave a reduced price/priority in the queue in Kick-starters usual manner.
The first round of funding was highly successful as reported in this LinkedIn article:
"Michael Burtov: Yes. Having honed our product and team we launched a Kickstarter campaign in May 2016. We blew it out of the water. It was a massive success. In just 45 days, we raised over $1.26 million from more than 1,600 backers, and we sold over 1,400 wheels. The campaign put GeoOrbital in the top .05% of all crowdfunding in terms of capital raised."
It was reported here by e-bike tips who also pointed out the conversion would not comply with e-bike regulations in the UK, meaning users would need to license and insure their bikes and wear type approved helmets.
The company, who claim to have sold 2000 wheels already are listed on Start Engine  With 12 days left to go the company has gained pledges totalling $313,799 from 295 investors towards their $50k-$1.07M goal.
The market for adapted e-bikes appears to be growing with many specialist stores springing up and offering a variety of front wheel, mid drive and rear drive solutions. There are also new entrants in the hardware market such as recently launched Alizeti $699 rear drive system 
The GeoOrbital story has been well publicised on Linked-In and through other media channels. Comments vary from supportive to sceptical – with questions around function, usage and safety of the unusual tri-spoke design that places the battery and motor within the front wheel.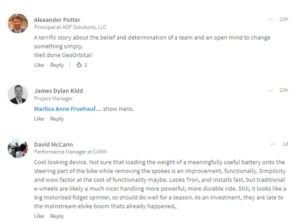 The company's website features customer recommendations as shown below:

CIN would be interested to hear retailer's views about adapting existing bikes into e-bikes.