GoPro revenue beats expectations, but still down $200 million year-on-year
Despite coming in above analysts expectations, GoPro's poor run of form has continued in its Q2 financials, which came in at $220.7 million. The same period last year totaled $420 million.
Forecasts had suggested GoPro would post revenue of $194 million and so the financials have their positives, with share price rising since yesterday's publication, but there will be no comfort taken in the 47% like for like decline. In the past 12 months shares have declined by around 80 percent.
The company anticipates the Christmas period as one to salvage lost ground, with the Hero 5 and Karma drone just two products in the "largest introduction" in the company's history.
"GoPro is well-positioned for the second half of the year.  We now have a simple product line, a clean retail channel and clear indications of strong consumer demand," said GoPro Founder and CEO, Nicholas Woodman. "Hero5 and Karma will contribute to the largest introduction of products in our history, all in time for what we believe will be GoPro's most exciting fourth quarter, ever – a quarter where we expect to return to profitability."
It's been a busy year for the firm, which is trying to re-align itself with a string of deals and investments, including a recent livestreaming partnership with Periscope. It now counts Red Bull as an equity holder, Velon as a partner in professional cycling and has recruited some talent to re-invent its product. These deals are part of a strategy to become a media and virtual reality business.
GoPro now anticipates that its revenue will fall between $1.35 and $1.5 billion in 2016.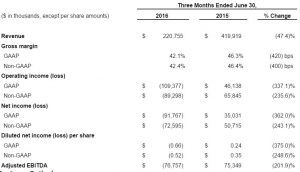 Listing its achievements thus far in 2016 the firm offers:
Since the May rebranding of Quik and Splice, these mobile apps have doubled their combined monthly active users to 3.7 million and doubled the amount of shared content each month. Combined, these apps have 37 million cumulative downloads.
The GoPro Mobile App was downloaded 2.6 million times in the second quarter, totaling over 30 million cumulative downloads; Q2 installs of GoPro Studio was 1.5 million, totaling over 17.7 million cumulative installs, with average daily video exports up 15.3% year-over-year to over 43,500.
According to The NPD Group's Retail Tracking Service, GoPro accounted for 6 of the top 10 products, including the top 3 spots, on a unit basis in the digital camera/camcorder category in the U.S. in the second quarter. HERO4 Silver remains the best-selling digital image camera on a unit and dollar basis for the seventh consecutive quarter. By our estimate, Session continues to be the #2 best-selling camera on a unit basis.
According to NPD, GoPro's second quarter combined digital camera/camcorder unit share increased 110 basis points year-over-year to 21.3% in the U.S.
According to GfK, GoPro's second quarter digital imaging unit share in Europeincreased 110 basis points year-over-year to 9.4%. GoPro accounted for 4 of the top 5 camcorders in Europe on a unit basis.
Revenue was up 20% to $221 million sequentially, driven by an 8% increase in units shipped to 759,000 and an 11% increase in average selling price. On a year-over-year basis, average selling price increased 14%.
Unit sell-thru was up approximately 10% sequentially and was more than 50% higher than sell-in for the second quarter in a row, resulting in an estimated 35% sequential reduction in channel inventory.
Inventory declined $50 million, or 36%, from the first quarter to $90 million, our lowest inventory level since the second quarter of 2014.
The full round up of GoPro's financials can be found here.