Fourth batch of Fix Your Bike Vouchers land, but will shortages stunt use?
Hot on the heels of the third batch the UK Government has today released the fourth batch of Fix Your Bike Vouchers into the marketplace.
The fourth release of Fix your bike Vouchers is once again a 150,000 voucher release, which as with the third batch is 30% of the total planned release. This latest announcement brings the amount of vouchers released as of today up to 80% of the total number pledged (500,000), or £200 million spent.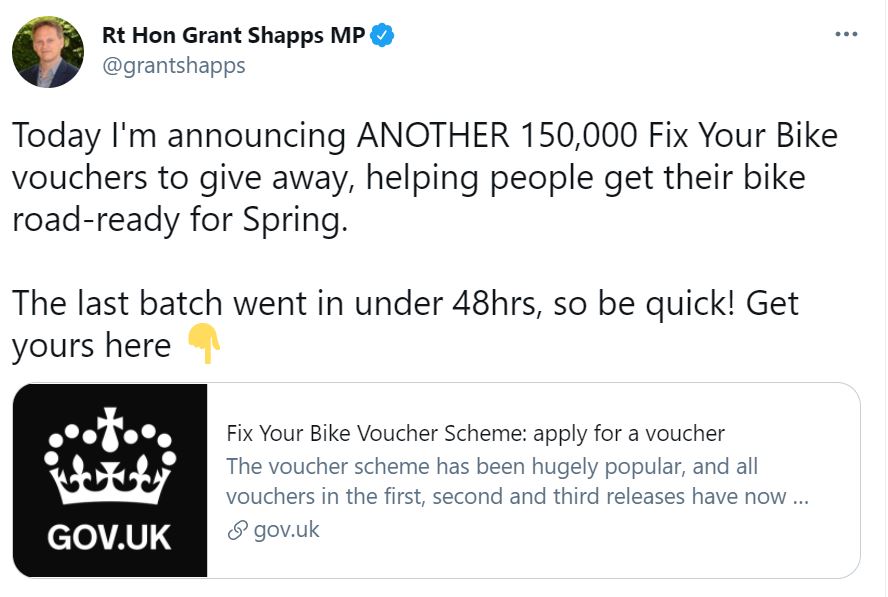 The quick succession of the release appears to coincide with fairer weather, but likewise clashes with a severe shortage of service components in the marketplace, likely meaning the vouchers many cases may run into difficulty at bike shop level. There is, unfortunately, a 90-day validity on the vouchers, for which 60% will have been released in quick succession. That takes us to August 31st as a deadline for completion of work.
One bike shop responding to the news on CI.N's trade-locked forum said this morning: "There's a realistic situation where we all grind to a halt for repairs for even fairly basic items."
The scheme has been set up by the Government in a bid to encourage more people to take up cycling as a means of travel during the coronavirus pandemic and afterwards which in turn will benefit road congestion, public health and wellbeing, and the environment. The scheme is managed on behalf of the Government by the Energy Saving Trust.
The Fix Your Bike voucher scheme is funded as part of the Government's £2 billion walking and cycling budget, of which £250 million is allocated to this repair effort.
As there are only a limited number of vouchers available, the Government reminds members of the public to "please consider the needs of others before applying for a voucher and do not delay making planned repairs outside of the scheme should your circumstances allow it."
Bike shops have complained recently of attempted abuses of the repair scheme, with some customers attempting to use the vouchers to obtain money off bike or accessory sales, rather than the intended repair use. Bike mechanics must log each claim with photographic evidence to prove the work is in line with the criteria and so such circumvention of the scheme is not possible.
Only one voucher can be claimed per customer and a list of terms and conditions and eligibility criteria is provided during registration. Professional mechanics can still register to participate in repair scheme, with information in how to do so found here.