Workshop only biz Handlebars shoots for 20 branches this year
A relatively new kid on the block, Handlebars has fused two key trends to form a marriage of workshop only trading with a sharp eye on online functionality. Co-founder Jeyda Hesleton speaks to CI.N about how they intend to quickly expand the model…
There are a handful of success stories in the bicycle industry that hinge on tech expertise, but given the possession of that digital savvy it's very often the case that those skills come and go from the decidedly rougher around the edges bike world. For the most part, oily fingers and keyboards don't make great bedfellows.
Nonetheless, compared to a decade ago our trade has increasingly pulled in expertise sourced from outside in a bid to lead digital trends. Jeyda Hesleton and investor Oren Peleg are two such people with an ambition to put a spin on a model that has in recent years been a central pillar of bike shop profitability; that's the workshop. The concept: drag what has in the past been a backroom operation hidden away from customers into a format that is ultra-convenient for the app-savvy millennial and passing commuter. In order to achieve this the upstart business will hang its booking system on HubTiger, a platform that recently made the news as a new partner of the Association of Cycle Traders. We'll talk more about that later.
First of all it's time to introduce Handlebars, a new workshop-only network that at the time of writing has four London workshops – Monument, Islington, Hyde Park and Shoreditch – all opened since October. What's more, there's a short-term goal to have 20 of these Handlebars locations up and running during 2021, marking something of a rapid expansion in frontline retail and service terms. It's fair to say then that there's confidence in the USP.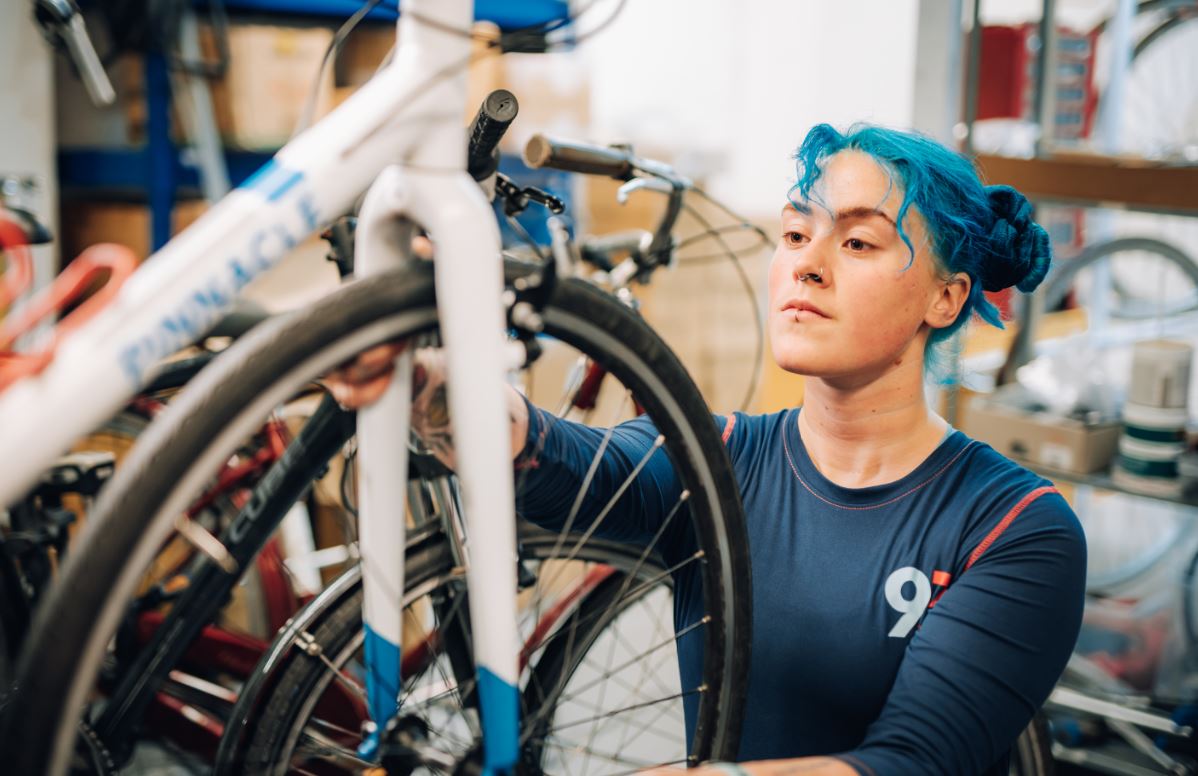 "We haven't settled on the next locations just yet, but it's safe to say Birmingham and Manchester are on our radar for the widening of our network," starts Hesleton. "We'll have around three mechanics per store and the idea, where possible is to be nearby to a local commuter artery. Our Monument depot is on CS3, so that's already very busy, while Islington is on the route through Angel and Shoreditch on CS1. Hyde Park captures those cycling in to the city from the West."
The formula is based on efficiency, convenience and the aforementioned tech-savvy. There's also an element of flexibility we're told. "They're a fairly fluid set of workshops which can pop-up and move to suit demand," says Hesleton and that fluidity carries through to popping up at a customer's doorstep, if they so require.
"We have a few vans out on the road picking up customer bikes within zones one to three and bringing them to our depots for service. If it's an e-Bike it goes to our specialist e-Bike service centre," we're told. Acknowledging that vans in cities might not be the perfect fit for the future of cities, Handlebars currently has its own cargo bike with service capability being built alongside an industry producer.
There is an understanding of how city spaces can function better imported by the founders from their prior roles with crowdsourced parking business JustPark. It was in fact this concept that spurred the idea to convert parking spaces and indeed any available spaces into pop up workshops.
"Oren and I were working together at JustPark – a tech start-up which enables anyone with a parking space to let it out to drivers, who can then book spaces via an app. JustPark has access to a vast network of parking spaces all over the UK and whilst predominantly used for parking today, we were researching alternative uses for the land. We are both keen cyclists, really interested in micro-mobility and helping to ensure cities run in an efficient and environmentally-friendly manner. We were excited by the increasing number of people taking to two wheels, but found that bike shops were struggling to stay open, particularly in city centres. Furthermore, the experience can often be a little outdated or intimidating for new cyclists. We decided we could repurpose empty parking spaces into workshops and use our tech background to produce a slick, modern-day experience for bicycle repair. Since then, we have branched out beyond parking spaces to all kinds of empty space. The goal is to keep cyclists moving and we believe that a network of seamlessly-running cycle repair workshops, staffed by expert mechanics, is essential for this."
The entry service is dubbed 'Safe ride' and comes in at £50, for which the customer rides away on a bike fit for the roads. For a little more cash the £80 'Sweet ride' package offers a deeper tune up, while the 'Pro', for £175, is the most comprehensive service for performance cycles. Customers unable to drop their bike off pay a £20 pick up and delivery fee within zones 1-3.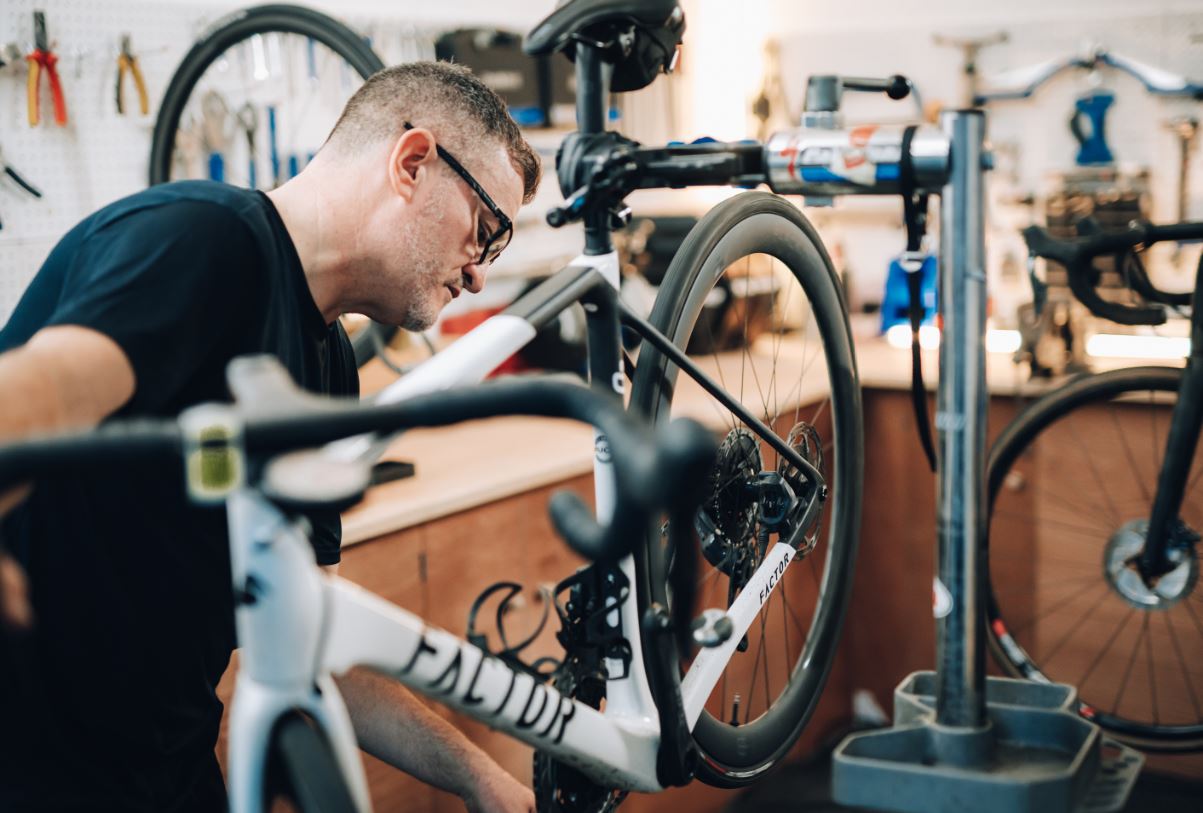 Being in the city there is an intention to tap into the wealth of businesses who employ the swathes of cyclists now traversing the city daily. With corporates generally warming to the idea of more staff cycling in a bid to keep staff punctual and healthy, companies are offered a discount pick up rate of £10 per collection, while the cyclist pays for the service. For Handlebars, this incentive gets a foot in the door for access to a larger pool of servicing jobs.
In a bid to raise its profile, the network has already managed to feature in the Evening Standard under a headline of "Where to get your bike fixed in London" and article in which it secured pole position. As an aside to this, the strategy is be visible, whether at events or on social media; the idea is to always have the brand visible somewhere day-to-day.
"Digital is a big focus for us so I certainly invest lots of time either building or pulling together software to make our lives easier. It's something I think is lacking in the cycle repair world and could make a huge difference to both cyclists and mechanics," says Hesleton.
That brings us full circle, to HubTiger, the foundation of the workshop network's digital offering.
What is HubTiger?
Developed in South Africa and exported from there, the HubTiger platform is designed to assist service led businesses with their booking systems. As you might expect from something developed around a mobile app, it's quite smart, giving customer and service centre a platform on which they can communicate quickly, sign of and boo in work, as well as store a detailed history of the customers bike (or bikes).
On the bike shop end there's a slick back-end platform that diarises the week ahead, enabling a workshop manager to assign jobs by availability and even by skillset, flagging the next available slot to a customer who requires the skillsets of a mechanic trained to a certain standard. In the bicycle world, the platform has already assigned over 65,000 service tasks, including all of Handlebars' trades, despite its relative youth.
One of the best features is the ability to set up push notifications that will appear on the customer's phone, as any notification from a news outlet or social network would. It is a deliberately familiar experience and one that irons out any margin for error when it comes to getting extra jobs signed of. A chat history is visible and stores in the cloud for cross referencing.
What's more, the app even handles payment and synchronises this with point of sale equipment from Sage, Lightspeed, Vend, Quickbooks and Xero.
For Association of Cycle Traders members a 15% discount off each HubTiger product exists, while Cytech accredited stores get a further 20%. Live customer support and training is available to shops getting set up, while a resource centre found at hubtiger.com is available for any follow up questions.