Hexlox puts components under lock and key with innovative security solution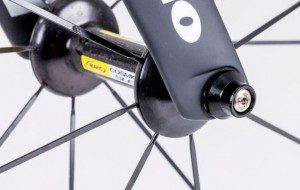 Hexlox has today launched a Kickstarter to fund a innovative solution to retaining your bicycle's components – a small key locked grub that provides tamper resistance in seconds.
Inserted into any bolt, the Hexlox device is only removed with your own supplied key.
"In the past, it has been difficult, inconvenient and impossibly to properly protect your saddle, wheels and other components from theft", says Marcus Tonndorf, CEO of Hexlox.
The lock has been tested against all standard theft attacks and has even undergone a serious opening attempt by a member of Berlin Lockpicking Society. It remained safe and unopened.   Hexlox comes in all standard sizes to fit all bolts on any type of bike.
The product has already been selected as Product of the Show by one of Germany's largest online cycle components retailers at Taipei Cycle 2016.
Fany a set of your own? The Kickstarter's here.