For Hope Tech a slow and steady approach to growth is good business
With a reputation for reinvestment in the business Hope Tech has sailed a steady course through bust and boom, growing only as much as it needs to. Alan Weatherill, Head of Sales and Marketing tells CI.N how hedging bets against Brexit has ultimately set the business up to navigate Covid and unpredictability with a level head…
Hope has presumably had a good year, as many have, but arguably things may still get better – how's business been?
We've certainly benefited from the huge increase in cycling during the global pandemic. Although we never forget that only 12 months ago the whole cycling industry was seeing more shops closing every week and everyone struggling for trade.
It is still fresh in our minds, that when the first lockdown was announced we immediately had many of our larger retailers and distributors cancel all their pending orders due to uncertainty. Obviously these were quickly reordered once people realised cycling was one of the few activities that they could still take part in.
We did close our whole site for several weeks during the first lockdown for the safety of our staff. Before reopening we moved machines and rearranged assembly areas to ensure everyone could work safely.
You invested heavily in a surplus supply of raw material not so long ago, so presumably Hope remains well positioned to supply the market?
Before the original Brexit deadline we put in place plans to significantly increase our stock holding of imported raw materials. This was maintained throughout every subsequent deadline, so stock was still in place when the first lockdown was announced. It was certainly required as our main forging supplier in northern Italy was badly affected. After a tough year, their staff are all well and gradually returning to full production. With all that happening, followed by the current border issues we have ended up running our reserves of material pretty low, but production has been maintained throughout.
We have raw material schedules in place for the next few years so we're confident of ongoing supplies to be maintained providing the ports remain open.
In terms of demand you mentioned being a touch behind, how are you catching up while Covid still dominates headlines?
All our customers are increasing their orders with us. We currently have at least six months of brake production on order, which every customer would like delivering straight away.
We're having to ration products to dealers and distributors to ensure we can support everyone. As mentioned earlier, we still have the state the bike market was in at the start of 2020 in the back of our minds, so any expansion is very carefully considered and very measured. We've also cut back on any additional costs where we can. As we've seen from the last twelve months, none of us know what's around the corner.
That said, we've still invested over £1.5 million in new CNC machines to help cope with the rising demand. We are probably one of the few engineering companies in the UK who are expanding and buying new equipment so at least the lead-times for these machines is quite short.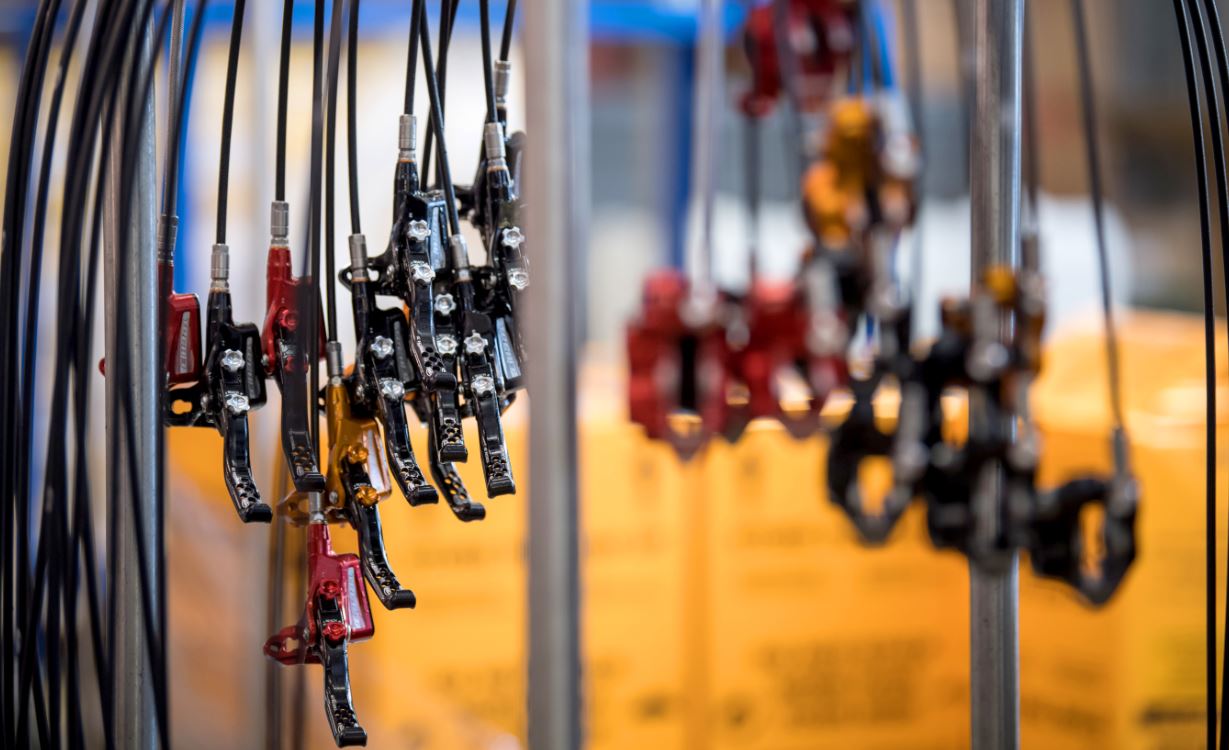 Let's get Brexit out of the way – you're well positioned, but it hasn't been without its challenges, is that right?
We took the decision very early in our Brexit planning to not waste expenses on possible outcomes, only certainties and as we all know there were very few of those. The simplest was to increase our stock holding of raw materials. If Brexit went smoothly we'd just have a little more money tied up in raw material, but no money would be wasted.
We already shipped 25% of our production outside the EU, so we had all the documentation in place for becoming a "third country". Although we didn't quite comprehend the fortunate position we'd be in once the trade deal was finally done regarding "UK origin". With all our production in the UK it is a very simple declaration for us and no duties on sales to the EU.
The only issue we have currently is with UPS who didn't seem to think anyone manufacturers product in the UK anymore, so despite us using all the correct paperwork and declarations, they're miss classifying all our shipments and charging our EU customers 5% duty.
We also can't leave this subject without mentioning the government ad campaign before Christmas telling companies to be ready for the changes Brexit would bring. Even now we're still waiting for some of the changes to be actually decided by Government so precise planning was virtually impossible.
One of our key advantages through this whole process has been our relatively small size and close control of all aspects of our business. As each issue has arisen we've been able to quickly react and adapt. Our latest change for EU shipping is to register for VAT and EORI numbers in the Netherlands, so becoming the importer of record for our parts into the EU, removing any customs hassles for our EU customers. This should be in place early next month and removes the requirement to setup warehousing in the EU.
There will be lots of conversation on sourcing of local goods to meet tariffs requirements. Will we ever see Hope pursue more OEM trade?
We are seeing increases in orders from our few OEM customers, but this is more as a result of shortages rather than trying to meet tariff requirements. We're still committed to being an aftermarket brand.
It's been interesting to see how many perceived British brands are suddenly having problems proving the necessary manufacturing in the UK to evidence "UK origin" status.
As a privately owned entity you're very much in control of sculpting the business day-to-day. What benefits does this flexibility bring?
The main advantage is that we can make decisions and changes in policy quickly. No board or shareholders have to be consulted before moving forward with plans. Also, we decide of the pace of growth, without shareholders demanding expansion every year. We are trying to move at a pace that is comfortable for us, without too many risks.
We have even cut back in some areas of the business over the past year to reduce costs due to the uncertainty, but production staff have seen an increase.
We currently have 150 people working at our Hope Tech HQ in Barnoldswick. Alongside, we have increased our production to try and meet this new found demand, but being a manufacturer committed to keeping production in-house does put limits on this growth.
The new machines we buy generally take around six months before they're working at full capacity. All these changes, as well as ensuring we're still operating a COVID secure workplace, have resulted in around a 25% increase in our output. Unfortunately, or fortunately depending on how you look at it, our demand is well over 100% up.
Our current split on sales are 54% UK, 36% EU and 10% ROW. This is a slight change from previous years where we used to ship 20% to ROW and a little less to the UK. This swing has been influenced directly by the strong demand from UK retailers.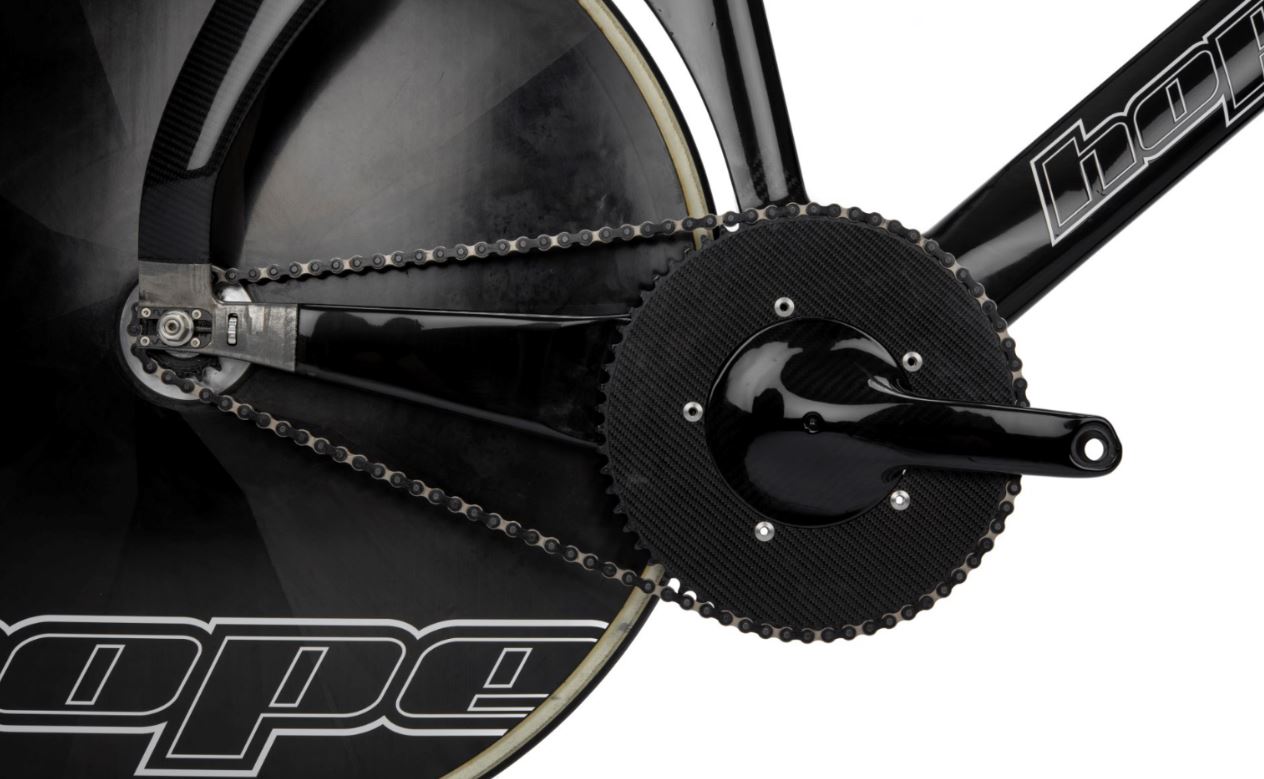 Metals aside, Hope Tech's carbon arm is knocking out some precision products. What's new here?
The carbon department was run very much as a development shop initially with quite low volumes, but we're now starting to see increasing production in handlebars and seat posts alongside the HB mountain bikes.
With the Olympics being delayed it's given us more time to produce bikes for British Cycling so these are still on schedule, but they are quite a niche product so we don't really see them becoming a volume product.
The carbon disc wheels are an area we're putting quite some time into as initial tests have shown them to offer significant advantages over current designs.
With the aerospace industry around you making vast layoffs has Hope taken the opportunity to recruit any available talent?
We have been able to recruit several new production staff, but we are being very cautious as the future is uncertain for all of us. We have begun conversations with few local aerospace companies to see we can supplement our capacity by renting time on their CNC machines.
What should dealers be looking out for in terms of product this year – any tips on best sellers or new lines coming through?
The biggest issue we've had is production and keeping up with the rising demand. We actually paused all new product launches for the time being so we can concentrate on meeting the demand from dealers.
Our designers our still working on new products, so once we start to see any capacity availability, you should see the new parts appearing.
As far as categories goes, we can see an effort to involve more women, the Hope Academy and of course e-Bike too. Is it fair to say Hope is now a broad church looking to grow far beyond its off-road roots?
When Hope Tech started over thirty years ago making aerospace tooling, we manufactured parts for our own bikes. This is still the basis of how we operate, making parts we want to ride. We just have a far more diverse interest in cycling these days.
We are also still committed to cycling advocacy in many different forms, not always obvious. Unfortunately, due to the lockdowns and restrictions our kids and women's activities were all cancelled last year and it's looking like it will be quite some time before we can restart them this year which is very disappointing.
We also have quite a following for Cyclo-cross amongst our staff and late last year we heard that the local cross league would be cancelled due to council land being unavailable. We managed to secure private land at Broughton Hall, with the necessary space to be able to run an event safely. The local league managed to run three events while the government permissions allowed.
We feel that it's essential these grassroots races carry on taking place, obviously only when safe to do so. We are now in discussions with other local clubs on how we can run mountain bike events in the spring at the same venue.
The general public are now factoring the sustainability credentials of companies before making purchases. What's Hope doing to address this important issue?
We were founded on these principles, in reality without really knowing it. We are practical engineers so always make products that are repairable, not disposable, bolted together, not riveted or pressed. We still offer spares for many our products that are over twenty years old, keeping them customers on the road.
Within the factory we have always recycled our waste metal. It's something that general engineering companies have always done.
We have started to make further steps by not using plastic in any new packaging and gradually redesigned existing packaging to remove it. We still have some way to go on this journey but are committed to it.