Time well spent: How idmatch is giving bike fitters more hours in the day
Most high-end bike shops will now have one eye firmly trained on the potential gains to be had from offering professional bike fit in store, but it's no small investment both financially and in time. CI.N met with idmatch sales manager Neil Davidson in a bid to understand why an automated fit kit might just bolster your bottom line…
In past editions, thanks to our resident bike fitting guru Jon Iriberri, we've discovered great potential when adding bike fit to a store's day-to-day operations. Based on global feedback from a pool of 200 fitters it was found that complete fits average £150 ($200) a pop. With the standalone fitter undertaking as many as 250 fits per year, each taking around two hours each to complete, it's a shot in the arm for those trained to offer such services and at a time when shops are increasingly looking to bolster their non-product offering.
It's a time-consuming process, which is both a good thing (in customer relationship building terms) and a bad thing in 'there goes my day' terms. Quite simply, it's a service that should be charged based on the extensive training and expertise required to complete a professional fit. But what if everything could be made far simpler, more efficient and with the removal of the opportunity for human error?
Step in Luca Bartoli, the CEO of Ergoview and former Head of R&D at Selle Italia. Having made training tools for swimming and with a keen eye trained on cycling, Bartoli set about rethinking the bikefitting process, starting by assessing the weakest links and the dead time. As any experienced bike fitter will be able to identify, time is largely consumed by measurements and adjustments; even the fastest of wrenches among us will spend less time than they'd like actually assessing the finished article for any final tweaks.
Bartoli came up with idmatch, an autonomous system that utilises motion capture and a self-adjusting bike fit jig that uses a series of motors to align the handlebars and saddle to the exact human dimensions captured over a series of short images captured in front of the camera.
"We begin the fit process with a series of short poses in front of the camera to determine the rider height, lengths of limbs and pelvic rotation. What this marker-free method removes is margin for error that often stacks up in quick succession when a system forces manual placement of markers at the joints," explains Neil Davidson, ZyroFisher's idmatch Bike Lab sales manager.
"Our software determines all it needs to begin a fit within two minutes, everything from crank length to bar width in one seamless process. When manually measured, these findings could take the best part of half an hour; and that's the point with idmatch, you're constantly removing dead time and without the need for the customer to hop on and off between adjustments."
When it comes to the heavyweight fitting jig, a three by four metre space is required in store. Reading the customer's data from the motion capture software, the jig's internal motors are then able to quickly and accurately slide into position that will comfortably accommodate the customer. From there, the customer is asked to pedal up to a comfortable 75 rpm, at which point the motion capture cameras set to work to analyse the customer's pedalling technique and position in the saddle. Algorithms within the software are then able to feed the jig with real time information that fine tunes the rider's perfect position in the saddle. Accounting for positioning on the drops, these calculations build into the equation a fit that satisfies the customer who desires to spend at least some of the time cheating the wind.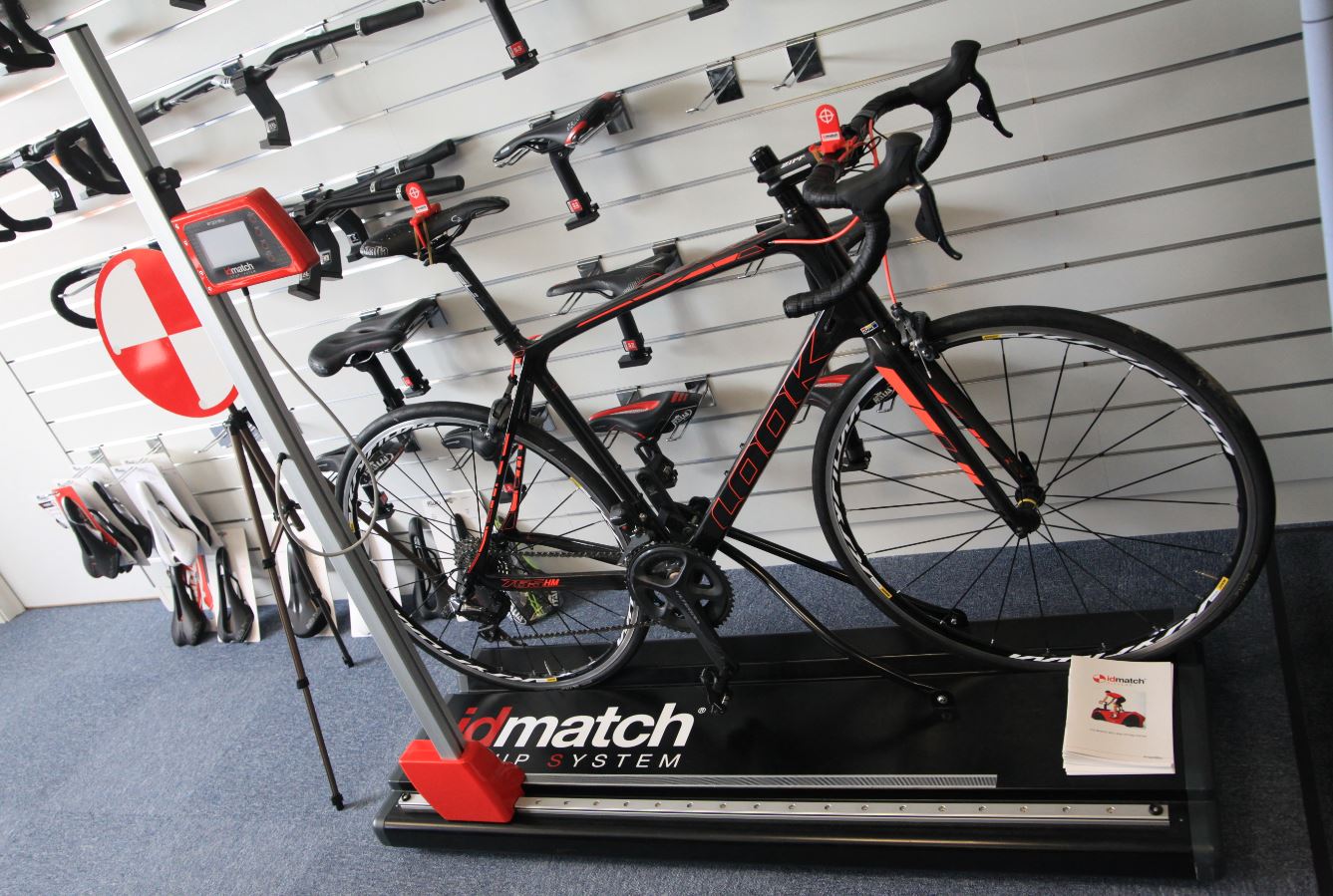 "It is important to make sure the rider is comfortable in the most aggressive and efficient riding position, doing so will make all other positions on the bike comfortable," says Davidson. What's more, the shop staffer charged with undertaking the fit can even input individualised detail on the customer's injury history, intended riding style and even manually adjusting elements to better suit the individual quirks of each fit; all of this while the rider is mobile.
"The idmatch system can be up and running in store very quickly," explains Davidson. "Typically, when setting up in store we will spend a day setting up, calibrating and two days training staff, It is a very intuitive and easy to use bike fitting system, as it's software based."
At the end of the motion capture analysis a report is generated for the fitter which presents a fact sheet filled with essential data flagged, all presented in a jargonfree manner. This data, as well as being stored in the idmatch database for future reference, contains a bar code for the customer to quickly access their data.
Utilising a brand neutral database of global bicycle and parts brands, post fit customers are presented with a wide-range of perfect foundation bike and frame choices on which to begin tacking together their dream steed. With each marked according to the amount of tuning required to exactly fit the customer's profile, the process is not only confidence inspiring, but presents an incredible upsell opportunity in many cases. Beyond a full bike fit, idmatch also offers a more casual but nonetheless important entry to the world of custom fit. Both the digital saddle caliper and cleat fitting devices are available separately, again, removing the margin for error and adding a scientific approach to a traditionally complicated process.
The saddle fit kit, tethered to an 80-SKUs strong Selle Italia range spanning entry and comfort builds right through to carbon railed performance units, is again a simple threestep process to find the perfect fit. First, measure the distance between the heads of the femur, then the thigh width and finally measure the pelvic rotation. With these measurements in the bag the caliper will recommend either an S (Narrow) or L (Large) along with a digit ranging one to three, indicating the size of cutout required, if any.
"We've three or four options per category giving customers choice on price and cushioning, among other factors," outlines Davidson. "MY18 filled some key gaps in the range, so bike shops can now offer this service in full confidence of finding the perfect saddle first go. Two thirds are sold with some form of cutout pressure relief we find. There's no downside to a bigger channel, but without a large enough cutout riders will often experience discomfort – (reduced pelvic rotation is not the cause of discomfort) which is a result of increased pressure on the perineum."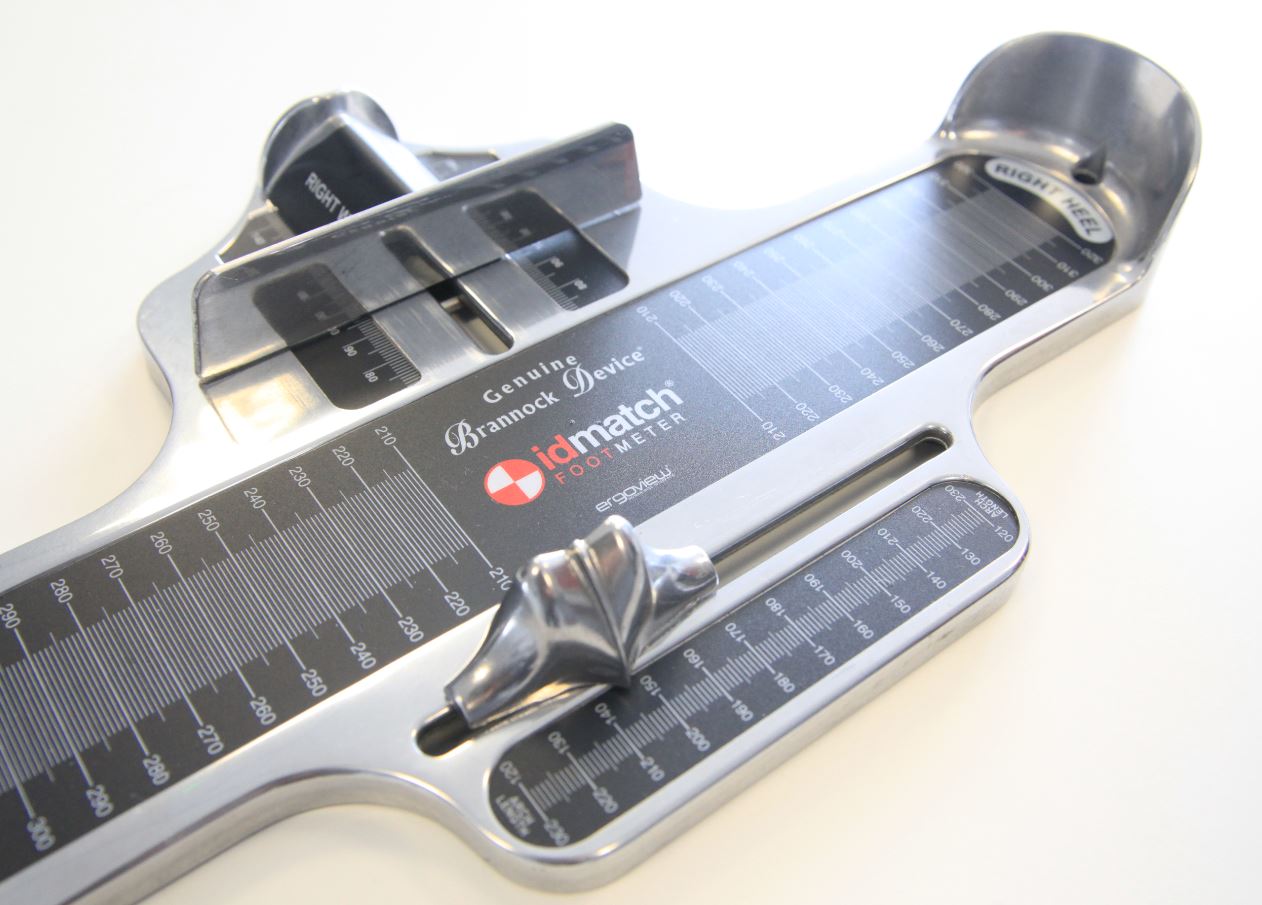 Meanwhile the two-part cleat fit kit first measures the client's foot, accounting for foot length, length to the first metatarsal and width. These measurements combine to create a recommendation for the tower tool to perfectly install the cleat. Placing the shoe aboard the tower, a laser will indicate the exact position and angle that the cleat should sit to ensure the customer experiences no discomfort. A forefoot tiltmeter is further able to observe the customer's pressure on the pedal with a laser, again targeting the client's toe to knee, to observe whether there is any pronation (inward knees) or supination (think bowed leg).
For those with a ZyroFisher account, these tools can be supplied alongside stock-ins of shoes and pedals from Giro. "All of these systems are about helping the IBD, making shops better regardless of what brands they sell," concludes Davidson. "Taking out a lot of the guesswork and vastly reducing the time taken to complete an accurate fit, idmatch ultimately means extra time in the day to see more customers and put more cash in the register."
Zyro's all in package with everything under the idmatch fit portfolio comes in at £28,000, including all setup, software, staff training present and future, as well as courtesy car-style backup if the equipment ever malfunctions. Dealers and standalone fitters are able to visit Zyro for a demo on request, simply contact Davidson with any questions you may have.