Ison lowers MRP pricing, new downhill fork hinted at
MRP distributor Ison Distribution has today announced a price reduction on the firm's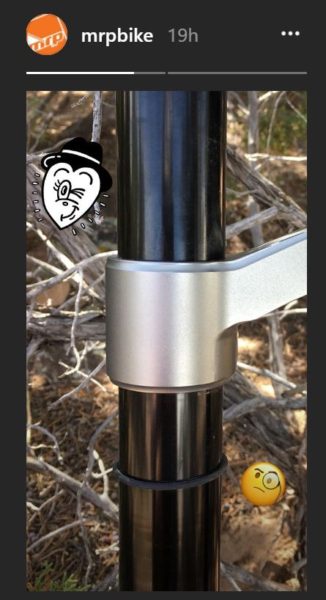 drivetrain and suspension ranges.
Popular lines such as the Ribbon fork – which won Pinkbike's Suspension Product of the Year just before Christmas – have been reduced by £50 from £899.99 to a new retail price of £849.99, this includes the brand new Coil version too.
On the brand's Instagram yesterday there's an inkling that there may be further progress in the pipeline on the downhill front with the teaser pic seen here posted. At present the firm's downhill fork is an inverted design. What appears here therefore appears entirely new from the little detail that can be gathered.
All key chain guides like the G4, SXg and AMg, as well as the Better Boost Adapters and Ramp Control Cartridges for Rock Shox, Fox and X-Fusion forks have also seen a reduction in price too.
MRP Brand Manager Pat Campbell-Jenner said: "We're really excited to announce reductions to the key product lines in the MRP range to add further value to outstanding, award winning, high performing products."
All MRP products are assembled by hand in the USA and the brand is available exclusively from Ison Distribution in the UK and Ireland.
Dealers looking to place orders can log into the B2B website and take immediate advantage of the lower pricing.
Ison are contactable on 01353 662662.