Litelok expands production, recruits John Styles to lead sales agent team
Litelok has this week announced the recruitment of bike industry sales veteran John Styles to lead its team of five sales agents.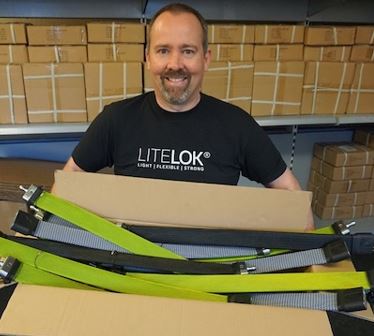 With demand for the security products growing steadily, production output has increased in recent months as the sales force brings more bike shops partners on board.
Litelok founder, Neil Barron (right), said: "We've recently passed 15,000 units sold and have expanded our production capacity to meet growing demand. Having firmly established ourselves and picked up awards from the likes of Cycling Plus and The Independent, we're now well set to properly service the independent trade."
Having worked at Windwave, Madison and Zyro, as well as being a regular contributor to CyclingIndustry.News' opinion pages, John brings a wealth of industry experience. He will also be looking after EU partnerships.
The sales team is comprised of Mike Clark (South London, Kent & Sussex); Paul Edwards (West Midlands, Wales & Ireland); Tim Hall (North & Scotland); Edd Hames (East England and North/Central London) and Kelli Salone (South West & South Central).
Originally launched on Kickstarter, Litelok's portfolio has now grown to include new wearable versions, worn round the waist. The original remains the lightest Gold secure lock available at just 1.1kg, while the three longer sizes of Wearables still weigh in at under 1.4 Kgs.
According to the Welsh business, almost half of its customers have a tendency to buy a pair of locks, as units can be joined together to attach multiple bikes thanks to a 'key-alike' system. This also has perks for retailers wishing to secure their bikes in store and as such Litelok do offer batch deals.
Stocking enquiries can be made via email here.